Caesars Entertainment Bankruptcy Drags Q2 Results $2 Billion into the Red
Posted on: August 3, 2016, 05:00h.
Last updated on: August 3, 2016, 05:28h.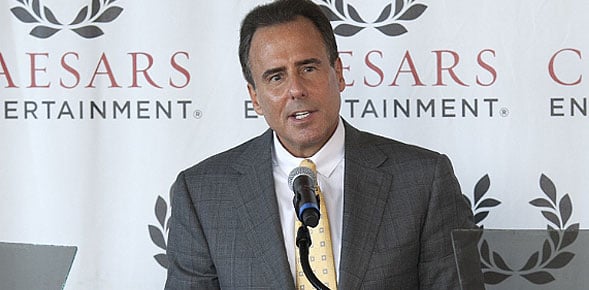 Caesars Entertainment has reported losses of over $2 billion for the three months ending 30 June, mainly as a result of the bankruptcy of its main operating unit Caesars Entertainment Operating Co (CEOC).
It's a sharp contrast from the same period last year Caesars Entertainment Corp actually posted a profit, and revenues returned to pre-financial crisis levels, delivering the best quarterly EBITDA margins since 2007.
The $2 billion loss relates to an accrual that is Caesars estimate of the cost supporting CEOC's bankruptcy restructuring. Meanwhile, the ongoing chapter 11 proceedings mean that CEOC's contributions have been uncoupled from Caesars' overall financial results.
The good news for Caesars, though, is that its revenues are up, to $1.2 billion, representing an 8 percent increase year-on-year. Casino revenue amounted to $545 million, said Caesars, a modest increase of 0.4 percent from Q2 2015.
CIE Skyrockets
"We delivered solid operating performance in the second quarter, including an 8 percent increase in net revenue and strong income and margin results, excluding the impact of the bankruptcy-related charges and CIE stock compensation expense," said Mark Frissora, President and CEO of Caesars Entertainment.
"Our second-quarter performance was driven by strong results in Las Vegas lodging, exemplified by a 6.5 percent increase in RevPAR, was well as entertainment and continued strength in the social and mobile gaming business," he added.
"Additionally, our productivity efforts have improved our revenue per employee and marketing efficiency, as we drive further margin improvement and cash flow while maintaining high levels of employee and customer satisfaction." 
More good news for Caesars was that its digital arm, Caesars Interactive Entertainment, performed extremely well, with net revenue skyrocketing by 31.5 percent to $477.2 million. The bad news for Caesars was that by far the lion's share of that haul came from Playtika, the social gaming company that it agreed to sell earlier this week.
Bankruptcy Breakthrough?
However, Caesars will take the 4.4 billion from the sale of Playtika as a cash injection into its planned merger of Caesars Entertainment and Caesars Acquisition Corp, a move designed to create cash and equity for CEOC's unhappy creditors. It also plans to split CEOC into a real estate investment trust, controlled by its creditors, and another company to operate CEOC's properties.
It seems that at least some of CEOC's junior creditors are coming around to the group's new reorganization plan, which includes substantially improved recoveries. Reuter's reported yesterday that Caesars had reached agreement with at least one group of these creditors. The reorganization agreement will go ahead when it is signed by bondholders owning greater than 50.1 percent of CEOC's second-lien debts, Reuters said.