Caesars Danville Exceeding Expectations as North Carolina Mulls Competition
Posted on: August 23, 2023, 07:38h.
Last updated on: August 23, 2023, 06:22h.
Caesars' Danville Casino, just north of Virginia's southern border, has exceeded revenue expectations since its May opening.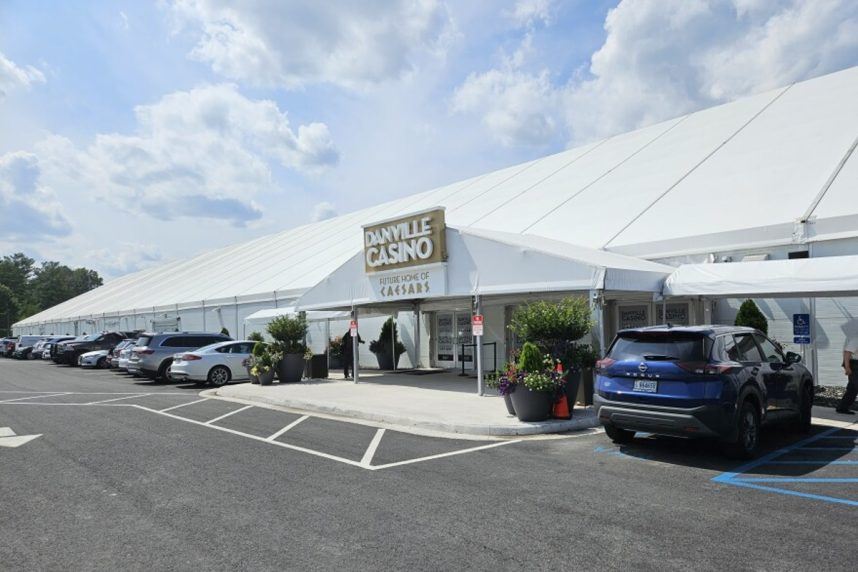 Opened on May 15, the temporary gaming space features 740 slot machines, 25 live dealer table games, and 28 electronic table games. It has generated gross gaming revenue (GGR) of approximately $52.3 million. The pavilion tent casino, which operates on the grounds where Caesars Entertainment is investing $650 million to build an integrated resort casino called Caesars Virginia, has exceeded its preopening revenue forecasts, resulting in more local tax revenue for the Dan River town.
We knew we'd get at least $500,000, because that's direct payments. Beyond that, we just didn't know. You don't know how long these things take to grow, but it's growing fast," said Danville Vice Mayor Dr. Gary Miller.
Since its opening, the Danville Casino, as Caesars has branded the provisional casino room, has directed $4.4 million to the city.
"It has exceeded expectations," Miller explained. "It's been our philosophy that if we build it, they will come. We built it, and they're in the process of building the resort. People seem to be coming."
Competition Considered in NC
Lawmakers south of the border in North Carolina are considering whether to legalize commercial casinos. North Carolina Senate Pro Tempore Phil Berger (R-Rockingham), whose county adjourns the border and is just miles south of the Danville Casino, says the Caesars parking lot is regularly filled with vehicles from North Carolina.
Hard Rock has also opened a temporary casino in Bristol, where the company is building a $520 million permanent resort called Hard Rock Hotel & Casino Bristol, slated to open next July. Bristol is less than 30 miles from North Carolina.
Berger wants to allow commercial casinos in certain counties to keep such gaming money inside the state. Berger says since North Carolinians are already gambling, the state and local counties should reap the benefits, not Virginia.
The benefits, Miller says, are many. Along with new jobs and regional economic activity, the robust tax money will help better the community.
This is not for day-to-day expenses of the city. This money is for new parks. Splash parks are the in-thing and we're going to have four. So, there's a number of places the money is going," Miller explained.
Danville is also renovating and upgrading its regional airport to accommodate increased traffic once Caesars Virginia opens. The project includes additional hangars and aircraft parking, another runway turnaround, a new maintenance building, and runway pavement rehabilitation. The initiative additionally includes a new terminal roof.
2024 Opening
Caesars officials say the permanent resort in Danville will open next year. Caesars Virginia will feature a 500-room hotel and a casino floor with over 1,300 slots, 85 live dealer table games, 24 electronic tables, a WSOP poker room, and a Caesars Sportsbook.
The destination will additionally come with a full-service spa, pool complex, several bars and restaurants, and a 2,500-seat theater. The casino will offer 40,000 square feet of customizable space for meetings and conventions.
Caesars hasn't yet set a date for when the casino might open in 2024.