Caesars Virginia Opens Danville Casino, Company Touts Forthcoming 'Big Bad Boy'
Posted on: May 15, 2023, 12:26h.
Last updated on: May 15, 2023, 05:30h.
Caesars Entertainment in Virginia opened its Danville Casino on Monday morning. The debut was for a temporary gaming facility adjacent to an integrated resort where the company is investing $650 million.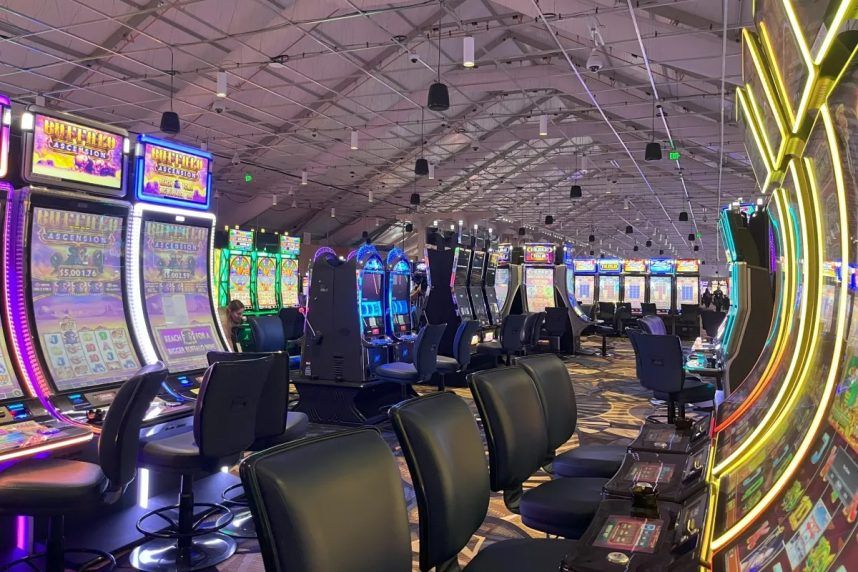 The Danville Casino, as the provisional gaming venue is called, commenced operations around 10 a.m. Monday. The pavilion tent features 740 slot machines, 25 live dealer table games, and 28 electronic table games. Sports betting is also available through eight self-service Caesars Sportsbook kiosks.
Barron Fuller, Caesars Entertainment's regional president, did the honors of opening the Danville Casino with a ribbon-cutting ceremony.
Who is ready to be treated like a Caesar? Who is ready to be treated like a Cleopatra? Better yet, who is ready to win some money?" Fuller asked ahead of the ribbon-cutting.
Caesars is leading a local investment consortium with the Wright family, a prominent regional business family, and the Eastern Band of Cherokee Indians (EBCI).
The Danville resort expands on Caesars' partnership with the EBCI. Caesars operates the tribe's two casinos in North Carolina, Harrah's Cherokee Casino Resort and Harrah's Cherokee Valley River.
'Big Bad Boy' Coming
Caesars Entertainment is embarking on an expansion of its domestic gaming portfolio. Along with Virginia, the company is building a casino in Nebraska. The investments are Caesars' first developments in the two states.
In Virginia, Caesars and its investors are spending $650 million to overhaul the former Dan River Mills textile campus into an integrated resort. The complex will be highlighted by an 18-story hotel with 500 rooms, a casino floor with 1,300 slots, 85 table games, a World Series of Poker Room, and a Caesars Sportsbook.
Caesars Virginia will also offer a full-service spa, pool complex, 2,500-seat theater, and 40,000 square feet of convention space. Fuller didn't hold back his enthusiasm for what Caesars plans to bring to Danville.
We got the land. We got a plan. The $650 million big bad boy is being built behind us," Fuller said of the permanent resort that's expected to open late next year.
Danville was one of five cities in Virginia that qualified through state legislation passed in 2020 and signed by then-Gov. Ralph Northam (D) to consider a casino. The gaming legislation found favor in the legislature for it being designed as an economic stimulus for the handful of fiscally distraught cities.
Economic Spark
Danville's local government chose Caesars as its preferred gaming developer, and city residents signed off on the project through a local ballot referendum during the November 2020 presidential election.
The advisory committee that assisted the Danville City Council in picking Caesars projects that the casino will generate more than $26 million in annual local tax revenue by its third full year in operation. Caesars also paid the city a one-time upfront payment of $20 million.
The bulk of the projection comes from anticipated yearly gaming tax revenue of $22 million. Another $4.2 million in annual tax revenue for the city is estimated to come from hotel, food and beverage, and other on-site sales.
"We won't let you down," Fuller told the crowd on Monday morning about Caesars' ability to meet those expectations.