Caesars Virginia Danville Casino Wins Nearly $12M in First Two Weeks
Posted on: June 20, 2023, 07:55h.
Last updated on: June 20, 2023, 11:20h.
Caesars Virginia opened its temporary Danville Casino on May 15. The gaming space that features 740 slot machines, 25 live dealer table games, and 28 electronic table games is off to a good start. That's after property officials said nearly $12 million in gross gaming revenue (GGR) was generated in its initial two weeks of operation.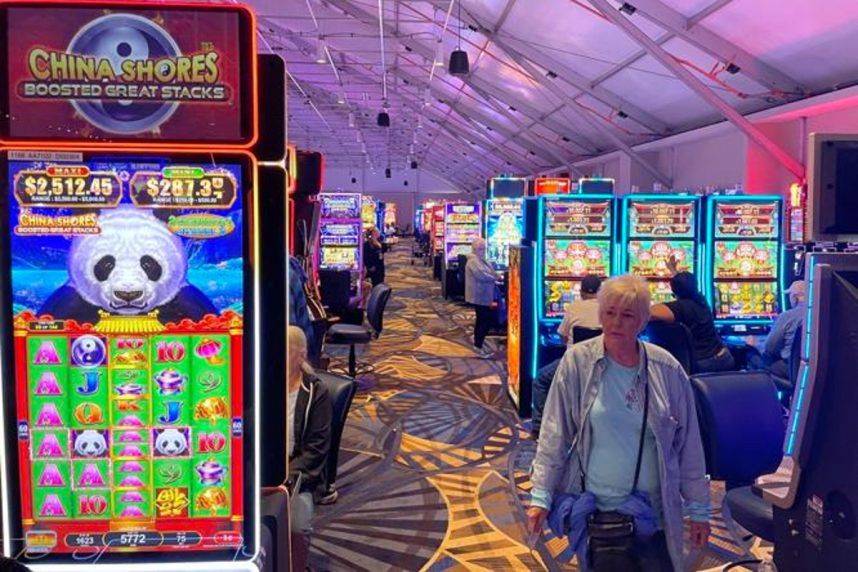 Caesars Entertainment is spending $650 million to construct a permanent integrated casino resort on the former grounds of the Dan River Mills textile campus. While the resort is being built, Caesars opened a provisional gaming space inside a pavilion tent adjacent to the construction site.
Casino officials say they've been pleased with the early turnout. And guests aren't just coming from Southside Virginia, sometimes referred to as the "Black Belt," but from across the Mid-Atlantic and the Southeast.
We've seen license plates from places [like] Maryland, Pennsylvania, and North Carolina," said Ken Larking, Danville's city manager.
According to data provided to the Virginia Lottery, which regulates all forms of commercial gambling in the commonwealth, Caesars' Danville Casino won $11,925,361.70 during its initial 14 days. Larking says that exceeded pre-opening GGR forecasts for the temporary casino, but he expects business to cool down a bit following the excitement of the opening.
"This two-week period is a grand opening, everyone's excited. It's new, and everybody wants to be there," Larking said. "That's not going to be the way it performs throughout the year. But it's definitely on track to exceed expectations."
Caesars Virginia Details
Danville is one of five cities that was included in 2020 state legislation. That new law authorized those cities to ask their residents if they thought a casino development could help energize their sluggish economies. About 69% of Danville residents voted in favor of Caesars' during the 2020 election, with 31% of local voters in opposition.
The majority cited the many economic benefits that a Caesars resort will bring to the region. Caesars says the permanent resort, expected to open next year, will include a casino floor with 1,300 slots, 85 table games, a WSOP poker room, and a Caesars Sportsbook. The property will be enhanced by a 500-room hotel, a 2,500-seat theater, and 40,000 square feet of meeting and convention space.
The forthcoming resort will require 1,300 permanent workers and is expected to provide the City of Danville with around $26 million in annual local tax revenue. Danville also received a one-time $20 million payment from Caesars.
Danville Tax Benefit Begins
Caesars Virginia's Danville Casino is already providing the city with noteworthy tax money. Lee Vogler, a Danville City Council member, says the casino's opening weeks have topped expectations in the local government's eyes.
They've exceeded all expectations so far," Vogler said. "The amount of revenue that we're bringing in is actually more than what we were anticipating for May and June."
On the nearly $12 million in GGR, Danville's cut is roughly $1 million through its local gaming tax share and host agreement with Caesars. Vogler said the city has budgeted about $250K a week from the casino.