Bernie Sanders Goes After Casino Industry and Donald Trump While Campaigning in Atlantic City
Posted on: May 10, 2016, 10:47h.
Last updated on: May 10, 2016, 10:47h.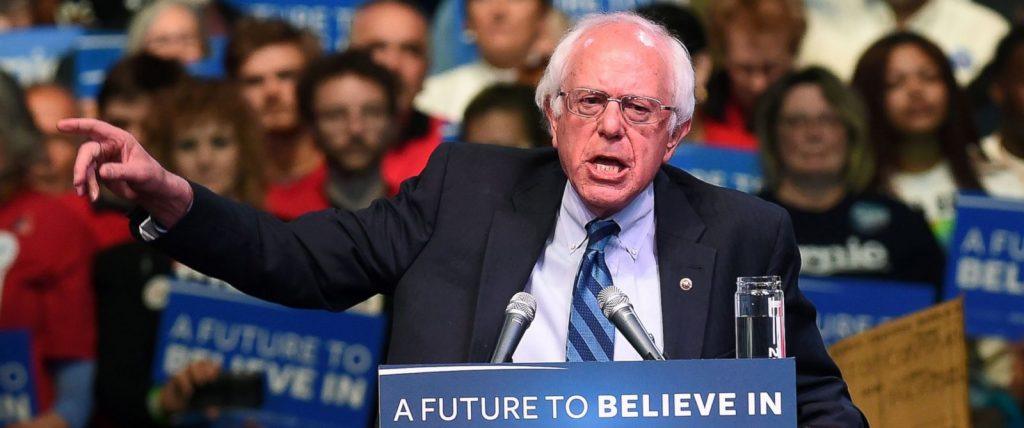 Democratic presidential candidate Bernie Sanders (D) paid a visit to Atlantic City on Monday while campaigning in New Jersey, and the Vermont senator had few good things to say about the seaside town.
Speaking at Boardwalk Hall, Sanders told his supporters that Atlantic City is the epitome of American greed.
"What we're seeing in Atlantic City, New Jersey, capsulizes the ugliness and the greed that we're seeing all over this country," Sanders declared.
Sanders unsurprisingly went after the presumptive Republican Party nominee Donald Trump for his casino businesses. The billionaire operated as many as four resorts from 1984 through 2009 before filing for bankruptcy and abandoning the gambling mecca.
"The greed and the recklessness that we have seen from people like Donald Trump and Carl Icahn, oh you know Donald Trump? You don't think he was a brilliant successful businessman who can bring the time of prosperity to America that he has brought here to Atlantic City?" Sanders posed to a roomful of boos.
Sanders is facing a monumental uphill battle against Democratic frontrunner Hillary Clinton. The former first lady and secretary of state has a substantial lead in the delegate count and is the heavy favorite to win the party's nomination.
On Monday night, Sanders reconfirmed to Stephen Colbert that he has no plans to exit the race anytime soon. "At the end of the day, I hope and believe we're going to win this," Sanders said.
Bernie vs. Goliath
Sanders didn't only go after Trump on Monday but also Carl Icahn, the billionaire that acquired the Trump Taj Mahal in February of this year.
"Billionaires like Carl Icahn, worth $21 billion, come in here and attack the standard of living of dishwashers and maids. We are going to tell the Carl Icahns of the world that greed is not acceptable," Sanders affirmed.
Icahn's conglomerate company in which he owns over 90 percent is notorious among unions and local workers for being a takeover specialist.
Icahn fired back at Sanders by publishing a statement on his personal website.
"Bernie Sanders . . . has made several remarks tying me to the difficulties facing Atlantic City, without even bothering to give me a call to hear my views and the real facts," Icahn wrote. "Few would disagree that the Taj would have closed with thousands of job losses if I hadn't come in and provided tens of millions in capital to save it and save those jobs."
History Presents Problem
While Sanders was decrying billionaires for ruining Atlantic City, opponents to the self-described democratic socialist highlighted the fact that Democrat and liberal politicians have long controlled the town.
Current Mayor Don Guardian is a Republican who took office in 2014 after six consecutive Democratic mayors dating back to 1990.
According to 2011 Atlantic City voter registration statistics supplied by the state, 12,063 residents listed as Democrats while the Republican Party tallied only 1,542. Nearly 6,400 were unaffiliated.
New Jersey Governor Chris Christie (R) is at odds with Guardian on how to lead the city out of near bankruptcy. Christie and State Senate President Stephen Sweeney (D) are trying to assume control of the town's financial governance, but Guardian and State Assembly Speaker Vincent Prieto (D) are asking for a bailout and two-year rebuilding period.