Stanley Ho Extending Macau Casino Empire
Posted on: May 17, 2013, 05:16h.
Last updated on: May 15, 2013, 09:18h.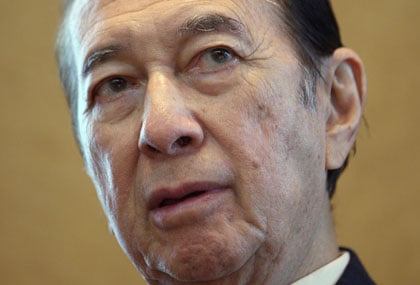 The King of Gambling is coming to Cotai. That's the news out of Macau, as Stanley Ho's SJM Holdings has won government approval to build a casino on the Cotai strip, the hottest growth area in the region.
Cotai New Hot Spot
In recent years, Macau has left Las Vegas in the dust when it comes to gambling revenues, with the semi-autonomous territory of China bringing in about six times as much money as the Vegas Strip does every year. But with growth beginning to slow, casino operators have looked for new areas in Macau to develop properties, with Cotai leading the way. All six major casino operators in Macau now have Cotai projects underway.
Last October, SJM purchased a land grant for more than 17 acres in Cotai, paying 2.15 billion patacas ($270 million), along with a monthly rent for the rights to build there. The plan is to build a casino-resort on that land, one that would feature 2,000 hotel rooms, 1,000 slot machines and room for 700 table games.
Leong Story
What's unclear is exactly how big this complex could end up being when construction is completed. According to some reports from local media in Macau, SJM CEO Ambrose So has said that the company could look to combine their land and resources with those of another company owned by Angela Leong. Back in 2010, Leong received a grant to build a family-focused hotel and theme park in Cotai – one that was not slated to feature a casino.
The story gets more interesting when you consider that Angela Leong is the fourth wife of Stanley Ho. The two have five children together; between his four wives, Ho has 17 children, some of whom are older than his current wife. Leong is a former dance teacher who is now a member of the Legislative Council of Macau – and the managing director of SJM.
Analysts are predicting that the new property could take an unexpectedly long time to develop, as negotiations to determine exactly how the two properties might be combined could drag on between the two companies and the local government.
Uber Wealthy Ho
For those unfamiliar with Ho, he is known as the wealthiest person in Macau, due in large part to the monopoly he held over the Macau gambling industry for four decades. He owns STDM, which includes SJM Holdings and eight casino properties in Macau. He is heavily involved in many business and community groups in Macau, though his active role in business has been reduced in recent years as he has granted more control to his wives and children. He has also been tied to organized crime groups, such as the Kung Lok Triad, by both the Canadian and U.S. governments.