Ahead of ESPN Bet Launch, ESPN Network Ditches Caesars Sportsbook
Posted on: November 12, 2023, 12:15h.
Last updated on: November 14, 2023, 09:07h.
ESPN Bet is set to launch across 17 states this week on Tuesday, November 14.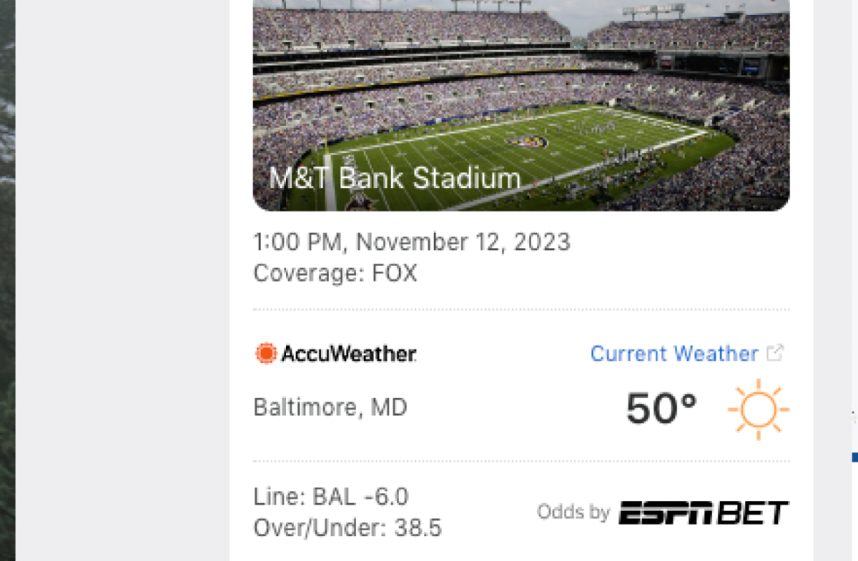 In the leadup to the debut of the retail and online sportsbook, ESPN has swapped out its odds provider from Caesars Sportsbook to its namesake sports betting entity. ESPN, the Disney-owned cable sports programmer, in August reached a deal with Penn Entertainment to allow the casino operator to leverage the international sports brand into its sports betting business.
Penn ditched its previous sportsbook partner, Barstool Sports, in conjunction with it agreeing to give ESPN $1.5 billion over a 10-year period to use the sports network identity.
Since sports betting went mainstream following the US Supreme Court's May 2018 decision that punted a federal law that had limited single-game wagering to Nevada, ESPN had a partnership with Caesars Entertainment that allowed the sports network to utilize its Caesars Sportsbook odds in its programming.
That recently changed when ESPN ditched Caesars Sportsbook for ESPN Bet, which was a part of the Penn deal. For this weekend's slate of NFL games, the ESPN website shows "Odds by ESPN Bet."
Regulators Voice Concern
Massachusetts is one state where ESPN Bet will launch this week online and at Penn's Plainridge Park Casino. During the Massachusetts Gaming Commission's (MGC) review of the ESPN Bet application, commissioners voiced concerns about the sportsbook being the first to utilize a third-party brand as its identity.
Commissioners pondered whether consumers might be confused about where the line is drawn between ESPN the sports programmer and ESPN Bet the sportsbook. Commissioner Jordan Maynard detailed an example involving ESPN personality Pat McAfee discussing weekly college football predictions.
He has the lines that are set. He goes through each one and he starts talking about, with a panel, who he thinks is going to win. Is he being an analyst? Is he marketing [for ESPN Bet]?" What's he doing in that show? How do we protect consumers to make sure they're not listening to Pat and then making a potentially bad bet?"
ESPN Bet officials said there will be an array of guardrails between the entities, as Penn Entertainment is solely running the sportsbook's operations and will not have any influence on ESPN's programming content or journalistic integrity.
Logo Ditches Mint Color
The ESPN Bet logo on the ESPN website is all black, something that could be related to a dispute raised by a peer-to-peer social betting startup called BroThrow.
BroThrow, an Arkansas-based company, allows bettors to facilitate bets between friends, family, and other users. BroThrow CEO Brady Sharp told SportsHandle last month that the mint-colored ESPN Bet logo that the sportsbook debuted in October too closely resembled its own.
"It's one thing if you're a mom-and-pop hardware store in Iowa and your logo gets impersonated by a sports betting company," Sharp said. "It's another thing to be in the sports betting business and see it used by another sports betting company, especially one as big as ESPN."
Most Read