$2B Powerball Winner on House Hunting Spree, Latest Buy a $47M Los Angeles Pad
Posted on: September 18, 2023, 08:03h.
Last updated on: September 18, 2023, 11:57h.
The winner of the $2.04 billion Powerball prize that hit in November 2022 is using his newfound wealth to snag up expensive real estate in Los Angeles.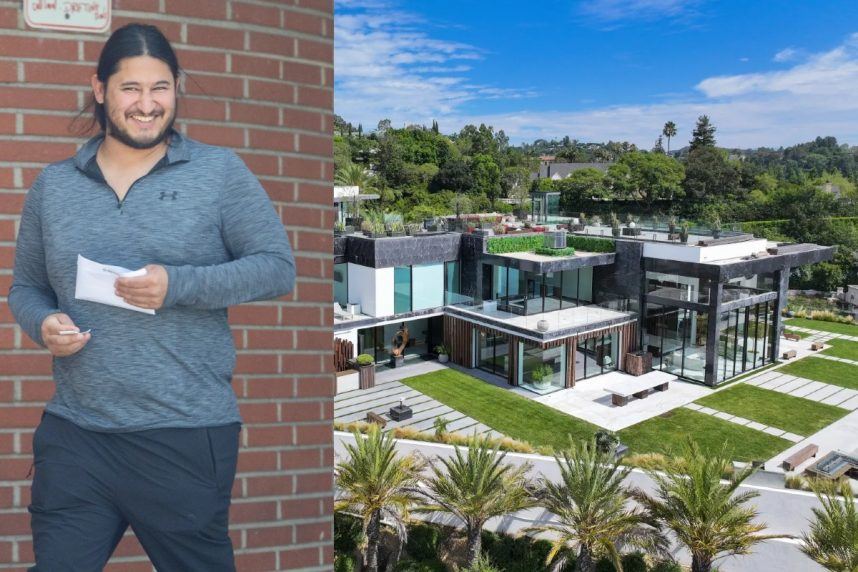 Edwin Castro purchased a $2 Powerball ticket at Joe's Service Center in Altadena, his hometown, on Nov. 7, 2022. Castro's ticket ended up matching the six drawn numbers that night: 10-33-41-47-56, and the red Powerball 10.
Castro claimed his prize in February. He opted for the one-time cash option of $997.6 million. After federal taxes, his payout came to around $628.5 million. California doesn't levy a state tax on lottery winnings, which saved him many millions.
Castro was just 31 years old when he became a multimillionaire hundreds of times over. He's since decided to use his wealth to become a major property owner of lavish real estate in Los Angeles County.
Castro's first buy came in March when he plopped down $25.5 million in cash for a pad in the Hollywood Hills. The five-bed, seven-bath spread spans more than 13,500 square feet and calls several celebrities neighbors, including Jimmy Kimmel, Ariana Grande, and Dakota Johnson.
House Hunting Spree
Financial advisors typically encourage major lottery winners to refrain from rash purchases following their life-changing wins.
Don't go out and buy a Ferrari, and don't buy a mansion," Emily Irwin, managing director of advice and planning at Wells Fargo's Wealth & Investment Management, told Fortune. "Maybe you have loans you want to pay off — that makes sense. But avoid mega purchases."
Castro isn't heeding Irwin's advice. Just weeks after buying the Hollywood Hills mansion, the Powerball winner paid $4 million for a property in Altadena. The home sits on three-quarters of an acre and has five bedrooms, five baths, and a saltwater pool. The home is about three miles from where Castro purchased the lottery ticket that forever changed his life.
Not finished, Castro continued to mull luxury real estate listings around Los Angeles. Working with celebrity realtor Mauricio Umansky, who appeared on The Real Housewives of Beverly Hills with his wife, Kyle Richards (the two are currently separated and divorce rumors abound), Castro found a $47 million compound in Bel Air overlooking Los Angeles. The abode comes with seven bedrooms, 11 baths, and an infinity pool with sweeping views of downtown Los Angeles.
Castro's three home purchases total more than $76.5 million before realtor fees and closing costs. Castro, who has avoided media interviews, has also been spotted driving around Los Angeles in a $250K vintage Porsche 911.
Jackpot Growing
The Powerball jackpot continues to grow in value and will in the coming weeks make someone else extraordinarily rich. The jackpot for Monday night's Powerball drawing is an estimated $638 million, with a cash option of $304.2 million.
At $638 million, the prize is the 10th-largest in Powerball history. The jackpot hasn't been hit since a player in California won a $1.08 billion prize during the July 19 drawing.
Castro's win was the richest in Powerball history and marked the only time that the jackpot has climbed upwards of $2 billion.