Powerball $1B Ticket Sold Near Skid Row, Los Angeles Mini-Market Owner Collects $1M
Posted on: July 23, 2023, 10:12h.
Last updated on: July 24, 2023, 01:41h.
The $1.08 billion Powerball ticket that matched the six winning numbers this past week was sold near Skid Row in Los Angeles — a neighborhood notorious for homelessness and crime.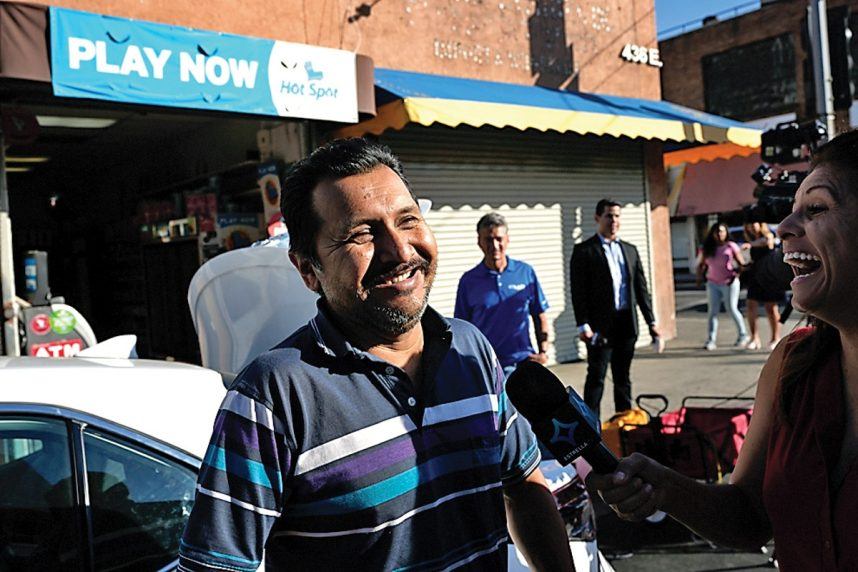 Powerball officials said the winning ticket that hit the July 19 drawing was sold at the Las Palmitas Mini Market in downtown Los Angeles, located at 1205 Wall St. The neighborhood is largely Latino and butts up against one of L.A.'s most infamous tent cities, filled with drugs, addicts, and people suffering from mental health crises.
The sixth-largest lottery jackpot in U.S. history being won in such an area has brought a bit of hope to the community.
I'm very happy," Nabor Herrera, 52, the owner of the Las Palmitas Mini Market, said in Spanish after media rushed the store following the win. "I think the person who won is Latino. I don't know who it was, but that's mainly who our clients are. Latinos working in the city."
Herrera didn't spend much time with reporters, as he said he needed to get back to unloading cases of water and milk from the trunk of his car. Herrera's store competes with many street vendors selling bottles of water, flavored water ice, and candy. One of the lures to get locals inside the store is being an official retailer of the California Lottery, which is one of Powerball's 45 participating states.
$1M Retail Reward
Powerball retailers have a vested interest in their ticket sales. In California, retailers can receive up to $1 million for selling a winning jackpot ticket. The lottery rewards retailers that sell a winning jackpot with a 0.5% share of the prize, but the prize is capped at $1 million.
Herrera did say before getting back to work that he plans to take his four children and wife on a vacation and invest the rest of the money. Asked about the state of his emotions, Herrera said, "Surprised."
Powerball officials said the identity of the winner was not immediately known. The winner has until July 19, 2024, to come forward and collect the prize. California does not allow lottery winners to remain anonymous, so the winner's identity will be made public.
The winner will need to decide whether to opt for the full value of the $1.08 jackpot paid out over a 30-year period, or for a one-time cash option of $558.1 million. Both amounts are before the federal government takes its 37% share — the highest individual tax bracket in which the winner will fall into regardless of whether they select the annuity or cash.
Immigrant Success Story
The Los Angeles Times reports that Herrera immigrated from El Salvador to the U.S. several years ago with his wife, Maria Leticia Menjivar. They opened a convenience store selling drinks, bread, canned food, and other common household items. They also decided to partner with the California Lottery to become an authorized retailer.
The California Lottery says for every $5 in lottery sales, a retailer on average generates an additional $10 in gross revenue by the lottery player making additional in-store purchases. Retailers also collect a commission from 4.5% to 6% on sales for California Lottery draw games.
Since 1985, the California Lottery says its retailers have collected more than $8.5 billion in commissions and bonuses.