$2B Powerball Winner Identity Revealed, California Man Skips Lottery Celebration
Posted on: February 15, 2023, 10:13h.
Last updated on: February 15, 2023, 11:55h.
November's $2.04 billion Powerball winner has come forward and revealed his name, but the lucky man who claimed the all-time richest lottery jackpot in US history isn't looking for additional publicity.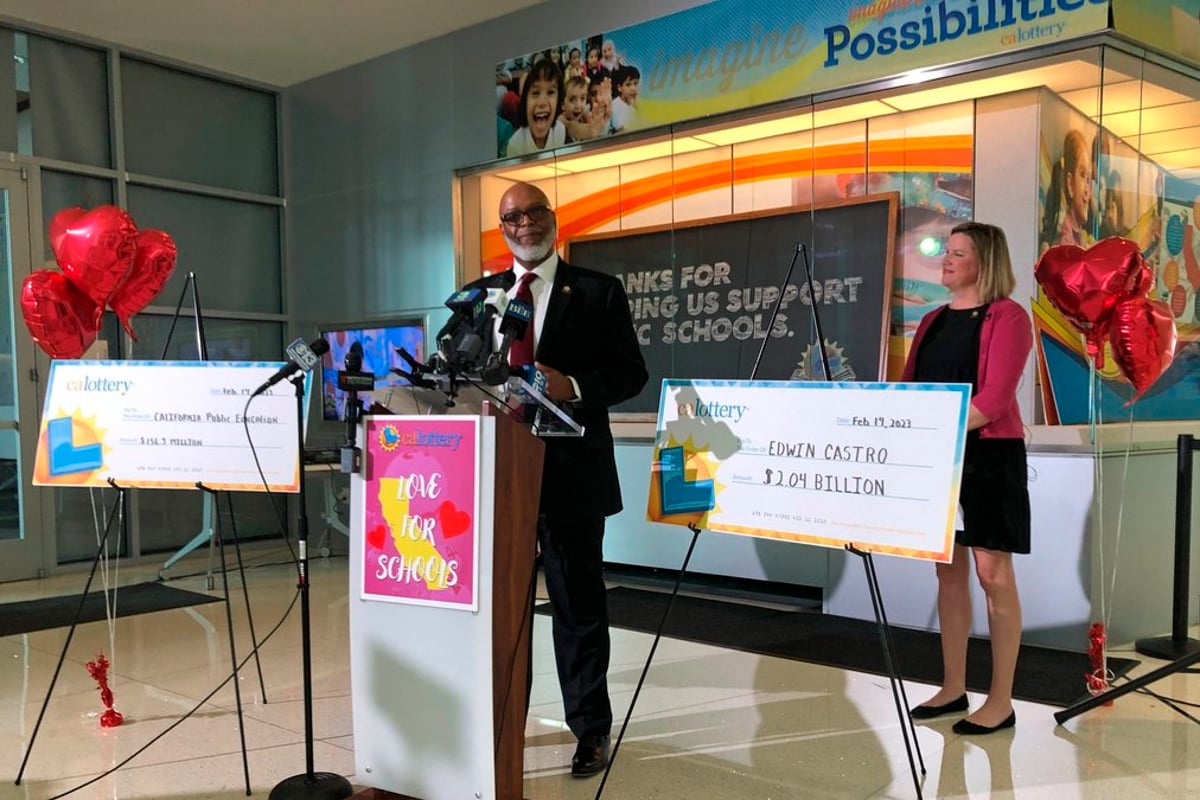 After 40 consecutive drawings without a jackpot winner, Powerball's November 7 drawing offered up a prize north of $2 billion. The winning numbers that night were 10-33-41-47-56 and red Powerball 10.
The Multi-State Lottery Association (MUSL), which operates Powerball for the lottery game's 48 participating jurisdictions, soon after announced that a single ticket had matched all six numbers to claim the $2.04 billion prize.
California lottery rules require that winners allow their identities to be made public and the retail location of where their ticket was purchased to be known. California mandates that winners' identities be disclosed to maintain public trust in the lottery system.
The California Lottery on Valentine's Day announced that the $2.04 billion winner was Edwin Castro. The lottery did not specify his age or occupation nor what he plans to do with the money.
Cash Option Chosen
The California Lottery said Castro respectfully declined the opportunity to appear publicly and wishes to remain private. But he did issue a statement that celebrated the school tax benefit that his historic Powerball win will provide California schools.
As much as I am shocked and ecstatic to have won the Powerball drawing, the real winner is the California public school system. The mission of the California Lottery, which is to provide supplemental funding for California public education — both public schools and colleges — makes this a huge win for the state."
"As someone who received the rewards of being educated in the California public education system, it's gratifying to hear that, as a result of my win, the California school system greatly benefits as well," Castro's statement, which reads like it might have been crafted in part with lottery officials, continued.
The California Lottery primarily benefits public education in the state. The lottery says 34 cents of every dollar raised goes back to public schools and colleges.
Since the lottery's inception in 1985, it has benefited public schools and colleges to the tune of more than $41 billion. The $2 billion in lottery proceeds that went to public education during the state's 2021-22 fiscal year accounted for just 1% of the state's annual budget for its public school system.
Castro opted for the one-time cash option of $997.6 million. After the federal tax of 37%, Castro's net haul comes to about $628.5 million. Fortunately for Castro, California doesn't tax lottery winnings as personal income, and therefore, his riches won't be further taxed by his home state.
$1M for Local Retailer
Castro wasn't the only big winner during the November 7 Powerball drawing. The California Lottery said Castro purchased his ticket at Joe's Service Center in Altadena, which is a Mobil gas station in Los Angeles County and an authorized California Lottery retailer.
For selling the record ticket, Joe's Service Center received a $1 million commission. The business's owner is a Syrian immigrant named Joe Chahayed.
Altadena is about 15 miles northeast of downtown Los Angeles and just north of Pasadena in the Verdugo Mountains.
Most Read