What's the Deal with Grey Horses? Why Only 3 Have Won a Grand National
There is something remarkably striking about grey horses – a genetic accident of skin pigmentation means they stand out in paddocks when parading and are easy to spot on racetracks in the thick of the action.
Just about three percent of all thoroughbred racehorses are grey.
Like their more common bay and chestnut counterparts, they are born with darker skin but their coats soon become dappled, then grey and eventually white.
Where Grey Horses Are Thought To Have Come From
Equine bloodstock and genetic historians believe that the gene that makes grey horses was introduced into the western world when Arabian stallions were brought to Europe for thoroughbred breeding purposes in the early eighteenth century.
One sire in particular, Alcock's Arabian, has been traced as their origin from about 1720. Genetics also tell us that at least one parent in a racehorse's pedigree must be grey in order to pass the trait on.
Grey Horses Have Higher Risk Of Developing Illness
There is also a cautionary tale about breeding greys.
From the age of 10 onwards they are genetically more likely to develop tumours on their skin, called melanomas, due to a biochemical link between coat colour and this illness.
This led some influential people in the bloodstock world to believe that grey horses are diseased – a prevailing attitude which only began to change when famous racehorses of this colour emerged.
Research continues into drugs that block malignant melanomas, though many tumours are thankfully benign.
The Lamb – a Grand National Pioneer
It follows that if so few of the thoroughbred population are grey horses, then it is little wonder only three have won the world's most famous steeplechase race – the Grand National at Aintree.
From their introduction into the equine gene pool in the early Georgian period, we jump ahead about 150 years to the end of 1860s and the Victorian era. William Henry Poulett, 6th Earl Poulett, loved his racehorses.
He owned a curiously-named horse called The Lamb, who won the Grand National twice and four seasons apart in 1868 and 1871.
What seems strange looking back on that now is Poulett's horse was fancied on both occasions despite no grey horses having won the race previously.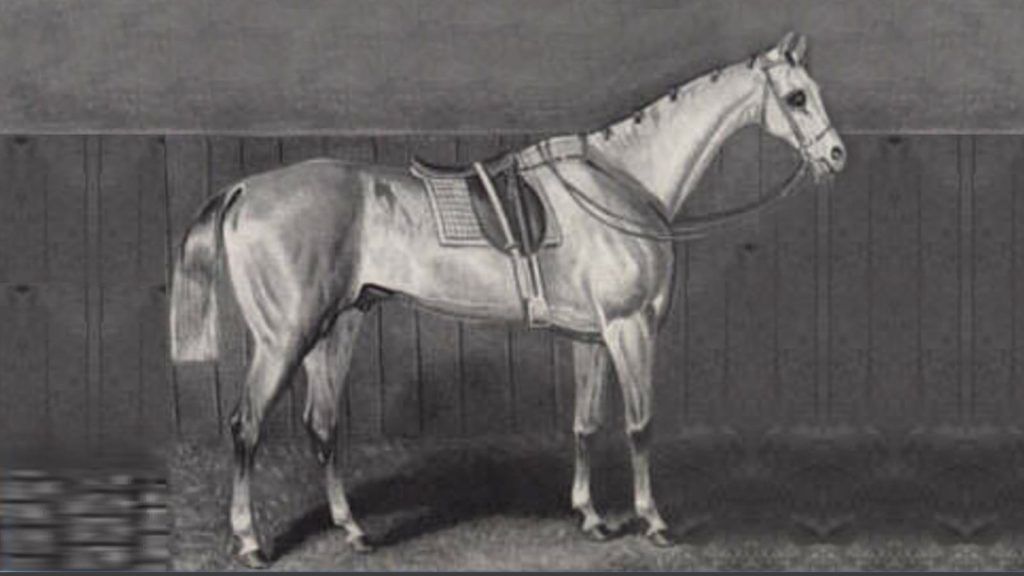 When The Lamb first landed Grand National glory aged six (he would not be eligible to run in it at that point his career today), only six finished and 21 ran.
His second success saw twice as many finishers from a 25-runner field and he was sent off about half the starting price of that previous victory.
Nicolaus Silver and Neptune Collonges Also on Honour Roll
Leaping forward almost another century and we come to Nicolaus Silver.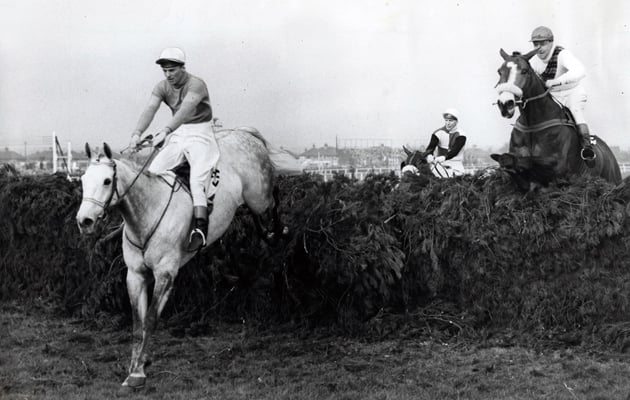 An Irish import into the yard of powerful trainer Fred Rimmell after his original handler Dan Kirwan died in 1960, he honoured the memory of present and previous connections by winning the Grand National the following year.
Sent off at 28/1, Nicolaus Silver raced carrying a relatively light weight of just 10st 1lb and scored by five lengths. This ended a 90-year wait for grey horses in the Grand National and it wouldn't be quite so long before it happened again.
Neptune Collonges was unfortunate in that he shared the same era as modern British National Hunt icons Kauto Star and Denman. He hailed from the same stables too, trained by Paul Nicholls during a golden period.
Bred in and brought from France by owner John Hales who is no stranger to having grey horses, Neptune Collonges was the third in a 1-2-3 for Nicholls in the 2008 Cheltenham Gold Cup. He would have his moment in the sun in the 2012 Grand National, however, and go out on a high.
Some 51 years after Nicolaus Silver, 33/1 shot Neptune Collonges got up on the line to score by a nose and just overhaul Sunnyhillboy – a horse he was giving 15lb in weight to.
Native Dancer – Legacy of the "Gray Ghost" of 1950s America
Given just three grey racehorses have won the Grand National in its illustrious history, first officially dating back to 1839, the world-famous horse race hasn't contributed much at all to their public popularity.
The answer to their enduring appeal can be found in thoroughbreds on either side of the Atlantic.
No equine athlete has done more to change perceptions of grey horses both on the track and at stud than Native Dancer.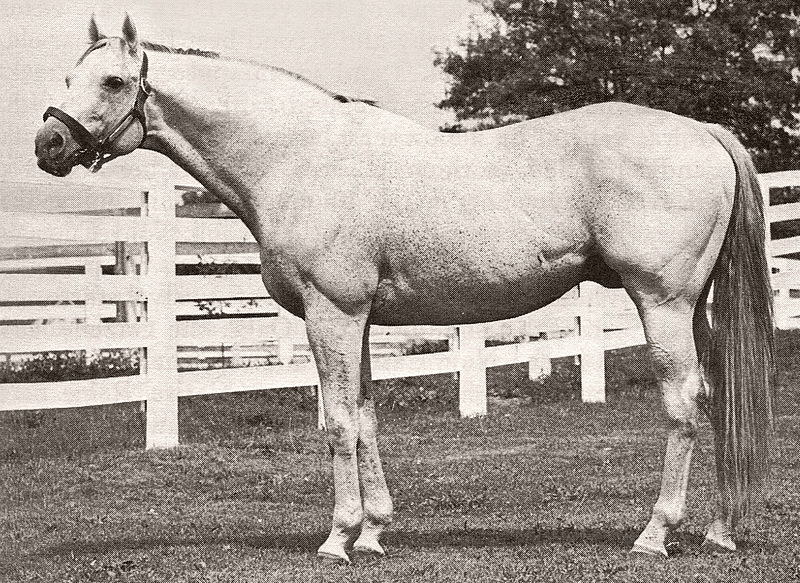 He was a real force stateside in the early 1950s and twice voted American Horse of the Year.
Native Dancer suffered just one defeat in 22 career races, finishing a head runner-up in the Kentucky Derby but went on to win the other two US Triple Crown legs.
Greatest Of Grey Horses At Stud
Nicknamed the "Gray Ghost" in line with the American spelling of grey, he went on to be hugely influential on breeding.
As the grandsire of Northern Dancer, Native Dancer's progeny from subsequent generations includes English Triple Crown hero Nijinsky, Sadler's Wells and Galileo.
All of these horses have been overarching influence as sires of many top British and Irish Flat thoroughbreds. A plethora of racehorses over the last 60 years can trace their lineage back to Native Dancer.
They include the American Horse of the Year for 1986, Lady's Secret who had him on the distaff side of her pedigree and was by the mighty Secretariat.
This grey filly was absolutely bred in the purple and, although small in size and light in stature, she was a prolific winner of valuable handicaps on the track.
Native Dancer's exploits coincided with the first televised coverage of horse racing in America which admittedly was in black and white.
By the era of Spectacular Bid and Lady's Secret, grey horses were easily identifiable as broadcast pictures came into people's homes in glorious technicolour.
Desert Orchid – Popularity Personified
No grey racehorses anywhere in the world can hold a candle to Desert Orchid in terms of popularity, though.
Foaled in rural Leicestershire in England and trained by David Elsworth for much of the 1980s, "Dessie" became public property.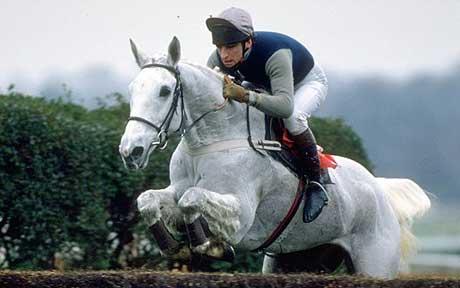 He wasn't even at his best on racetracks configured anticlockwise, but still managed a heroic Cheltenham Gold Cup triumph on bottomless ground in 1989 despite being headed by Yahoo.
It was at right-handed courses, notably Kempton Park, where Desert Orchid shone the most.
His four victories in the King George VI Chase there on Boxing Day across five seasons was a record until a certain Kauto Star came along and won the Christmastime feature five times.
Desert Orchid also proved he could stay further than the easy three miles at Kempton by winning the Whitbred Gold Cup at Sandown Park in 1988 and the 1990 Irish Grand National around Fairyhouse.
Both of those races were over trips further than three-and-a-half miles.
Too Good For Aintree?
Would the Grand National have been a problem for Desert Orchid had he ever contested it?
He was classy and speedy enough to win Sandown's Tingle Creek and the Clarence House Chase at Ascot over about two miles, yet also highly versatile as victories in those staying handicaps at almost twice the distance show.
Connections were always worried about Dessie's tendency to jump out to his right. Aintree, like Cheltenham, is a left-handed track and the Grand National course's major obstacles like the Canal Turn could have seen him career into other horses and heighten the risk of falling.
This was one grey horse who was so beloved – and rated 187 by the official handicapper at his peak – that perhaps he was too good for the world's most famous steeplechase.
The Grand National then, in the late 1980s, as now is a lottery. Other grey horses will try their luck in it, though.
Sources:
https://edition.cnn.com/2012/08/29/sport/horse-racing-gray-horses-appeal/index.html
https://www.horseandhound.co.uk/features/great-grey-racehorses-462421
http://news.bbc.co.uk/1/hi/sci/tech/2296131.stm
https://www.theguardian.com/sport/blog/2011/mar/25/grey-horses-grand-national