10 More Free Things to Do in Las Vegas If You Have a Short Attention Span
It seems everyone is talking about our 10 Best Free Things to Do in Las Vegas If You Have a Short Attention Span, assuming our mom qualifies as "everyone."
Here are 10 more free things to do in five minutes or less. Remember, pace yourself.
1. Train Cars at Main Street Station
Downtown's Main Street Station is a treasure trove of fascinating finds and delicious discoveries, as well as, apparently, alliteration. Just outside Main Street Station, there are several fully-restored train cars, including the Blackhawk which once served as the personal car of dignitaries including Buffalo Bill Cody, Theodore Roosevelt and Annie Oakley. Total time required: Four minutes.

2. Lou Ruvo Center for Brain Health
Even if you don't know a thing about architecture, the Lou Ruvo Center for Brain Health is worth a visit. The building looks like it's melting, and was designed by Frank Gehry, an architect so famous we can barely stand to confess we've never heard of him before. According for former Las Vegas Mayor Oscar Goodman, the building got its shape from a piece of paper. Total time required: Three minutes.

3. Sewing Machines at All Saints
We must have walked by the All Saints store at the Cosmopolitan 50 times before noticing the incredible collection of about 1,100 antique sewing machines. Walk along the window displays, or stroll inside to see sewing machines large and small. Total time required: Three minutes.

4. Ivory Tusk at Treasure Island
We never visit Treasure Island without stopping for another look at this incredible artifact, an intricately-carved woolly mammoth tusk. It's located near the casino's cashier cages, and is believed to have taken several generations to complete. Total time required: Five minutes.

5. One Bar at Golden Gate
Golden Gate is the oldest casino in Las Vegas, but a stop by its outdoor One Bar is a reminder of why fun never goes out of style. Bartenders do double duty as dancers, and if you're into into that, you can catch flair bartenders at the casino's Stage Bar a few feet away. Total time required: Five minutes, although you'll want to stay longer.

6. Noodle-Making at Beijing Noodle No. 9
The talented chefs at Beijing Noodle No. 9 at Caesars Palace make fresh noodles throughout the day, and the process is a wonder to behold. Total time required: Three minutes.

7. Meet Penn & Teller
Love comedy-magicians Penn and Teller? Well, you can meet them. They hit the lobby to schmooze with fans after every show. How is this a "free thing to do"? Well, nobody says you have to see the show. You should, but it's not required. Total time required: Five minutes.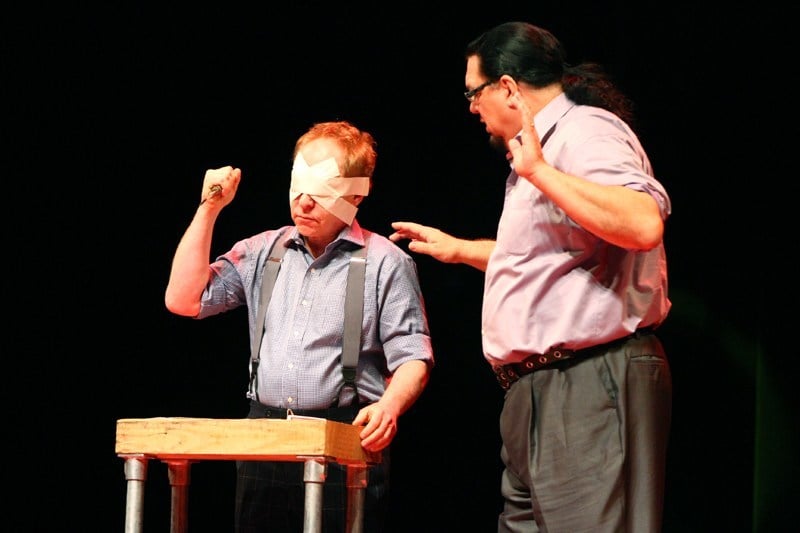 8. El Portal Theater
Under the canopy at downtown's Fremont Street Experience, you'll find what remains of the city's first movie theater, built in 1928. El Portal Theater has the distinction of being the first building Las Vegas to install air-conditioning. Total time required: Two minutes.

9. Mechanical Bull at PBR Rock Bar
Of course we don't recommend actually riding a mechanical bull! We just mean it's fun to watch other people get thrown off them. You can also see people risking traumatic brain injuries at Gilley's at TI and Chayo Mexican Kitchen restaurant at The Linq. Total time required: Four minutes.

10. Flame-Throwing Mantis at Downtown Container Park
It's big, it's loud and it's a true crowd-pleaser. The giant, fire-breathing praying mantis at the Downtown Container Park is fiery fun for all ages, and since you've made the trip, visit the Container Park. It's the quirkiest mall in Las Vegas. Total time required: Two minutes, much like making love to this blog.

If you finish this list, you'll want to check out our 12 Things You Absolutely Must Do in Las Vegas and 10 Things You Have to Do in Las Vegas in 2014.
Or just sit there and gamble your face off. In Las Vegas, you're the boss of you.