Rose. Rabbit. Lie. and "Vegas Nocturne," Just the Right Amount of OMFG
In Las Vegas, hype often overshadows reality. Ever taste real Kobe beef? Meh.
In the case of Rose. Rabbit. Lie. at Cosmopolitan Las Vegas, however, we'd submit there hasn't been nearly enough hype, because at this utterly unique nightlife venue, every possible expectation is surpassed.
Rose. Rabbit. Lie. is equal parts quality, charm, creativity and humor, the melding of which results in a remarkable dining, entertainment and nightlife experience.

That said, we should start with an obvious question: "What, exactly, is it?"
Yes, Rose. Rabbit. Lie. is a weird name, granted. Too many periods. But let's get past that. Rose. Rabbit. Lie. is, simply, a venue at The Cosmo. Within the venue is a restaurant, bars, a show called "Vegas Nocturne," and later in the evening, a nightclub. Knowing what it is, though, doesn't do it justice.
This sort of does it justice: You will simply not find a more captivating, memorable evening out in Las Vegas. Or, what the hell, anywhere.

Every moment of a visit to Rose. Rabbit. Lie. is masterfully orchestrated. Or more accurately, curated. Every detail is expertly concocted to provide surprise after surprise, resulting in a level of satisfaction you can't easily put a value on. Shows are shows. Food is food. But, somehow, Rose. Rabbit. Lie. and "Vegas Nocturne" bring together an experience where the service is extraordinary, the food is on par with any of the finest in the city, the atmosphere is electric and contagious, and the entertainment will leave you ravenous for more.
Let's break it down, shall we?
Much of the offerings at Rose. Rabbit. Lie. can be done as a package or a la carte (French for "we don't speak French, sorry"). You can just have dinner. You can just see "Vegas Nocturne." You can just do a bar or the nightclub. To get your full measure of euphoria, you should do the whole thing, starting with dinner.
When you arrive, you encounter a series of doors, five in all. Each of the doors leads to a different room. Each one serves a different purpose, and each one has a distinctive vibe. Those rooms are the Library, Music Room, Swimming Pool, the Study and the Ballroom where "Vegas Nocturne" happens. (More photos below, of course.)

Dinner is served in the Library. Nobody seems to know why it's called that, as there is not a single book to be found.
Rose. Rabbit. Lie. serves up fine dining without pretense. Every dish manages to remind us mortals how common and forgettable our everyday food is.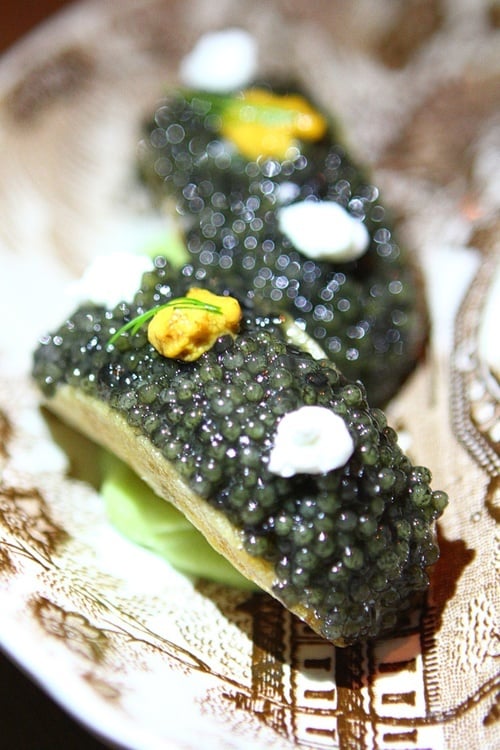 The menu is divided into these sections: Herbivore's Delight, From the Sea, Plates Around the Table, Pearls for a Spoon and Feast. The bulk of the menu consists of small plates, with prices ranging from $5 to $35. (In the Feast section, there's an indulgent Whole Roasted Giant Alaskan Red King Crab for $1,200, just to ensure the high rollers have a way to show off their bankroll.)

Each dish seems to have been devised by a team of culinary masterminds. Every single dish is meticulously prepared, served by knowledgeable servers who, gasp, seem to be enjoying what they do.
We love small plates because you get to avoid committing to anything. There's so much to love here, we can't begin to pick any favorite dish. From the herb brioche rolls to the Waldorf salad and lobster cocktail, from the gnocchi to the caviar tacos (don't freak out, they're just $15 each), each bite is better than the last.

The salads are super fresh and full of surprises, like everything else at Rose. Rabbit. Lie. The Crispy Oyster Rockefeller made us reconsider our lifelong ban on anything even remotely the texture of oysters.

There was no way we had room for dessert, but those offerings are intriguing, too. Oeufs a la Neige, Pine Nut Mousse, Valrhona Caramelia Chocolate, Black Truffle Ice Cream Sundae, a Chocolate Terrarium and more. Do we know what half of those are? No? Do we trust Rose. Rabbit. Lie. to deliver something great? Of course.
The cocktails at Rose. Rabbit. Lie. are extraordinary, too. We might not know a fricassee from a torchon, but we know a little something about hooch.
Our waiter recommended the Monkey Gland, so we went with it. Tanqueray Malacca gin, pomegranate nectar, lime, Absinthe and orange foam. Crazy good.

In terms of price, the cocktails are a bit of a knee to the nads, in the $16 range, but we're talking excellence in mixology here, so indulge, pace yourself and savor every sip. There are cocktails on draught, the Moscow Mule and La Paloma, as well as cocktail flasks ($45), especially useful if you're taking a cocktail in to the show.
We may also have had a Fuzzy Navel. A couple of drinks in, one's note-taking suffers a bit.

We should mention the wine list at Rose. Rabbit. Lie. has several hundred selections, so again, pace yourself.
At this juncture, we should talk about the atmosphere. While dining, guests are treated to some incredible live music. In an adjoining room (the Music Room), a small band plays jazz versions of top 40 songs. Amazing.

Also, at various points, roaming entertainers who also appear in "Vegas Nocturne" roam into The Library and Music Room to perform snippets of their acts. This free-flowing blend of food and drink and music and variety performances is what gives Rose. Rabbit. Lie. much of its mystique and appeal.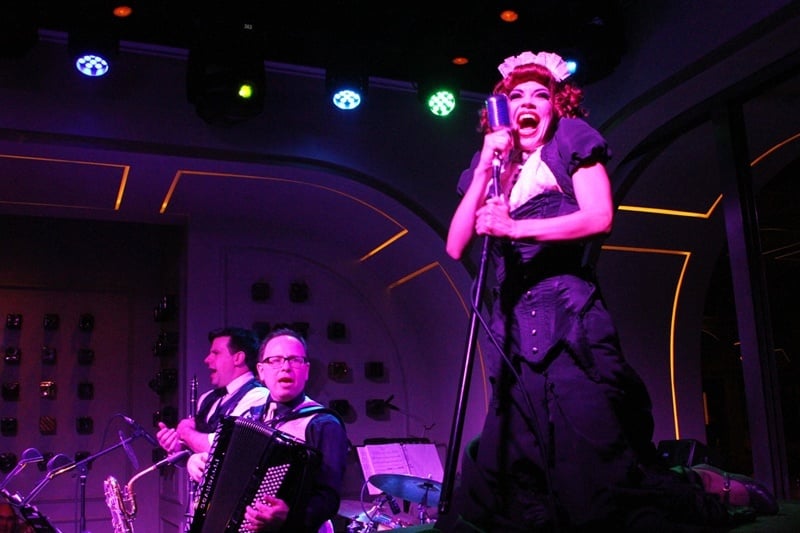 There are three performances of "Vegas Nocturne" at Rose. Rabbit. Lie. Each of the performances is different, with variety acts rotating between them. A lovely touch is if you're dining, a staffer will actually seek you out to make sure you get into the show on time.

Until recently, "Vegas Nocture" showed at 8:00 p.m., 10:00 p.m. and midnight, but now the shows take place at 7:30 p.m., 9:30 p.m. and midnight. Rose. Rabbit. Lie. calls these different shows "cantos," but feel free to give them a fancy label of your own. Chapters? Movements? Steve. You could just call them Steve.
"Vegas Nocturne" is what you'd expect from the masters of mayhem behind the successful "Absinthe" at Caesars Palace. It's irreverent, and the acts are truly top-notch.

The quirky performers range from contortionists to acrobats to balancing acts and aerialists. The shows are hosted by a cast of eccentric characters.
A stand-out was Captain Frodo, a hysterical physical comedian whose entire act consists of putting his body through tennis rackets. Again, doesn't do it justice. Brilliant.

After the show, guests get to explore rooms they may not have seen and try more of those delicious signature cocktails.
So, as we said, dinner is served in the Library.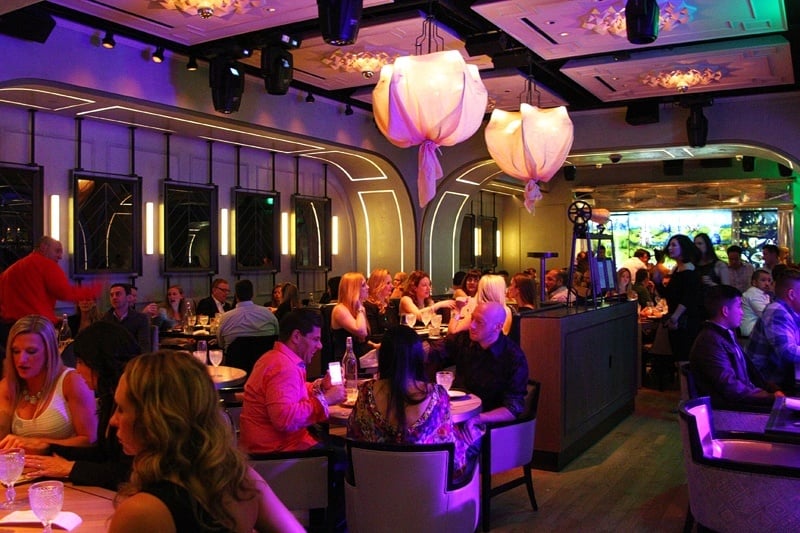 The Music Room has (wait for it) music and occasional entertainment.

The Study is an intimate bar.

The Swimming Pool room is probably our favorite. It's named that because the floor is covered with tile from, wait for it again, a swimming pool. Here, you're in a lounge that's actually the backstage area for "Vegas Nocturne."

A stage revolves, taking acts out to where the show is being performed. Besides being a fascinating look at the inner workings of "Vegas Nocturne," the performers do snippets of their act before they go on, so again, entertainment blends with nightlife.

We didn't stay for the nightclub to unfold, as we're not particularly a nightclub person, but we have no reason to believe it's not a good time, too.

Overall, Rose. Rabbit. Lie. has raised the bar almost impossibly high in terms of Las Vegas nightlife. Find out more at the official site.
It's touted as being a "social experiment." We're not sure what that means, because it's hardly an experiment. Rose. Rabbit. Lie. has dining, libations and entertainment down to a science.
Call Rose. Rabbit. Lie. what you want. We call it a revelation.
Rose. Rabbit. Lie. and "Vegas Nocturne"