Wynn Resorts Has Stock Rebound as Steve Wynn Buys a Million Shares
Posted on: December 14, 2015, 02:52h.
Last updated on: December 14, 2015, 03:08h.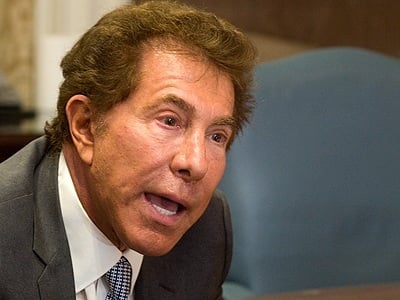 Wynn Resorts is having a good week.
Steve Wynn's decision to buy up one million of his own company's shares appears to have restored market faith in his company, and a previously delayed opening for his latest Macau venture has been once again returned to its original opening date.
The company's stock, which has declined steadily in unison with Macau's fortunes over the year, rallied in the wake of the news that the mogul had spent around $63.9 million to acquire 1,003,977 shares on the open market, at $64.44 each.
It's an incredibly bullish move from Wynn, who, despite the slump in Macau, clearly has faith in the long-term profitability of Wynn Palace Macau, the $4.1 billion mega-resort currently under construction on the Cotai Strip.
The market responded accordingly, and share prices climbed, finishing up at $69.91 at the close of trading on Friday.
Putting His Money Where His Casinos Are
The market always reacts well to bullish stock purchases, especially when they come from the top brass. Motley Fool said this week that, despite Macau's tumbling fortunes, Wynn Resorts remains a strong proposition for long-term investors.
"In this case, not only is Steve Wynn bullish on his company, he's putting his money where his mouth is," said The Fool. "That one million share buy represents a 10 percent increase in his 10.07 million share stake in the company, and accounts for nearly one percent of the 101.6 million shares outstanding.
"That's a level of investment some companies announce in a buyback program, so a CEO putting that much of his own money into the stock has to be viewed as a good sign."
Deutsche Bank suggested that said there is an additional factor that boosts Wynn Resorts credentials.
"In our view, anytime a CEO buys a meaningful stake it sends a favorable message," said the bank in a research note. "However, in this instance, and assuming the shares are included in the unilateral agreement, which makes selling very difficult, we view the message as that much more forceful," Deutsche Bank wrote in a research note following the purchase, according to Business Insider."
Potential for "Incredible Growth"
Then on Monday, Wynn announced that the Wynn Palace Macau would be opening on time after all.
Several weeks ago, the company said that the big day would be postponed by three months, due to construction delays, but these issues now appear to have been resolved, and the original date of March 25, 2016 has been restored.
"A lot of investors have abandoned Wynn because of its declining revenues from Macau, but Wynn Palace is a game changer," concludes The Fool.
"It will more than double the company's footprint in the world's richest gaming market, and if its opening coincides with a turnaround on Macau, it could lead to incredible growth for the company," the stock adviser site noted.