Wynn Las Vegas Guest's Two Luxury Watches Allegedly Stolen by Teen After Massage
Posted on: October 11, 2023, 02:47h.
Last updated on: October 11, 2023, 03:07h.
A woman in her late teens allegedly swiped two expensive Rolex watches from a man staying in a room at the Wynn Las Vegas earlier this month.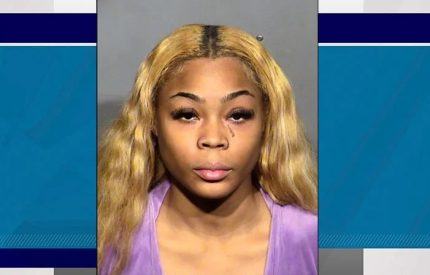 The suspect, Tramiyah Stephens of Las Vegas, who is either 18 or 19 years old, was charged with grand larceny valued at $100K or more and engaging in prostitution, Las Vegas TV station KLAS reported on Tuesday.
She posted bond and was released from the Clark County Detention Center. Her case was turned over to local prosecutors.
The watches were described as Rolex Presidentials valued at $60,500 and  $49,000, respectively.
Stephens initially met the man on the casino's gaming floor as he was cashing out winnings from NFL wagers. The couple then went up to his room.
The man reportedly took a shower alone in the bathroom and had his belongings with him. Stephens, meanwhile, was in the outer room where she mixed tequila drinks.
After he left the bathroom, the man lay down and placed a watch case containing the Rolexes on the bed. Stephens then gave him a massage before he fell asleep.
"When he woke up, his travel case containing his Rolexes and Stephens were gone," according to a Las Vegas Metropolitan Police Department (LVMPD) arrest report.
Trick Roll
LVMPD officers identified the incident as a "trick roll,"  which is when a suspected sex worker steals belongings or cash from a customer.
The victim claimed he and Stephens never discussed paying for sex, the report said.
Stephens was charged with prostitution previously this year, according to KLAS, and has cases pending in local court. They are linked to incidents in March, July, and September, KLAS reported.
The unnamed victim was a tourist visiting Las Vegas.
Prior Rolex Theft
In what appears to be an unrelated incident, a visitor to Caesars Palace Las Vegas awoke to find that two women stole $120K in cash and his Rolex watch. The incident took place in September in his hotel room after he won a jackpot at the casino.
The suspects were identified as Coriana Singelton, 29, and Marriah Vanderwaal, 32. They were both charged with grand larceny, burglary, and conspiracy. The duo were each booked at the Clark County Detention Center.
The three met after the man won $120K on the casino's gaming floor. They then went to the victim's room and had sex.
It's unclear if LVMPD officers ever recovered the cash and watch. The Rolex was valued at $20K, authorities said.
That incident, too, was identified by LVMPD cops as an example of a trick roll.