World Cup 2014 Circus: Suarez Loses 888, While Neymar Briefs
Posted on: June 28, 2014, 10:00h.
Last updated on: June 28, 2014, 01:55h.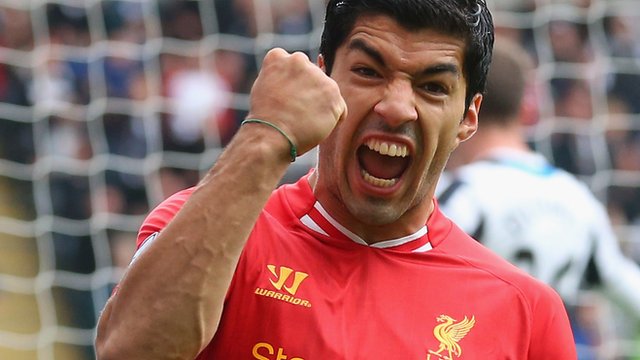 It's all over but the shouting: as we reported earlier this week, the Bite That Rocked the World Cup, aka Luis Suarez loses his mind, now has 888poker officially cutting ties with the Uruguayan striker. Following a four-month playing ban by FIFA that effectively ends his World Cup play, Suarez must now face the sobering reality that he bit off more than he could chew this time, career-wise.
It was only last month that 888 signed the, um, colorful character that is Suarez to its ambassador program, and even then, it looked like a shaky bet on the part of the online poker giant; after all, this wasn't exactly the first, or second, or third (you get the idea) time that Suarez sank his teeth into a very bad idea.
"888poker signed Luis Suárez following a fantastic season for which his achievements were widely recognised," said the company in an officially issued statement. "Regrettably, following his actions during Uruguay's World Cup match against Italy on Tuesday, 888poker has decided to terminate its relationship with Luis Suárez with immediate effect."
In case you live in a bubble and haven't heard the gory details, the FIFA ban and 888 shunning follow a much-publicized dental assault on Italian player Giorgio Chiellini during the pair's match up between Uruguay and Italy as the final Group D showdown last week. Italy was later knocked out by South America, making it a doubly bad day for Chiellini.
Is it just us or is 888.com the big winner in all this? By becoming the first of Suarez's sponsors to officially ditch him over the incident, they pretty much got a mention in every newspaper and news website in THE WHOLE WORLD. Way to make lemonade out of lemons, 888. That bite seems to have left you with plenty of zest. (Sorry, we are on a pun-athon right now and cannot be stopped).
Brief Encounter
Speaking of branding, the World Cup is a maelstrom of corporate sponsorship and the rules are exceedingly strict on brands, which is why FIFA has launched a very serious investigation into Neymar's underpants. It appears that the little Brazilian playmaker with the dazzling feet and toilet brush hairdo was seen wearing Speedo underwear during the customary post-match exchange of shirts when Brazil played Cameroon last week.
Now, Speedo, while it does makes very nice underwear, is not a licensed FIFA brand and herein lies the problem.
At the heart of the investigation is whether Neymar purposefully exposed the Speedo logo on his underwear or whether it was pure accident that the offending articles had ridden up slightly above his shorts (it happens!). How they propose to determine this we have no idea.
Were Neymar's underpants illegal, and, if so, should he be forced to remove them? Maybe he should be banned for life. We'll be sure to bring you updates from the investigation as it progresses.
The Big Payoff
As we also reported in our earlier story, some clever bettors made bank on the Big Bite Theory before it happened; we now have some more details on how that all played out.
In fact, important news reaches us from Sweden, where bookies have paid out just under 1,400 kroner ($2,070) to one prescient punter who predicted that Luis Suarez would sink his Bee Gee-like ivories into the soft, tempting flesh of an opponent at the 2014 World Cup.
Jonathan Brack, a 23-year-old teacher from Stenungsund, placed the 80 kroner ($12) bet at odds of 174 to 1, and the Uruguayan duly obliged by attaching his gleaming dentition to the shoulder of Chiellini during the Uruguay Italy game, before rolling on the floor feigning injury to his fangs. It seems that over a 150 people across Europe have won money on similar bets.
"I was looking through some odds before the tournament started and I saw this bet and thought I had to take a chance," Jonathan told the BBC. "I wanted to place hundreds but my friend told me not to waste my money on such a stupid thing."
But we still say 888 will be laughing all the way to the bank on this one. After all, Suarez has pretty much given them a lifetime's publicity in one mad, hellish, impulsive moment. And they don't have to pay him anymore.