William Hill to Close 700 UK Betting Outlets as FOBT Reforms Start to Hurt
Posted on: July 4, 2019, 02:02h.
Last updated on: July 4, 2019, 03:13h.
British bookmaking giant William Hill said Thursday it would close 700 of its 2,300 retail betting shops in the UK, a move that could lead to 4,500 job losses.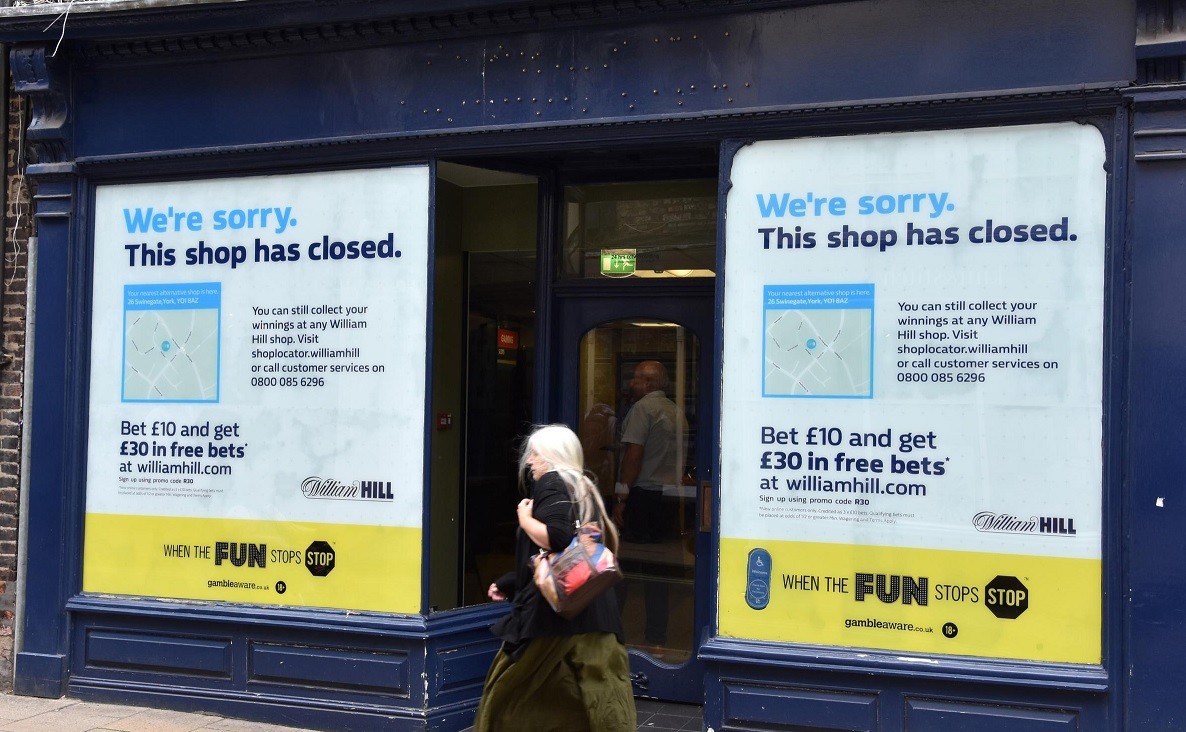 The news comes almost seven months after new rules came into effect slashing the maximum stakes on fixed-odds betting terminals (FOBTs), which politicians have called a "blight on society."
FOBTs are a type of touch-screen video gambling machine that offer various games, such as slots, simulated horse and greyhound racing, blackjack, and bingo. But the most commonly played game, by far, is roulette.
Previously, customers were able to bet up to $100 per spin — that's every 20 seconds —  but the UK government unleashed a regulatory wrecking ball on the industry when it opted to drastically reduce maximum stakes to £2 per spin, despite warnings of shop closures and job losses.
Death on the High Street
Following the decline in the popularity of horse racing and the rise in online betting, land-based bookmakers had come to rely on the machines for up to 50 percent of their revenues.
With William Hill's main competitors in "the high street" — a metonym in the UK for the brick-and-mortar retail sector — expected to follow suit, it's estimated that a quarter of Britain's 9,000 bookmaking shops could close.
Ladbrokes — which overtook William Hill as the biggest high-street bookmaker when it merged with Coral in 2015 — could shutter 1,000 outlets over the next two years, according to an internal memo leaked to The Guardian, which would jeopardize around 5,000 jobs — although it is yet to make an official announcement.
'Really Disrespectful'
William Hill said in a statement that it would begin the closures before the end of the year and that staff had been informed.
"The group will look to apply voluntary redundancy and redeployment measures extensively and will be providing support to all colleagues throughout the process," it added.
But the BBC was contacted by one employee who had been informed on Thursday that his outlet would close via a prerecorded conference call, a move he described as "really disrespectful."
The scale of the closures has come as a massive shock to lots of staff members who had been being assured for months that they would not lose their jobs," said the worker, who asked to remain anonymous.
"The upshot is that thousands of people will be left unemployed as a result of this and lives have already begun to be turned upside down."
The British Are Coming
But the US represents endless silver linings for William Hill. Less than a month after the UK government announced its FOBT reforms in April last year, the US Supreme Court rejected PASPA, the federal law that prohibited state-sanctioned sports betting, opening up the US markets.
William Hill was already the market leader in Nevada, where it has several hundred retail betting outlets — not just sports books in casinos, but also wagering kiosks at bars, 7-Elevens, and truck stops throughout the state.
Since the repeal of PASPA, it has seized the opportunity presented by the opening up of the US markets and increased its footfall in America.
Soon, it could explode.
In September last year, it struck a deal with Eldorado Resorts that will see it operate sports betting at all Eldorado casinos for the next 25 years.
Now, Eldorado stands on the brink of a merger with Caesars Entertainment that will create a $17.6 billion regional casino powerhouse, with 70 properties across 16 US states.
With things so miserable at home, William Hill wants a piece of that.