Betting on US Presidential Campaign Outcome for 2016: Okay Anywhere Except in America
Posted on: August 31, 2015, 01:28h.
Last updated on: August 31, 2015, 02:03h.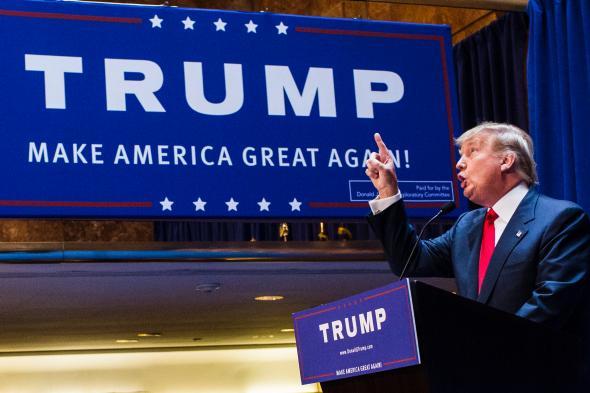 The current US presidential campaign is anything but boring, that's for sure. And you can bet it will continue to unfold in an interesting way. Well, you can bet anywhere except in its country of origin, that is.
The race for president of the United States won't be decided for a well over a year, though you could easily be forgiven if you forgot it was that far away: coverage of the race has been pretty intense this summer, even with the first primaries still months off.
But it's not just Americans interested in the rise and fall of various candidates, as bookmakers in many overseas countries are also seeing a surge in interest when it comes to betting on the 2016 election season.
A quick look at Oddschecker, a website that compares betting odds at numerous different sportsbooks across the Internet, shows just how many different companies are offering bets on both the eventual winner of the presidential race and both the Democratic and Republican nominees. It's a market that is sure to have just as many twists and turns as the races themselves, with the odds already shifting significantly in just the past few months.
Bush, Clinton Pegged as Betting Favorites
On the Republican side, for instance, former Florida Governor Jeb Bush came in as the favorite to win the nomination, with Wisconsin Governor Scott Walker and Florida Senator Marco Rubio also seen as likely picks. But that trio has been joined by a fourth top-tier candidate: larger-than-life personality Donald Trump, who is beginning to be seen as a true contender, at least in the eyes of many bettors.
At most sports betting websites, Bush is still the favorite, offered at odds of about 6-4. But Trump is often listed as the second choice at 7-2 odds, while Rubio and Walker come in at around 6-1 each.
On the Democratic side, former Secretary of State Hillary Clinton is still an overwhelming favorite, but at least two other candidates are now being given a fighting chance by oddsmakers. Vermont Senator Bernie Sanders is pegged as a 6-1 choice at many sportsbooks, while Vice President Joe Biden, who hasn't even declared for the race as of yet, is listed at 5-1 by many websites.
UK Bets on the Colonies and Trump
The UK in particular has taken a strong interest in the 2016 presidential race. According to Matthew Shaddick, head of political odds for Ladbrokes, it's a change for a slice of their business that usually hasn't been taken very seriously.
"In the past, political bets were largely loss leaders for betting companies, and they were mainly good for drumming up a bit of publicity," Shaddick told USA Today. "Now we are taking it more seriously, and we expect the amounts will increase dramatically the closer we get to election time."
Just as coverage of the election so far has focused heavily on Trump's campaign, so has the betting in other countries. According to a spokesperson for Paddy Power, more than half of the bets they have taken so far have come in on the business magnate and reality television star.
Just because Americans generally can't bet on the election doesn't mean that they aren't taking part in the gambling in some ways, though. The Iowa Electronic Markets give Americans a legal way to bet on the outcome through futures contracts, and a site called PredictIt, operated by Victoria University in New Zealand, offers a similar service.
Meanwhile, some lawmakers in Nevada say that sportsbooks in the Silver State should be able to take bets on elections just as they do on a variety of sporting events.
"Why not bet in Nevada and make some money on it?" State Senator Richard Segerblom (D-Las Vegas) told the Boston Globe. "People say it's going to ruin our reputation. This is Nevada. What kind of reputation are you talking about?"
We won't answer that.