U.S. Integrity, Odds on Compliance Form Sports Betting Compliance Giant
Posted on: October 5, 2023, 09:57h.
Last updated on: October 5, 2023, 10:59h.
U.S. Integrity and Odds on Compliance, two of the largest providers of sports wagering and gaming compliance services, have announced plans to merge.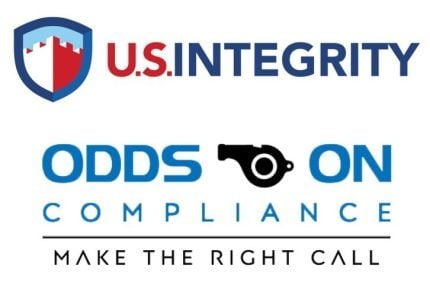 Las Vegas-based U.S. Integrity and Miami-based Odds on Compliance are both closely held companies. Financial terms of the transaction weren't disclosed.
The merge was somewhat forecast when, earlier this year, the two companies teamed up on ProphiBet, "the industry's first and only prohibited bettor solution providing a secure and transparent method for sports properties."
"This strategic merger will create a powerhouse of expertise, innovation, and comprehensive solutions for betting operators and professional and collegiate sports organizations in the ever-evolving world of sports betting and gambling compliance," according to a statement issued by the merger partners.
The transaction is scheduled to close later this month.
Vast Market for Sports Betting Compliance
Amid a spate of recent sports betting controversies involving college and professional athletes, a growing market related to compliance services could bode well for the combined U.S. Integrity/Odds on Compliance.
U.S. Integrity clients include college conferences and individual teams, professional leagues, and sportsbook operators. Specific names on the company's client roster include Monarch Casino Black Hawk, William Hill, the NBA, the Big 12, the PAC 12, and the SEC, among others.
The aforementioned ProphiBet unit has proven adept at attracting new customers as well.
"ProhiBet has gained incredible momentum following its launch September 1st with the signing of several sports properties and operators, including the BIG12, UFC, AAC, and Hard Rock Digital, among dozens of others," according to the statement.
Demand Seen Rising Sports Wagering Compliance
Smart bettors know they aren't going to win all of their sports wagers, but they want to know that they're betting on a level playing field, making integrity paramount. Unfortunately, match-fixing rears its ugly head on occasion, and gaming companies are motivated to prevent it from happening. Underscoring the market potential in sports wagering compliance, U.S. Integrity is backed by an impressive investor roster.
Supported by investors including Las Vegas Sands, SeventySix Capital, and the New York Angels, U.S. Integrity partners with some of the largest professional sports leagues and collegiate conferences in the U.S., as well as licensed sports-betting operators and regulators," according to the company.
Sands took a stake in the analytics and data provider last year. SeventySix Capital is also an investor in Odds On Compliance, as is Tekkorp Capital, which invests in public and private companies with exposure to the esports and gaming industries.