Tropicana Atlantic City Gambler Wins $1.1M, Tips Casino Staff $50,000
Posted on: February 18, 2021, 10:31h.
Last updated on: February 23, 2021, 10:16h.
Tropicana Atlantic City was the site last weekend of an unprecedented $1.1 million progressive poker jackpot.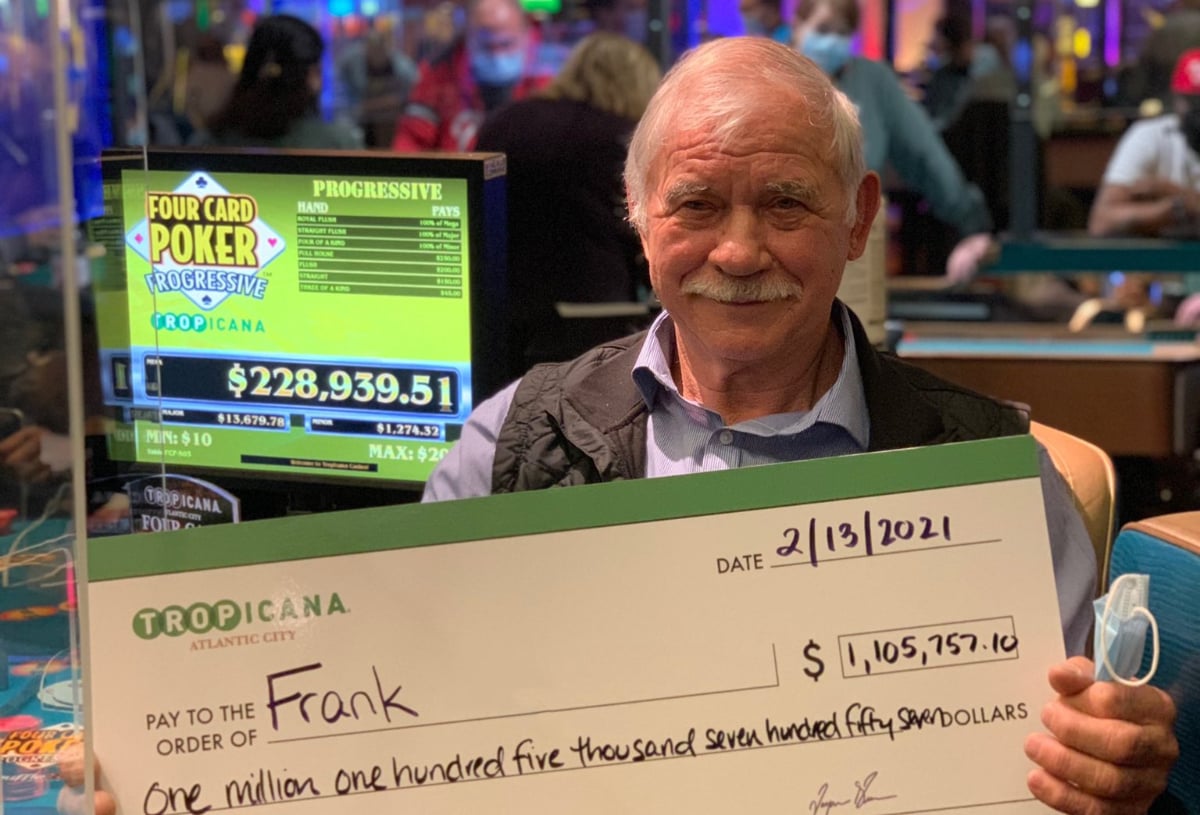 Caesars Entertainment says a New Jersey man won $1,105,757.10 on a $5 wager at its Tropicana casino resort.
Steve Callender, regional president for Caesars' three casinos in Atlantic City, said the more than $1.1 million hits is the largest progressive poker win in the history of Caesars Entertainment in New Jersey.
The lucky individual is Frank Nagy, who lives in Monmouth County. A longtime Tropicana regular, Nagy shared the wealth by tipping the casino staff members $50,000.
The progressive jackpot is built by six games: Four Card Poker, Let It Ride, Three Card Poker, Ultimate Texas Hold'em, Mississippi Stud Poker, and Texas Hold'em Poker. With each play, a small portion of the bet is directed to the collective jackpot.
The prize pool is generated by the games located in the company's three Atlantic City casinos, Caesars, Harrah's, and Tropicana.
Not All Lucky Gamblers Tip 
While tipping is common in a casino and expected by dealers, big jackpot winners don't always take care of their gaming floor staff.
On Christmas Eve last year, a man only identified as "Kevin," hit what is believed to be Nevada's biggest jackpot in eight years. After betting about $40 on a Megabucks progressive slot machine at Suncoast Hotel and Casino, Kevin hit the jackpot worth $15,491,103.27.
But according to various accounts from servers and onlookers, Kevin didn't take the Frank Nagy way. Instead, he left the casino without tipping even a dollar.
Reported to be a part-time resident in Las Vegas who splits his time with Alaska, Kevin is said to be in his 30s.
"Kevin does not tip," said one Twitter user replying to a post from Las Vegas blogger Scott Roeben. "I have the inside info. He ate his food, didn't give a dollar. Good luck to Kevin the Grinch!"
Fortunes Won During Pandemic
COVID-19 has been cited for nearly half a million deaths in the United States.
As life is beginning to show signs of returning to some sense of normal, albeit a new normal, recent life-changing jackpots have delivered some welcome news to many tired of reading about all the bad in the world.
Last month, a Powerball ticket worth $731.1 million was sold in Maryland.
"Hard-luck Maryland town gets a $731.1 million Powerball win," is how the Associated Press covered the win. The ticket was sold by a local convenience store in Lonaconing in the northwestern part of the state.
The town was built around an iron furnace that closed in 1855. A glassworks factory shuttered in the early 1990s, and coal mining jobs disappeared following World War II. Today, Lonaconing has a poverty rate of 22 percent, more than double the US national average rate of 10.5 percent.
Most Read