States Split on LIV Betting Amid PGA Merger Scrutiny 
Posted on: July 14, 2023, 02:32h.
Last updated on: July 20, 2023, 02:51h.
Ongoing controversy around a potential partnership between Saudi-backed LIV Golf and the PGA Tour has created a patchwork of rules in legal sports betting markets in the U.S.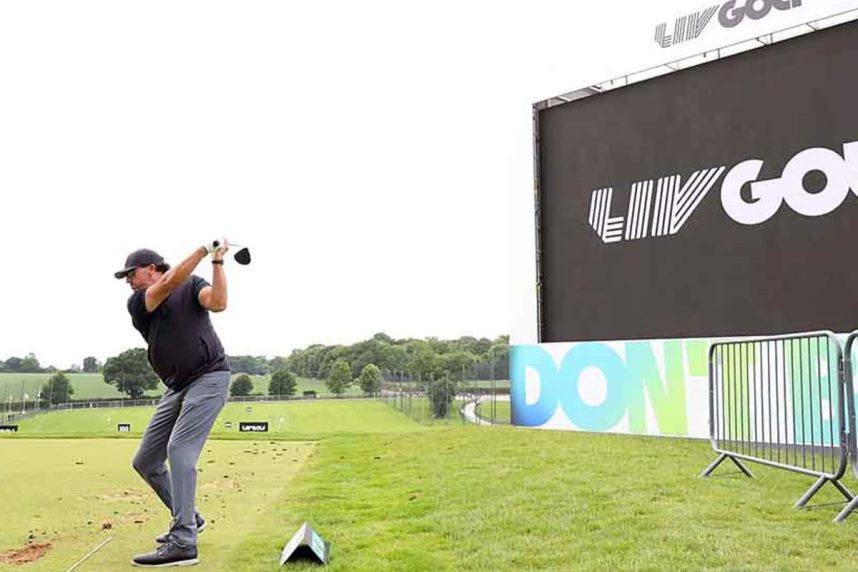 At least 12 of the 37 states with legal sportsbooks prohibit wagering on LIV Golf events, while eight have specifically approved betting on the upstart league, according to a Casino.org analysis.
Massachusetts became the latest jurisdiction to join their ranks this week. Gaming regulators cited concerns that the league is part of an effort by the Saudi government to obscure its human rights abuses and an investigation by the Department of Justice into its potential merger with the PGA.
"For a lot of the reasons that are in the press in terms of the financial backing of the LIV league, to me, I would feel uncomfortable putting this in our catalog … notwithstanding the DOJ investigation of the merger," Massachusetts Gaming Commissioner Eileen O'Brien said at a public meeting this week. The commission voted 5-0 to bar bets on LIV.
Under Investigation
LIV was established in 2021 with funding from Saudi Arabia's Public Investment Fund, and the league lured away many top PGA pros with lavish contracts. Critics accused the league of being an avenue for "sportswashing" the Saudi government's reputation, which has been marred by scandals including the murder of a journalist and financial ties to 9/11 hijackers.
The PGA Tour was among LIV's harshest critics before reversing course in June and agreeing to potentially join forces with the upstart league. Investigations were launched in the U.S. Senate and reportedly by the Department of Justice.
At a Senate hearing earlier this week, PGA officials testified on the talks, where they said the Saudi government was preparing to invest up to $1 billion or more in the deal, which they portrayed as necessary to the tour's survival.
'Political Issue'
It's not surprising to see states split on whether to allow wagers on LIV, said Gregory Gemignani, an attorney at the law firm of Dickinson Wright and instructor at the University of Nevada-Las Vegas' International Center for Gaming Regulation.
On one hand, regulators' primary concern tends to be on protecting the integrity of sporting events, and LIV has not been accused of any misbehavior that would call into question the results of its golf tournaments. However, the geopolitical implications surrounding its ties to the Saudi government may give some officials pause.
"It almost looks like it's more of a political issue that nobody wants to get near, and I can't blame them for that," Gemignani told Casino.org in an interview.
States Set Own Sportsbook Rules
Each state has its own process to determine what events are eligible for wagering; some publish specific lists of eligible events and leagues, while others establish broad guidelines to govern operators' conduct.
In addition to Massachusetts, eight other states publish wagering catalogs that do not include LIV: Illinois, Indiana, Michigan, Mississippi, Nebraska, New Jersey, South Dakota and Virginia. Bets on LIV also are currently prohibited in New York and Pennsylvania, officials told Casino.org.
Montana Looks to Approve LIV Soon
Montana does not currently accept bets on LIV, but it plans to do so soon, according to a state lottery representative.
We are planning on adding LIV in the near future," Deputy Director Bryan Costigan told Casino.org in an email.
LIV is specifically included among approved leagues in Arizona, Colorado, Iowa, Maryland, Ohio, Tennessee, Washington and Wyoming. New Hampshire and Connecticut also allow LIV bets under current regulations, officials said.
Newly Legal States Mull FutureRules
Rules are still being written in newly legal states such as Kentucky, North Carolina and Vermont, and officials in those states told Casino.org that they have not yet decided whether to allow wagering on LIV.
LIV is certainly a topic of conversation, especially since the proposed merger," Hans Stokke, Director of Sports Wagering at the Kentucky Horse Racing Commission, told Casino.org in an email. "We've got a list in mind, but we'll be gathering feedback from our service providers once they're licensed. "
In those states without a specific catalog of approved events, LIV generally appears to be acceptable, but the availability of betting lines varies.
In New Hampshire, for example, wagers can be placed on any event with a verifiable outcome generated by a "reliable and independent process" and "in conformity with applicable laws." The state's sole operator, DraftKings, is currently accepting bets on LIV events.
In Connecticut, bettors can wager on anything that meets the state's definition of a sport but not on events with predetermined outcomes, such as professional wrestling or the Academy Awards. That leaves the door open to including LIV, but operators there are not currently accepting bets on the league.
We do permit the licensed sports wagering operators in Connecticut to offer wagering on LIV Golf, as their tournaments do meet the definition of 'sporting event' under the law," said Kaitlyn Krasselt, communications director for the Connecticut Department of Consumer Protection, in an email to Casino.org. "As of today (7/14/23) none of the licensed operators are accepting any wagers on the LIV market, but they are permitted to do so. It is up to the operators to decide if that's something they would like to offer."
Other states do not currently authorize bets on LIV but are leaving the door open to the possibility.
In Pennsylvania, each operator submits a proprietary list of events to state regulators for approval, but the list of approvals is not available to the public.
"LIV golf is currently not approved for wagering, though that could certainly change in the future," Doug Harbach, Communications Director for the Pennsylvania Gaming Control Board, told Casino.org in an email. "As for our process to determine what can be wagered upon, PGCB staff reviews a myriad of different information.  This can include the history and the background of governing body, the schedule of events, amateur vs. professional, participation by those under the legal gambling age, integrity policies in place, past integrity concerns, and wagering options to be available, to name a few."