Sheldon Adelson Threatens Raid on Vegas NFL Stadium Plans
Posted on: October 28, 2016, 07:00h.
Last updated on: October 28, 2016, 01:56h.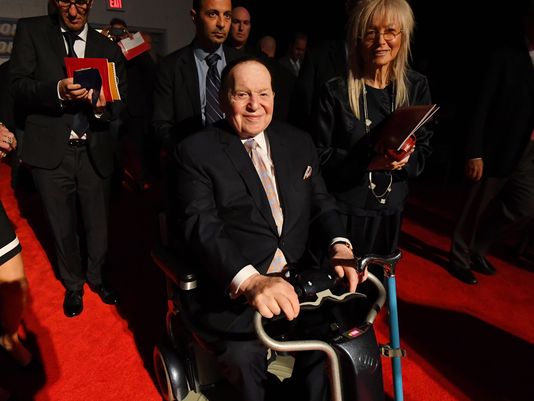 Sheldon Adelson is warning the NFL and Oakland Raiders owner Mark Davis to relax their strong demands or else he is prepared to walk away from the Vegas football stadium project.
The Las Vegas Sands founder who's amassed a fortune estimated to be north of $30 billion told Reuters this week that the league and Davis' demands are too steep.
Adelson has committed $650 million of his own money to help fund a $1.9 billion, 65,000-seat domed professional football stadium just steps from the Strip.
"I negotiated to bring in the Oakland Raiders . . . because they don't have a stadium there, that I would build a stadium and rent it out to the Oakland Raiders," Adelson explained.
"They want so much," Adelson continued without going into details. "So I told my people, 'Tell them I could live with the deal, I could live without the deal. Here's the way it's going to go down. If they don't want it, bye-bye.'"
Stadium Quicksand
Earlier this month, the Nevada Legislature took the advice of the Southern Nevada Tourism Infrastructure Committee (SNTIC) and voted to approve raising the hotel occupancy tax in Clark County by 0.88 percent. The small tariff increase will generate $750 million in capital that will be used to build Adelson's NFL stadium.
Nevada Governor Brian Sandoval (R) signed the legislation. In addition to Adelson's $650 million and the city's $750 million pledge, Davis has committed $500 million.
With funding in place, the kickoff to bringing football to the Mojave Desert was in flight. But Adelson's comments this week seemingly slow down the offense to relocate the Raiders to Vegas.
"A guy in my position doesn't need anything," Adelson told Yahoo Finance recently. "I've got everything I need."
Billionaire Bargaining
Adelson's Vegas colleagues Steve Wynn and MGM boss Jim Murren have expressed their support for the stadium and use of public tax money to aid in its construction. Both casino heavyweights feel Adelson's mission to bring the NFL to Vegas is more about philanthropy than profit.
"This is a legacy project for him," Murren said recently. "He's investing hundreds of millions of dollars. It's a poor return on investment. This is a legacy project for him."
That's why some observers believe Adelson's "take it or leave it" approach is likely a public negotiating strategy to get Vegas its best deal possible with the NFL and Davis.
NFL Commissioner Roger Goodell is doing a little public showmanship as well. The most powerful man in football continues to maintain that he's against locating a franchise in Vegas due to the city's legalized sports betting.
"We'll look at it when it is finally presented in total. These things are still so fluid until they nail everything down," Goodell told the Associated Press this month.
"There clearly has been a society shift as far as how people view gambling. We are still very much opposed to legalized gambling on sports. We think that has an impact on the integrity of our game," Goodell concluded.
Similar Guides On This Topic