NCAA Football Integrity at Stake From Sports Betting, 'Availability Report' Option Pushed by SEC Commissioner
Posted on: July 18, 2018, 05:30h.
Last updated on: July 18, 2018, 05:27h.
Southeastern Conference (SEC) Commissioner Greg Sankey said this week the organization is exploring ways to better protect the integrity of its athletic competitions in the wake of legal sports betting expanding across the country.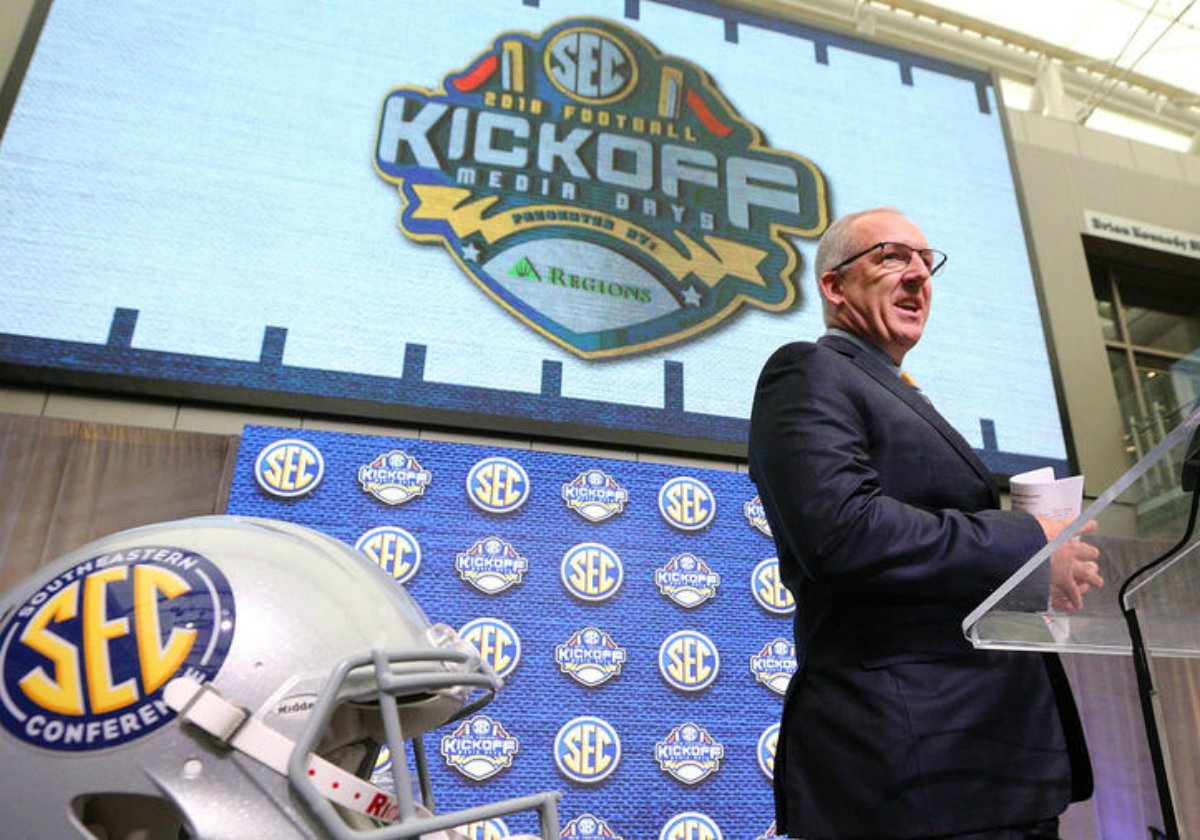 Sankey said the Supreme Court's May decision against the federal ban was not welcomed news at the SEC, but regardless, the conference must adapt new policies to better safeguard its games.
He said he's met with representatives from the NFL, MLB, NBA, and PGA Tour to better understand how they're monitoring sports betting markets for suspicious patterns.
"While it may be preferred to have no expansion of gambling activity, what is needed now is for our state and federal legislative leaders to enact policies that properly support the integrity of our games and provide the necessary protections for our students and our student-athletes," Sankey declared.
The commissioner's comments came at the SEC media day for the conference's upcoming football season.
The SEC is considered a power conference in both football and baseball, the two most-watched and most-bet on NCAA sports. In football, the SEC has won nine of the last 12 national titles.
Status Seeker
To prevent team personnel and players from potentially becoming susceptible to outside influences looking for inside knowledge, Sankey said the SEC is reviewing ways to publish some sort of injury reports.
Officials at the Big Ten agree, and recently sent a letter to the NCAA Football Oversight Committee requesting college sports' governing body take the lead in finding a solution.
The commissioners of the ACC and Big 12 also said this week they see a need for an injury reporting system.
But healthcare confidentiality laws make such a goal difficult, if not impossible. Unlike in the NFL where players are considered employees and the league therefore has the right to their specific medical statuses, college players are amateurs, which means their health privacy is protected under the Health Insurance Portability and Accountability Act (HIPPA).
Sankey says instead of solely focusing on injuries, the SEC and NCAA might be wise to take a more comprehensive approach and simply call it an "availability report." The filing ahead of football games wouldn't only include injured players, but those who might be suspended for academic or behavioral reasons.
Sankey doesn't see availability reports being implemented in time for this fall's football season. "Identifying the proper approach should be the priority, not haste," he concluded.
Bets Coming
Sankey admits that gambling on college athletics is nothing new, as Nevada has been home to legal sportsbooks for decades, and billions of dollars are wagered offshore and through underground bookies each year. But the SEC boss believes states legalizing sports betting will lead to an "increased cultural acceptance," which in turn will only attract new gamblers.
Delaware and New Jersey have already joined Nevada in authorizing full-fledged sports betting at casinos and racetracks. Pennsylvania, New York, West Virginia, and Mississippi have passed regulations, but operations have yet to commence.
Along with Mississippi, South Carolina, Kentucky, Missouri, and Louisiana, all five states home to SEC schools, have introduced sports betting bills to their state legislatures.