Hard Rock NFL Partnership Might Keep Its Atlantic City Casino on Sports Betting Sidelines
Posted on: June 4, 2018, 01:00h.
Last updated on: June 4, 2018, 01:13h.
Hard Rock International is readying to open its Atlantic City casino later this month, but the company's partnership with the NFL might prevent it from taking bets on professional football games.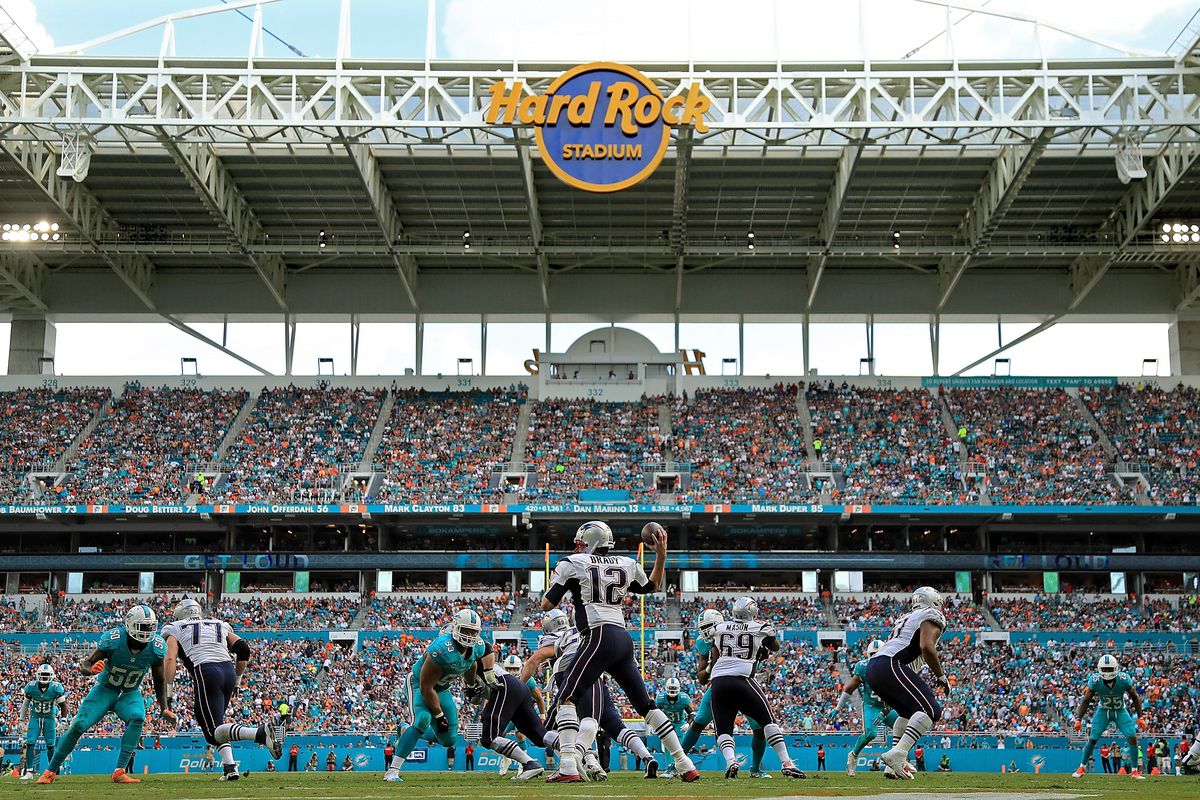 Hard Rock, which is owned by the Seminole Tribe of Florida, purchased the naming rights to the Miami Dolphins' stadium in 2016 for $250 million. The 18-year contract is confidential, but some are wondering whether it might sack the casino operator from allowing its patrons to gamble on NFL games.
During a licensing meeting before the New Jersey Casino Control Commission, Hard Rock International CEO Jim Allen said the company indeed has "certain restrictions" in its stadium agreement with the NFL.
"We've reviewed those restrictions based upon our confidential agreements with the NFL, and the ownership of the Miami Dolphins. The Hard Rock brand anticipates participating in that particular venue within the confines of our specific treatments with the National Football League and the Dolphins," Allen explained.
The Press of Atlantic City said multiple requests for further clarification went unanswered by Hard Rock officials.
NFL Policy
The NFL has never been a fan of sports wagering. Commissioner Roger Goodell remained opposed to gambling on football and other sports despite his colleagues leading other Big Four (NFL, MLB, NBA, NHL) leagues seemingly easing their positions.
Goodell also opposed the relocation of the Oakland Raiders to Las Vegas for the start of the 2020 season. All but one NFL owner approved of the transfer, and that was none other than Dolphins owner Stephen Ross.
Unlike other pro sports leagues, NFL franchise owners are not permitted to hold substantial stakes in casinos or gambling-related businesses. But casinos and gaming entities can be sponsors of the NFL. Along with Hard Rock, FanDuel and DraftKings are such examples.
Attorney Irwin Kishner, who specializes in sports law, told the Press of Atlantic City this week that he would be surprised if Hard Rock's contract with the NFL and Dolphins didn't include some type of provision that requires the casino operator to stay clear of sports betting.
"In very substantial agreements, like a naming rights deal or a major sponsorship deal, it would not be unusual to have a provision that says, 'This is subject to the rules, regulations, bylaws, etc., of the National Football League,'" Kishner explained. "I would strongly suspect there was a provision which covered (sports wagering) in the naming rights agreement."
Atlantic City Impact
On June 28, Hard Rock Atlantic City will open its doors and unveil the more than $500 million casino makeover to turn the property from the Trump Taj Mahal into a rock 'n' roll-themed resort.
Like every other casino in town, management says the Boardwalk property is excited to enter the sports betting space. New Jersey lawmakers are currently deliberating regulations to govern sportsbooks in wake of the US Supreme Court's repeal of the longstanding federal ban.
While specifics of Hard Rock's NFL arrangement aren't fully known, the company's casino in Atlantic City presumably might avoid taking bets on pro football games to avoid potential conflicts. Or, at the very least, shun wagers on Miami Dolphins games.