Riviera Hotel & Casino to Be Demolished in Favor of More Convention Space
Posted on: February 19, 2015, 12:13h.
Last updated on: February 19, 2015, 11:38h.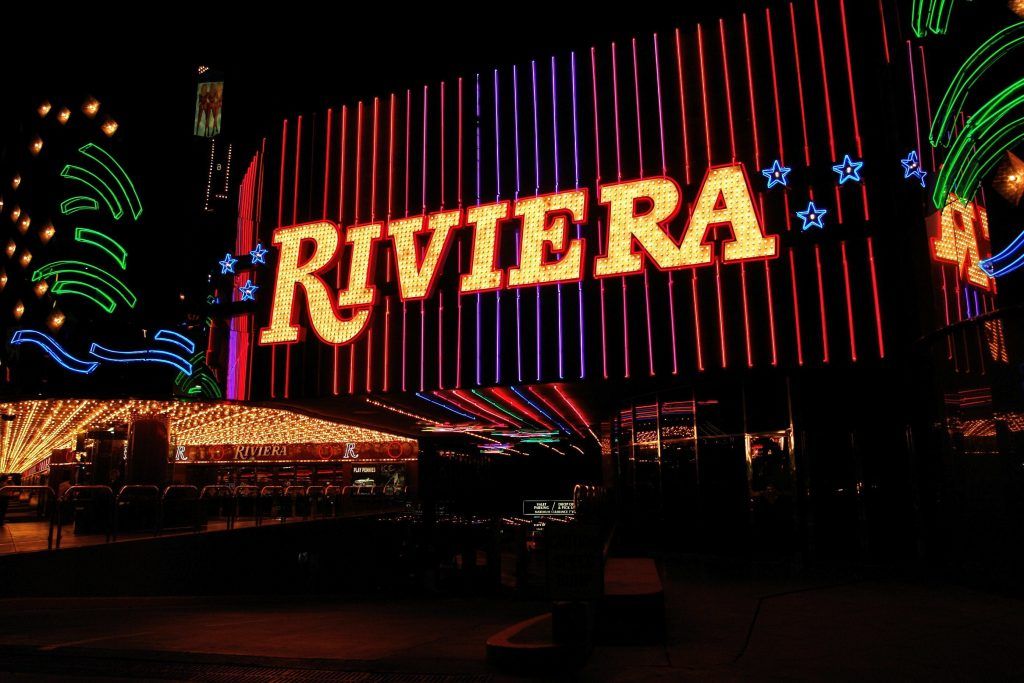 The Riviera Hotel and Casino's storied history will end in demolition to make way for additional conference space.
The 60-year-old Strip icon and its 26.4 acres is being sold to the Las Vegas Convention and Visitors Authority (LVCVA) for $182.5 million to accommodate a portion of the planned $2.3 billion Global Business District.
The transaction is scheduled to be approved by LVCVA board members at a special meeting on Friday.
Should the deal be accepted, the sale would close immediately but the Riv casino would have six months to vacate the property.
Casino games would continue to be offered during that time through a leaseback provision and special gambling license arrangement. Sometime in mid-August, the hotel must be empty, with demolition planned soon after.
Bu(SIN)ess City
From the original Ocean's 11 to The Hangover, the Riv was a star in several memorable Hollywood pictures. Being the first high-rise on the strip, its scandalous owners like Meyer Lansky, and unrivaled list of performers including Liberace, Elvis, and Sinatra, the resort is synonymous with old Vegas.
Its planned demolition signals the end of an era, and the continuation of the city becoming the convention capital of the world. Every Howard Hughes, Rat Pack, and mafia-associated landmark the Strip loses, Sin City also loses a bit of its sex appeal. The Desert Inn, Sands, Sahara, Riviera; with each demolition, Vegas folds on what originally made it so appealing.
Of course, nostalgia doesn't always equate to smart economic strategy. The Riviera has long been financially troubled, filing for bankruptcy three times, most recently in 2010. While the famed casino struggled to even come close to turning a profit, the Las Vegas Convention Center has continued to see exponential growth and demand from trade shows, trade fairs, and conferences.
Convention Impact on Gambling
The region tremendously benefits from being North America's premiere convention destination. According to the LVCVA, 5.2 million people attended 22,103 meetings in 2014, a 1.2 percent increase and its largest figures ever. The total Vegas tourism industry attracted 41 million visitors last year, supporting 376,000 jobs and impacting the local economy to the tune of $45 billion.
However, a study by UNLV says there's little evidence to suggest this large influx of businessmen and women boosts gambling revenue. While statistical proof might be difficult to provide, higher hotel occupancy rates almost certainly increases a casino's overall take to some degree. That verification might come by way of downtown gambling revenue's 2.1 percent rise in 2014, a reasonable correlation to record setting convention numbers.
With the Convention Center acquiring the Riviera, meeting attendees will now have direct access to the Strip. With already more than 10.9 million square feet of exhibit and conference space and a planned 1.8 million square foot expansion scheduled, 2015 is shaping up to be another record-setting year.
"This is really going to be bad news for other convention markets," MGM Resorts International Chairman Jim Murren said of the LVCVA and Riviera sale. "I love this deal because it will create an attractive corridor from the Strip to the Convention Center. It's going to help bring people down to that end of the Strip."