Richmond City Officials Say Casino Could Support Early Childhood Programs
Posted on: September 7, 2023, 08:21h.
Last updated on: September 7, 2023, 01:06h.
Richmond city officials last week got their first look at the redesigned casino resort from a development group led by nationally known racing and gaming firm Churchill Downs, Inc. and Black-focused media conglomerate Urban One.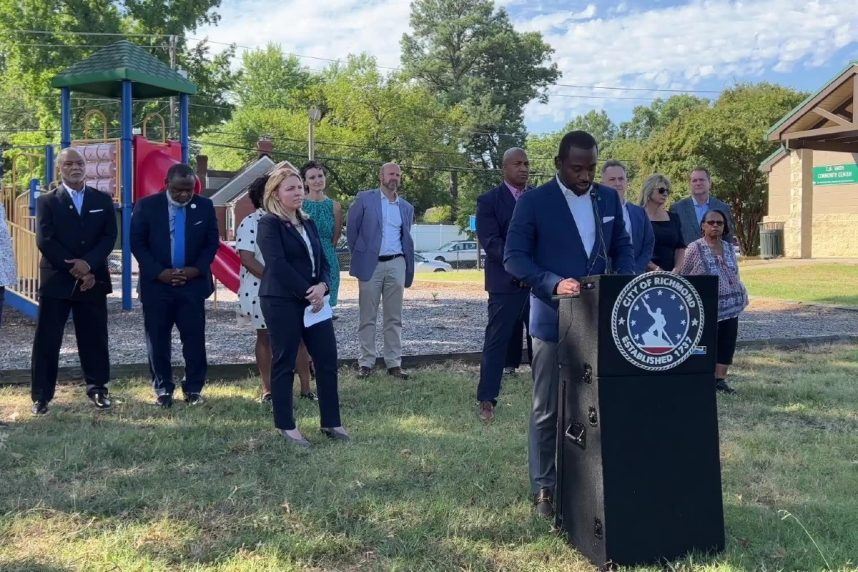 With optimism high that this November's local referendum on the casino pitch will have a different outcome, Richmond city officials have begun thinking about where they might direct the city's tax benefit that would come from the economic powerhouse.
Richmond Mayor Levar Stoney (D), a longtime supporter of the Virginia capital becoming a casino destination, held a press briefing this week at the T.B. Smith Community Center where he divulged the city's spending plans should a casino come to town.
Stoney, flanked by Richmond City Commissioners Mike Jones and Reva Trammell, voiced their support for establishing a new fund to collect the city's casino revenue share and disperse the monies to early childhood programs and initiatives.
Stoney suggested establishing the Richmond Childcare and Education Trust Fund. The city-managed account would fund the building of two new childcare centers, each accommodating about 100 children daily.
I am pleased to announce that we plan to establish the first ever Childcare and Education Trust Fund using the gaming tax revenues from the destination resort and casino if approved this November. This is a groundbreaking approach that will address both affordability and capacity," Stoney said.
Richmond expects to receive about $30 million yearly in local gaming taxes if the Churchill-Urban One casino becomes a reality.
Casino Undergoes Rebranding
Richmond was one of five cities that qualified under state legislation passed in 2020 to consider a commercial casino. The bill designated a handful of cities- Norfolk, Portsmouth, Bristol, and Danville- as economically distressed areas in need of major economic development.
The 2020 bill required that those cities only move forward with a casino undertaking after gaining local support from voters. All but Richmond have since held successful gaming referendums favoring the casino developments.
Richmonders in 2021 narrowly rejected the city's previous casino plan called One Casino + Resort. The vote was 51-49% against the Urban One pitch, which at the time was in conjunction with Peninsula Pacific Entertainment (P2E), a Los Angeles-based gaming operator.
Churchill acquired most of P2E's assets last year, including the possible development rights in Richmond. Churchill and Urban One have since rebranded and redesigned the failed One Casino into the Richmond Grand Resort and Casino.
The Richmond Grand is a $562 million project adjacent to the Philip Morris tobacco plans along I-95 southeast of downtown.
Spending Spree
Stoney says the Childcare and Education Trust Fund would receive about $18.5 million of the casino's upfront $26.5 million payment that Churchill and Urban One have pledged to pay Richmond following a successful referendum.
Each childcare center is projected to cost $7 million. The remaining $4.5 million would establish the Childcare and Education Trust Fund to immediately expand access to affordable early childhood care and education.
The city's parks and recreational department would receive the remaining $8 million of the upfront payment for improvements to the city's more than 170 parks, open spaces, athletic fields, playgrounds, and tot lots.
The city would then be expected to collect about $30 million a year moving forward from the casino operation.
"This a very stable revenue stream that can be consistent for many years," Stoney said. "Outside of that, the alternative is us trying to find ways through raising taxes, using the revenues that we currently have."
Opponents say Stoney and the city council are trying to exploit children in their effort to get their way with the casino. Others are frustrated by the "Groundhog Day"-like re-asking of the casino.
"The first referendum was about a casino. This referendum is actually about whether our democracy is for sale or not," said Allan-Charles Chapman, executive director of the Richmond-based group called Initiatives for Change. "We cannot afford to roll the dice when it comes to our democracy because developers and politicians who didn't get their way want to go double or nothing."