Richmond Casino Referendum's Uncertain Fate as Polling Shows Split Support
Posted on: November 1, 2023, 10:43h.
Last updated on: November 1, 2023, 01:12h.
New polling on next month's Richmond casino referendum suggests it's anyone's guess as to which side will prevail.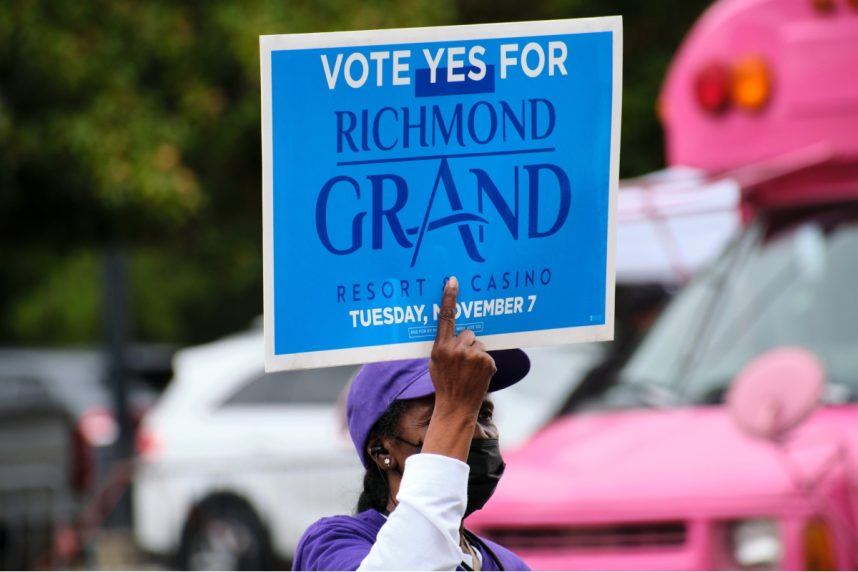 Early voting in the Virginia capital is underway on the proposed $562 million project being presented by Urban One, Inc., in partnership with Churchill Downs, Inc. While the bulk of the vote will come on Election Day on November 7, Richmonders are already casting their ballots in deciding whether Richmond will become a casino host destination.
National polling outlet co/efficient recently gauged support for the casino, the second time in three years that Richmond residents are being asked by the City Council to authorize a gaming resort. The poll, first obtained by WRIC ABC 8 News in Richmond, reveals a split electorate.
More than 900 likely voters in Richmond were polled, and slightly more opponents than supporters of the casino expressed their opinions. The pollsters said 43% of the respondents would "definitely vote no" on the casino question. Just 39% said they will "definitely vote yes."
Richmonders are being asked the following ballot question:
"Shall casino gaming be permitted at a casino gaming establishment in the City of Richmond, Virginia, at 2001 Walmsley Boulevard and 4700 Trenton Avenue, Virginia, 23234, as may be approved by the Virginia Lottery Board?"
Critical Vote
If Richmonders authorize the casino — something they failed to do during the 2021 election by a slim 51%-49% outcome — Urban One and Churchill Downs officials say the benefits the resort would bring to the capital metro would be substantial.
The casino developers have pledged to hire 1,300 people, with most being union jobs with an average annual compensation of $55K in pay and benefits. The project, called Richmond Grand Resort & Casino, would also be expected to deliver the city $30 million a year in local taxes.
The Richmond City Council and Mayor Levar Stoney (D) say much of that tax benefit would go toward supporting early childhood programs.
There are, of course, plenty of opponents to the Richmond casino.
'No Means No'
The campaign against the Richmond Grand has stressed that a second vote on the casino goes against the democratic process. A recent lawsuit from local activist Paul Goldman and his "No Means No Casino" organization successfully won its case, arguing that he was improperly denied voter lists made available to the pro-casino groups.
The opposition has also expressed concerns that a casino on Richmond's Southside would negatively impact Black communities, which are more susceptible to gambling and gambling disorders, according to behavioral health experts. Researchers at Rutgers University's Center for Gambling Studies say Black people have over twice the rate of gambling addictions compared with white people.
But Stoney and the Richmond City Council, including Reva Trammell, who represents the 8th District Southside, say the casino would bring much-needed economic investment and good-paying jobs to the area.
Richmond Fifth and Final City
Virginia lawmakers in 2020 passed legislation allowing voters in five cities that met certain economic hardships to consider a casino to ignite their local economies. Four of those cities, Norfolk, Portsmouth, Bristol, and Danville, held referendums that November where locals backed allowing a commercial casino.
Richmond, which garnered the most interest from casino companies, delayed its gaming referendum to 2021 to allow a competitive bidding process to play out. Richmond's city government ultimately picked Urban One despite the Black-focused media conglomerate's lack of experience developing or running a casino.
The 2021 vote was largely split among affluent neighborhoods north of the James River that opposed the casino. Areas south of the city more supported the Urban One pitch, which, at the time, was in conjunction with Peninsula Pacific Entertainment. Urban One is now teamed with Churchill Downs after it acquired most of Peninsula Pacific's assets in 2022 for $2.5 billion.