Richmond Casino Backers Unveil New Design
Posted on: September 1, 2023, 02:49h.
Last updated on: September 4, 2023, 02:35h.
The developers behind a proposed casino in Richmond, Va., this week unveiled updated design plans and details on the project.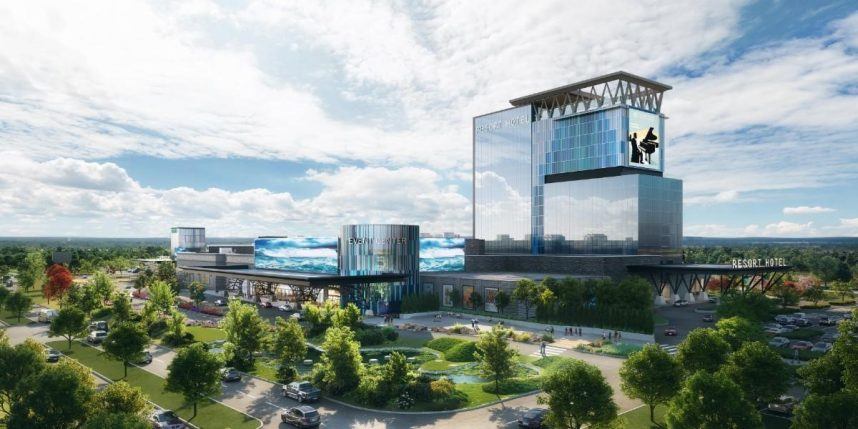 Now dubbed the Richmond Grand Resort and Casino, the $562 million project would include a luxury hotel and spa, as well as an entertainment venue and community park. The casino would feature table games, poker, slots, and an on-site sportsbook.
Voters in Richmond will decide this November whether to allow the project to proceed. City leaders are supporting a second ballot measure after an earlier effort fell short in 2021, when a casino referendum was rejected by a two-point margin.
Supporters say the project would create 1,300 jobs and generate $30 million in revenue for Richmond. It will be built without taxpayer subsidies.
Richmond Grand is a joint venture between Urban One, Inc., a Maryland-based, Black-owned entertainment company, and Churchill Downs, Inc., the Louisville-based company famous for organizing the annual Kentucky Derby. The casino plans were "informed by hundreds of conversations with Richmonders," the developers said in a news release this week.
"This is a plan by Richmond, for Richmond, and when we vote yes, all of Richmond wins," Urban One CEO Alfred Liggins, III, said in a statement.
If approved, the new complex would be built in south Richmond, along I-95 near a Philip Morris manufacturing facility.
Richmond is the last of five cities in the state to vote on a casino referendum, after the state legislature opened the door to commercial casinos several years ago. Bristol, Danville, Norfolk, Portsmouth, and Richmond all are authorized to build one casino each, as long as voters approve.
Campaign Kicks Into Gear
The casino referendum will appear as Question 1 on Richmonders ballots this fall. Unlike the vote two years ago, there is no governor's race on the ballot in November, meaning turnout is likely to be lower.
Richmond's city council voted in June to put the casino measure back before voters, and the referendum has already survived several legal twists and turns.
A local judge last week sided with the city against a local nonprofit that sought to block the casino referendum, in part over concerns that it would undercut charitable gaming operations. An appeal of that decision is possible, but otherwise the choice will be up to voters. This week also brought news that the state budget will not block the casino vote, according to a Richmond TV station.
The pro-casino campaign is being overseen by Tierra Ward, a Richmond resident who served as local elections director for the state Democratic party.
Two years ago, casino supporters spent nearly $2.5 million on the campaign in favor of the ballot measure, according to campaign finance reports for its political committee. The group has not filed updated campaign finance reports this year.
Opposition Looms
Casino opponents are being organized by Richmond Lawyer Paul Goldman, who has established his own political committee, "No Means No Casino," funded in part with $100,000 from the Ukrop family, who owned a popular local chain of grocery stores.
Goldman earlier this week filed a lawsuit against the state Board of Elections alleging that he is being denied access to voter data necessary to run the campaign.
The 2021 referendum failed by a 51%-49% margin.