Richmond Comedy Club Swaps Jokes for Jackpots, Will Become Skill Gaming Casino
Posted on: July 6, 2023, 12:47h.
Last updated on: July 5, 2023, 11:57h.
The owner of a downtown Richmond, Va. comedy club said he held his final show last month. He will now be renovating the venue into a skill gaming casino and charitable gaming enterprise.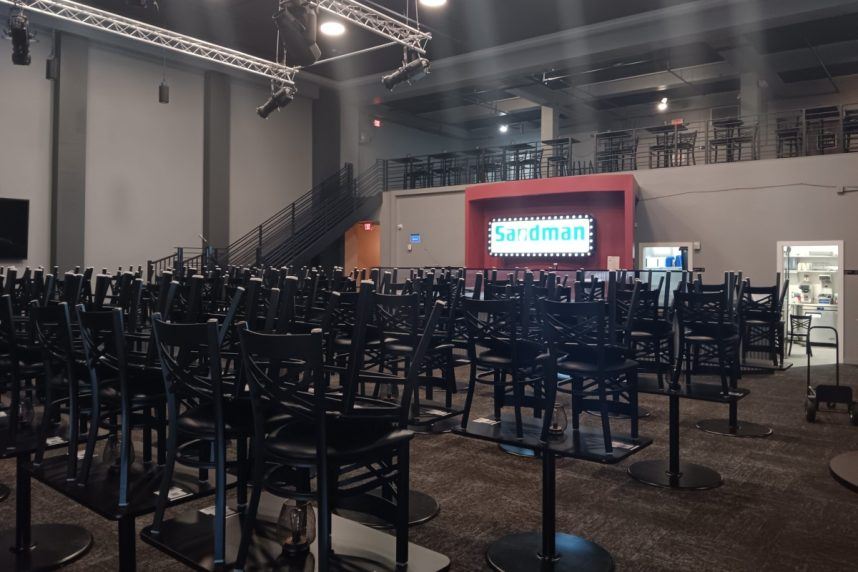 Michael Sands opened the Sandman Comedy Club in April 2021 at 401 E. Grace St. just west of the Capital District. Sands has since hosted hundreds of stand-up comedians who have performed in front of thousands of patrons. But the business hasn't necessarily been a financial success.
Speaking with Richmond BizSense, Sands said the overhead has outweighed the revenue. The local businessman said he spent $32K on hotel rooms and $22K on food for the touring comedians. The big bets on comedians didn't always pay off with ticket sales.
Having a comedy club is like having a one-screen movie theater in a small town. If people don't like the movie, they're not going to go see it," Sands explained. "We've got a good loyal base of customers and I love them — they've been great. I just wish we had more of them, that we could clone them."
The Sandman Comedy Club is the latest failure for 401 E. Grace St. after the former Bank of Virginia branch closed and the building was reutilized. Before the comedy bomb, the space was used as a nightclub, and before that, a brewpub.
Comedy to Casino
Sands isn't folding on 401 E. Grace, but is instead embarking on a new business venture that he believes is a better bet for his bottom line. The comedy club will be once again reconfigured, this time to accommodate skill-based gaming machines.
The controversial gaming terminals look and sound quite similar to Las Vegas-based slots, but they have a slight difference by requiring a player to identify a winning payline. A traditional slot automatically rewards the gambler for a winning spin.
The gameplay difference, proponents of such controversial gaming machines claim, qualifies the games as skill-based activities, not gambling. Virginia legalized commercial casino gambling in five cities in 2020, with one being Richmond. But capital city residents have so far rebuked their single casino resort opportunity.
The legality of skill gaming in Virginia remains tied up in the courts. The machines continue to operate across the commonwealth in a grey area, with "Queen of Virginia" being the most popular title.
Virginia lawmakers temporarily authorized skill games during the pandemic, but the permittance expired on July 1, 2021. Greensville County Circuit Court Judge Louis Lerner issued an injunction allowing the games that qualified during the state's temporary allowance of skill gaming to continue operating until the relevant litigation plays out.
Charitable Games Planned
Along with some Queen of Virginia skill games, Sands hopes to partner with area nonprofits to host poker and bingo tournaments. Virginia allows charities to host such charitable gaming so long as the proceeds go to the organizations. Charitable gaming is regulated by the Virginia Department of Agriculture and Consumer Services.
Even if Virginia courts rule against skill games, Sands says he'll put up a fight to maintain their operations at his forthcoming casino.
The state opened Pandora's box to allow Vegas-style casinos to come into the state. Once you do that, it's hard to tell me that I can't have legal gambling in my facility," Sands stated.
Sands hopes to open his Sandman Casino Bar next month.