Key Player in Virginia Casino Fight Loses Primary Race 
Posted on: June 21, 2023, 01:45h.
Last updated on: July 12, 2023, 11:49h.
Proponents of a casino in Richmond, Virginia, are facing one fewer roadblock today. That's after a state senator who has been trying to block the project lost his primary race.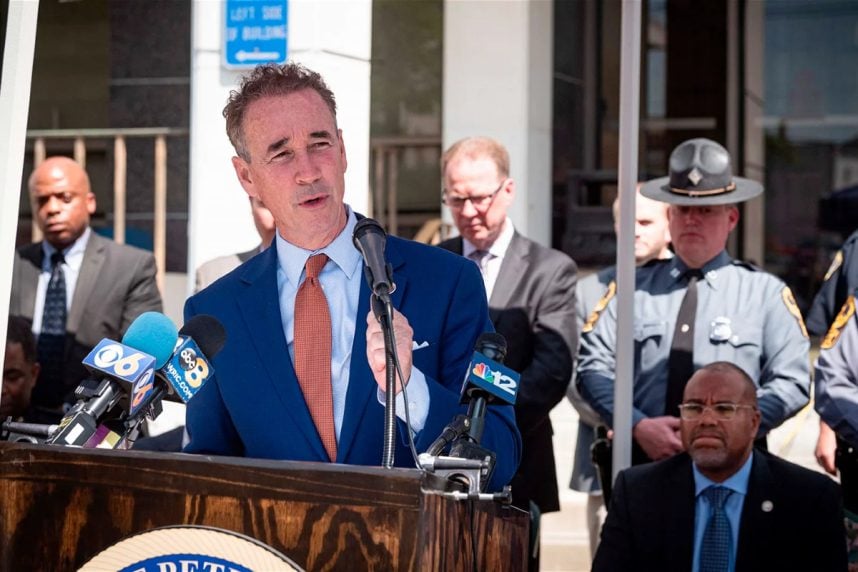 Sen. Joe Morrissey (D), who succeeded in blocking a 2022 referendum and is trying to do so again this year, was ousted in Tuesday's Democratic primary by former state delegate Lashrecse Aird. The loss was resounding, with Aird taking more than 69% of the vote in the two-way race, according to unofficial results from the Virginia Department of Elections.
Morrissey has said he hopes to get language inserted into the state budget to prevent Richmond from putting a new casino measure on the ballot in November. He says it is unfair for the city to get a second bite at the apple after voters there narrowly rejected a similar casino proposal in 2021.
Budget negotiations in the General Assembly have effectively been on hold for weeks as lawmakers focused on their primary campaigns. But now that Tuesday's votes have been decided, they are expected to resume in earnest.
Morrissey's casino effort is hardly a central focus in the ongoing budget negotiations. But the senator has said he believes there is sufficient support to include language to block a new referendum in this year's budget.
Photos of Joe Morrissey's concession to Lashrecse Aird. @RTDNEWS pic.twitter.com/jGY6VLLn3j

— Mike Kropf (@mikekropfphoto) June 21, 2023
Budget Questions
It's an open question whether the Virginia General Assembly will approve a new budget before the fiscal year ends on June 30. The commonwealth is in the middle of a two-year budget cycle, meaning lawmakers technically don't have to enact a new budget before the deadline.
Virginia's Republican-controlled House of Delegates and its Democratic-majority Senate have been divided on an array of higher-profile issues, such as tax cuts sought by Gov. Glenn Youngkin (R). Still, they are facing pressure to act on a variety of proposals with bipartisan support.
Senate Minority Leader Tommy Norment (R-James City) told the Virginia Mercury that he expected negotiations would see a "reinvigoration" starting this week.
"I think that the impasse on the budget has been more because of primaries, political considerations," Norment told the publication earlier this month. "And that some of the leaders have been distracted."
Reduced Political Capital
While Morrissey will serve out the remainder of his term for this year, his loss may reduce his political capital in the statehouse and make it tougher to enact his priorities.
Although parts of Richmond are in Morrissey's district, he would rather see a new casino built in Petersburg, another city he represents about 25 miles to the south. A study by the Virginia Joint Legislature Audit and Review Commission concluded that both cities could profitably support a casino, but each would do better alone.
The Cordish Companies, which has pitched a casino in Petersburg, has said it won't move forward if it has to compete with one in Richmond.
The Richmond City Council earlier this month approved a new measure to appear on the November ballot that would authorize a proposed $500 million casino on the city's south side led by Black-focused media conglomerate Urban One. The measure is similar to one voters rejected by a 51% to 49% margin in 2021.
One key difference is Urban One now has a new partner in Churchill Downs after the Kentucky Derby organizer acquired assets from Peninsula Pacific Entertainment.
Campaign Fodder
Morrissey sought to capitalize on his support for the casino in the campaign.
Everyone knows that if Aird were successful in being the 13th Senate Democratic nominee, she would abandon the fight to deliver the casino to Petersburg and hand it on a silver platter to Richmond," Morrissey said this month, according to the Progress Index newspaper in Petersburg.
Aird called the charge "laughable" and said she supports a Petersburg casino, but has questions about some specifics in the Cordish proposal, according to the newspaper. She said Morrisseey's failure to secure budget language blocking a new Richmond vote represented a legislative failure.
"There was no opportunity for a casino license during my time in office. There have been two during his time in office," Aird said, according to the Progress Index. "He not only supported a Richmond casino initially, but then, when the clearest opportunity to secure a casino for Petersburg existed, he failed. Joe Morrissey failed because he was willing to compromise on the most important aspect of securing a casino – jobs for workers, good, high-paying jobs for workers that would largely affect Petersburg workers – as part of his deal with Cordish."
Aird also said Morrissey's casino attack was an effort to distract from his views on issues such as abortion that were out of step with the majority of Democrats.
Morrissey's resounding defeat suggests the race hinged more on social issues and earlier personal controversies than on the casino fight. Aird won support from an unusually high number of legislators and members of the state's congressional delegation, and she dramatically outspent Morrissey, according to the Associated Press.