Red Rock Resorts Finalizes Las Vegas Palms Takeover with $312M
Posted on: October 5, 2016, 08:08h.
Last updated on: October 5, 2016, 08:40h.
Red Rock Resorts, parent of Las Vegas operator Station Casinos, announced this week that its $312.5 million acquisition of the Palms Casino Resort off the Strip was finalized Monday. Red Rock now owns, or has interests in, some 20 casinos properties throughout the Las Vegas area.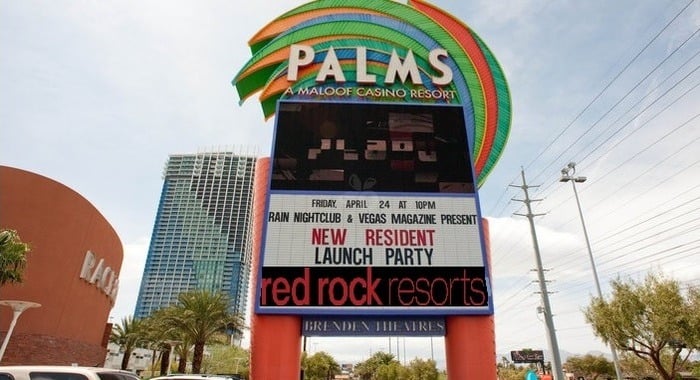 The move follows a flurry of consolidation within the locals market. Only last week, Red Rock's main competitor in the market, Boyd Gaming, announced the completion of its acquisition of the Aliante Casino Hotel and Spa in North Vegas. Boyd will also take over the Cannery Casino Hotel and the Eastside Cannery Casino as part of a $500 million Las Vegas locals market empire-expanding splurge.
"Hybrid" Casino
Red Rock has said that the Palms is a particularly attractive proposition, because it draws a healthy mix of tourists and locals. It may be situated a mile off the Strip, but its focus on attracting a hip demographic through it's a lively restaurant and nightlife scene ensures it remains a popular visitors' destination.
Marc Falcone, executive vice president, chief financial officer, and treasurer of Red Rock Resorts, recently called it "a hybrid gaming property" and a "leading gaming asset in Las Vegas with key strategic benefits."
Palm Aid
The Palms was built by the Maloof family, former owners of the Sacramento Kings and distributors of Coors beer. The casino opened in 2001 and was expanded in 2005 with the construction of the $600 million "Fantasy Tower," which was promoted via inclusion in numerous reality shows, including the Playboy bunnies of "The Girls Next Door."
Like most of the Las Vegas casino sector, it suffered at the height of the recession, forcing the Maloofs to sell their Coors distribution rights in a bid to save the property.
The Palms was ultimately bailed out by TPG Capital and Leonard Green & Partners, who agreed to hold in the neighborhood of $400 million of the property's debt. Following the restructure, the Maloof family retained just two percent of the company.
As Vegas has slowly rebounded, the locals market has resurged along with it. Red Rock believes that with more visitors than ever now coming to Vegas, the Palms purchase will  ". . . benefit from strong economic trends and record visitation levels currently being experienced in the market." The company estimates that its new acquisition will bring $35 million in cash flow in its first full year of ownership.
Red Rock Resorts recently floated on the NASDAQ, raising $531.4 million in the process.