Raiders Bets On Nevada Sports Books Despite Move to Vegas
Posted on: November 16, 2016, 03:00h.
Last updated on: November 16, 2016, 01:54h.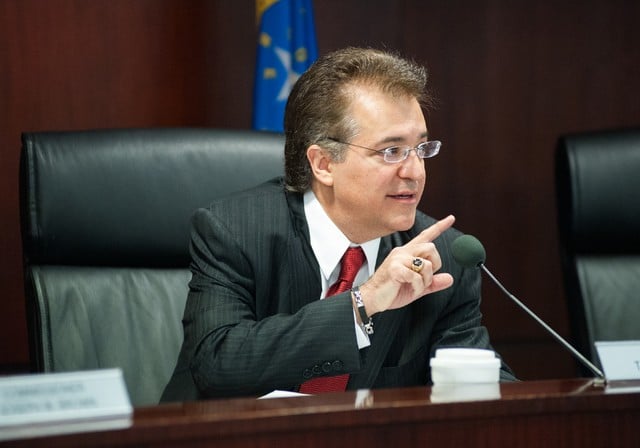 Bettors will still be able to have their money on the Raiders at Nevada's sports books if the team makes a proposed move to Las Vegas, even if the NFL requests otherwise.
That's according to Chairman of the Gaming Control Commission, Tony Alamo, who gave his unofficial verdict on the matter to the Las Vegas Review-Journal this week.
The Raiders' lease is up in Oakland, and while owner Mark Davis has been able to secure a temporary extension, his team is in need of a permanent home. And a $1.4 billion, 65,000-seat domed stadium on a 42-acre plot north of McCarran International airport, proposed by LVS and partners, could be the answer.    
Davis is enthusiastic about the move but it's up to the NFL voters to decide, and that will require the backing of two thirds, or 24, of the NFL's 32 owners. The Raiders are expected to apply for relocation in January.
Gaming Integrity "Above Reproach"
"I can't speak for the commission, but growing up in the gaming industry and trusting the integrity of the gaming industry, I have total comfort in allowing sports betting on any teams whether they are here in Nevada… in Las Vegas, Reno or otherwise… or in other locations," Alamo said.
"The fact that the Raiders come from Oakland to Las Vegas doesn't move my needle in any direction in terms of should we allow that to be on a sports book board or not. Nothing changed for me … The integrity of gaming is so above reproach that it doesn't matter if the team is 100 yards away or 400 miles away. What changed? Nothing."
The NFL has long been against sports betting, seeing it as a threat to the integrity of the sport. There are signs, though, that attitudes may be thawing, with respect to the proposed Raiders move in particular.
Reservations Linger
Several NFL owners have expressed their support for Vegas as the team's new home, including Robert Kraft, owner of the New England Patriots.
"We're just living in a different world, technology-wise," he said recently. "The [sports betting] risks in Vegas are no longer exclusive to Vegas."
But NFL Chairman Roger Goodell still has reservations. At a recent NFL owners meeting in Houston, he told the press that the organization was "still very much opposed" to legalized gambling on sports and that it "still has an impact on the integrity of our game."
The NFL's Regulation 22 allows it to request the prohibition of bets on games held in Nevada, provided the governing body writes to the Control Board within 30 days before the game.