PokerStars Coming to NJ Soon as August Online Looks Up
Posted on: September 16, 2014, 05:30h.
Last updated on: September 16, 2014, 04:12h.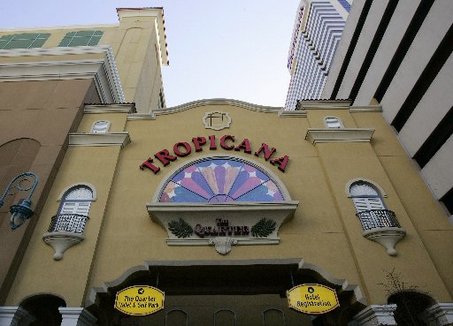 PokerStars and a slight overall uptick in both online and land casino revenues in New Jersey were cause for celebration last week, after a gruesome few months that have seen bankruptcies, closures, and depressed numbers all around.
The welcome news came as many Atlantic City casinos struggle to stay open, and local officials are uncertain about how well the city will transition into an era in which it cannot rely on casinos alone for revenue. But even as the casinos continue to rake in less money through their land-based operations, there are some positive signs coming out of both the remaining venues and their online casino sites.
Casino revenue in Atlantic City was down 1.2 percent in August compared to the same period in 2013. Last year, a total of $298 million was taken in by the casinos, while they brought in $294.4 million this August. Those figures include revenue from the Atlantic Club, which shut down in January, and the Showboat, which was winding down operations during August before closing at the end of the month.
With Adjustments, Casino Market Looking Up
Because of those closures, it's possible to actually put a positive spin on the numbers. If the Showboat and Atlantic Club aren't included in the report, and online revenue is added to the land-based numbers, the situation looks much better: the overall market would be up 10 percent using those metrics. Figures such as those could help support the idea that consolidation will help the casinos that remain in business prosper in the years to come.
That thesis will continue to be tested in September, during which the Revel has already closed and Trump Plaza will also shut down. It's also likely that the Trump Taj Mahal will close in November, reducing the number of casinos in the city to seven.
Online Gambling Up Slightly
Meanwhile, the online gambling sites operated by Atlantic City casinos enjoyed slow but steady growth in August. The sites brought in approximately $10.5 million in August, up about 4.5 percent from July. The majority of that, $8.3 million, came from casino games, while $2.2 million was brought in through online poker.
In both the online and live sectors, the Tropicana appears to be the big winner. Their online offering has been growing quickly, bringing in $2.26 million in August. That's up from $1.96 million in July, good for a 13 percent increase, the largest in New Jersey this month. They're still third in overall revenues behind the Borgata and Caesars, but the gap is closing: the Borgata collected more than $3.4 million for the month, while Caesars claimed $2.7 in earnings.
The Tropicana did even better in the brick-and-mortar world. Overall, their year-over-year gaming revenues were up an impressive 46 percent in August, growing to $31.3 million. The Golden Nugget also saw a big 34 percent gain, while the Borgata remained the clear leader in the city, up 5.2 percent to bring in $65.8 million for the month.
Meanwhile, the two casinos that took the biggest tumbles in August are both set to close in September. The Revel was down more than 40 percent year-over-year, while Trump Plaza saw revenues decline by 45 percent.
PokerStars, Sports Betting Could Lift Market Further
With those poor performers leaving the market, there's certainly hope that the Atlantic City casino market will improve over the next year. State Senator Ray Lesniak (D-20th District) hinted on Twitter that an announcement regarding PokerStars' return to the New Jersey market could be coming soon.
"PokerStars launch will spark an AC revival. Stay tuned for a major announcement," Lesniak tweeted. He later went on to say that word on the return of PokerStars could come "in weeks, not months," and also suggested that he would like to see both other states and foreign countries eventually linked to the state's online gambling network.
Meanwhile, the prospect of sports betting is also on the horizon for Atlantic City casinos after New Jersey Governor Chris Christie's recent declaration that the state's casinos and racetracks could offer bets on sporting events without fear of legal action against them. However, it's unclear if or when casinos will choose to start offering such bets.