Paddy Power Genius 'Head of Mischief,' Ken Robertson Calls It a Day
Posted on: June 25, 2017, 02:00h.
Last updated on: June 26, 2017, 01:38h.
Ken Robertson, Paddy Power's maverick advertising chief, or "Head of Mischief," to give him his official title, is moving on.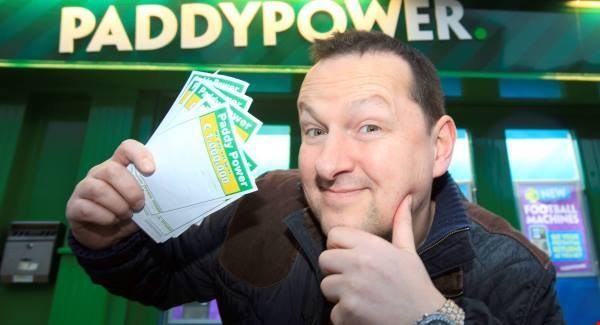 During a 19-year stint at the company, he dreamed some of the most controversial and memorable campaigns in advertising history.
Always topical, irreverent, thoroughly un-PC, and quite often summarily banned by advertising watchdogs, Robertson's ideas have ranged from surreal TV spots to pure guerrilla marketing. But they always struck a nerve, or a funny bone, depending on your sensibilities and tolerance for provocation.
Moreover, they defined the Paddy Power brand: derisive and iconoclastic; the kid at the back of the class, launching paper planes while steadfastly refusing to take anything seriously.
Two-fingered Salute
Earlier this week, a cardboard statue of beleaguered British Prime Minster Theresa May, wearing a Union Jack ballgown and "with fingernails five-foot long," appeared on the White Cliffs of Dover, the famous chalk cliffs that tower over the English Channel at the closest point between England and continental Europe.
The statue was flicking a two-fingered salute towards France; a reversed "victory sign," which in British culture is akin to a gestured middle-finger.
This was Paddy Power celebrating the opening of the Brexit negotiations between the UK and Europe, while announcing to the world it was running a book on the proceedings. It was a typical Paddy Power marketing move: pull a stunt that's arresting, silly and vaguely offensive and let the media do the rest.         
"I'm really proud of this statue," explained the ever-helpful "Paddy Power spokesman."
"We tried to make the installation look as lifelike as possible to Theresa May, which is why it's two-dimensional and largely wooden."
Pistorius Controversy
This is unlikely to be Robertson's parting shot, though; he's due remain in the job for another six months, before he leaves to form his own creative agency, and so we can expect a few more stunts before he finally departs .   
"Ken is a unique person and filling the void that he leaves will take a special talent, so I'm delighted that he will be around for quite some time to come," Paddy Power Betfair staff were told via an email this week. "He will be sorely missed and closer to the time, we will take the opportunity to celebrate a quite brilliant career."
Robertson's own personal favorite Paddy Power ad is also, tellingly, the most complained-about advertisement in British history.     
The bookmaker's offer of "money back if he walks" on the Oscar Pistorius trial resulted in a record 5,525 complaints being received by the UK's advertising watchdog.
Career Highs
Other career highlights include a blind soccer player kicking a cat up a tree (the most complained-about TV spot of 2010); a spot that featured Jesus trying to clean up Italy's scandal hit football industry (quickly banned in Italy); and the overnight appearance of a jockey riding the 3,000-year-old Uffington White Horse hill carving in Oxfordshire.
Then there was the time the company was sanctioned by the London Olympics committee during the London Games for claiming to be the "official sponsor of the biggest athletics event in London this year."
Paddy Power had, in fact, sponsored an athletics event in the small agricultural village of London, France.       
The bookmaker also sent a Mexican Marriachi band to welcome Donald Trump on his most recent visit to Scotland, and advertised its odds on the US election by asking "is orange the new black?"
Robertson's risky wit will be sorely missed.