Online Poker Rivalry Between Stations Casinos and Caesars Interactive Like a Boxing Match
Posted on: June 3, 2013, 05:12h.
Last updated on: June 3, 2013, 08:05h.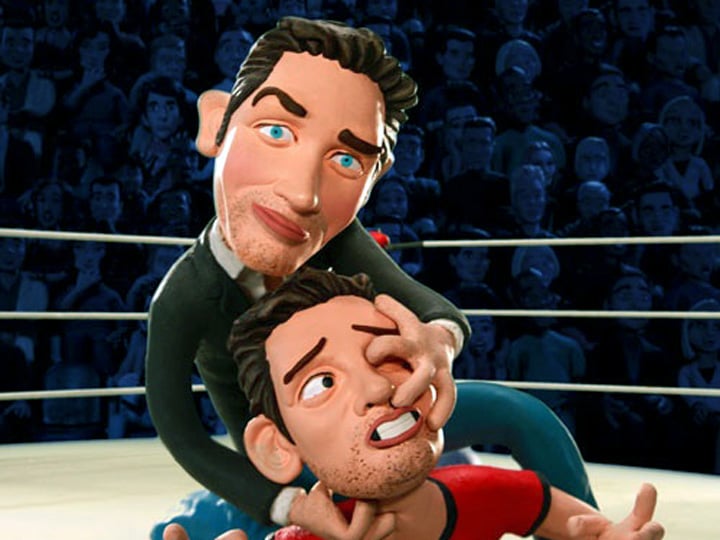 It's sort of a Celebrity Death Match: the new wam-bam verbal spat between Stations Casinos and Caesars Interactive in Nevada. Not long ago, World Series of Poker executive director Ty Stewart gleefully noted, "I think the market is ready for a first-class product," alluding to Stations Casinos' slightly inglorious kickoff of their UltimatePoker online gambling site, the first-ever legal one in the Silver State. The new poker site experienced glitches ranging from having a shady third-party service provider pop up to dealing two nine of spades on a cash game flop to infuriating Verizon customers when they couldn't get  verified due to software interface issues. Yikes.
Caesars Software Goes Live in Error
Now, with the World Series of Poker (WSOP) 2013 up and at 'em, it's Stations' turn for a KO.  With Caesars own WSOP-branded poker site touted to launch during the series, the site briefly and mistakenly went live before all its licensing issues were put to bed; a big no-no in the new squeaky-clean world of regulated and legal online poker.  Players were, for a brief while, given access to the real money area of the gaming site, giving Stations ample opportunity to return a punch. Take that, ya big bully!
The error was quickly caught, and Caesars shut down the site itself, and like the good lil boys they are, reported the error to Nevada gaming authorities.  Which no doubt didn't stop a few smug smirks from the folks over at Stations, who can now stick out their tongues at their competitor and say, "See, it's not so easy, is it, smarty pants?"
Contenders Face Off
As the two major contenders so far for Nevada's very lucrative online poker market, you can expect more spars to come as the companies establish branding and visibility. So far, besides the historical footnote of being the first, Stations has in its corner Antonio Esfandiari, a longtime poker pro who outdid himself last year by winning $18,346,673 in the "Big One for One Drop" tournament; while Caesars, of course, has its own in-house celebrity with its WSOP exclusive brand. Talk about coming to market with some name recognition.
And where is everyone else in this market that supposedly every land-based casino was clamoring to be a part of? With almost 24 licenses for interactive gaming and technology providers so far in Nevada, where are the rest of them hiding?
Part of the challenge has been the newborn regulatory process itself; while land-based gaming is used to the i's and t's that need to be dotted and crossed, online poker is a whole new world for both sides of the gambling fence, providers and overseers alike.  Ultimate Gaming chairman Tom Breitling says his business had to provide over 100,000 pages worth of reports to state regulators, as well as have numerous independent testing labs try out their software, before the green light was given. And now Caesars, too, is discovering it's not so easy making green online.
Meanwhile, other players such as MGM Resorts International and Boyd Gaming are waiting in the wings as well. Everybody wear your mouthguards, please.