South Point in Las Vegas Kicks Off Online Poker with RealGaming.com
Posted on: February 21, 2014, 05:30h.
Last updated on: October 26, 2021, 06:10h.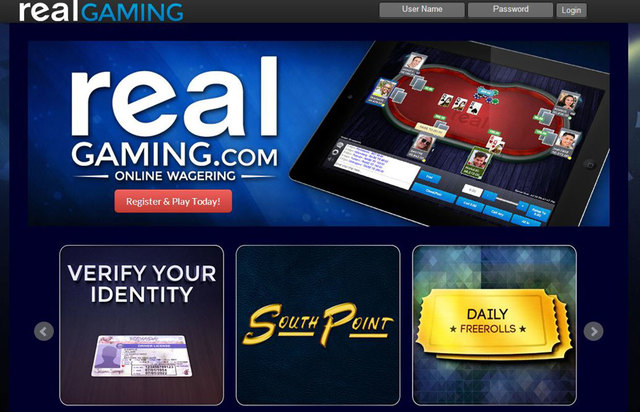 Step by step and inch by inch, the online poker industry in the US is returning. Following the launch of Ultimate Poker and WSOP.com in Nevada last year, a third operator has now made the leap to begin offering real-money gaming in the state.
RealGaming Joins the Fray
RealGaming.com – currently in its soft launch phase – is the vision of Michael Gaughan, owner of the South Point Hotel, Casino and Spa and creator of the now defunct South Point Racing NASCAR Team. The site previously existed as SouthPointPoker.com, which in 2011 became the first free-to-play poker site launched by a land-based – and therefore state-regulated – casino. South Point was given the green light to offer real-money gaming to players within the State of Nevada in August 2012 by the Nevada Gaming Commission.
Uniquely, Real Gaming requires its players to download a smartphone app – available for iPhone and Android – which can then verify their location and will send them a "token" enabling them to play. And unlike its competitors, Real Gaming can be played in all browsers, meaning that no download is required and it's fully Mac compatible.
Despite a couple of USPs, Real Gaming may have its work cut out and it remains to be seen whether a cardroom restricted to the population of one state, and shared among several rivals, is viable. 
With federal legislation a distant pipe dream, it seems that slow state-by-state regulation with ring-fenced player pools is the shape of things to come in America. It is possible that intra-state player pools may be shared at some point, but that would seem to be some way off. However, should the Nevada model be adopted by other states and a suitable revenue-sharing arrangement worked out between the states involved, there is significant potential to service the resulting fusion market.
It's interesting that, unlike its competitors, Real Gaming doesn't yet accept credit cards as a deposit method. Current methods include traditional check, electronic check and bank wire, with the only withdrawal option being check by mail. Following Black Friday and the Full Tilt fiasco, it's important that the new sites work hard to rebuild the reputation of online poker in the minds of the American public and the use of credit and debit cards would go a long way to convincing the public that online poker is now trustworthy and legit. But issues with credit card processing caused by banks that are still unsure which legal dictates to follow hasn't helped anything in that arena, either.
Plenty of Competition
Real Gaming will face strong competition in Nevada, of course. Ultimate Poker dealt the first-ever 100-percent-legal, fully regulated hand of online poker in the history of the United States on April 30th 2013, and its first-into-the-market credentials and impressive management team – plus the marketing dream of the UFC tie-in – make it a hard act to follow. By making its software intentionally simple – highly functional but unpolished – the company took the lead on its competitor Caesars Interactive, which launched WSOP.com later in the year with more sophisticated software from 888.com. However, the WSOP brand is a huge asset for Caesars and many feel WSOP.com will dominate the market as regulation is slowly rolled out across the country.
A lot depends on the success of these new sites in this fledgling market. If Real Gaming fails to produce the revenue that analysts have predicted, other states' legislators will think twice about online poker's ability to plug their deficits, particularly when you consider the tortuous red tape involved in moving towards regulation.