Ohio State National Championship Odds Shorten Following Win Over Penn State
Posted on: October 1, 2018, 09:00h.
Last updated on: October 1, 2018, 01:19h.
It wasn't easy, but No. 3 Ohio State somehow managed to escape Penn State's Happy Valley with a smile on their faces.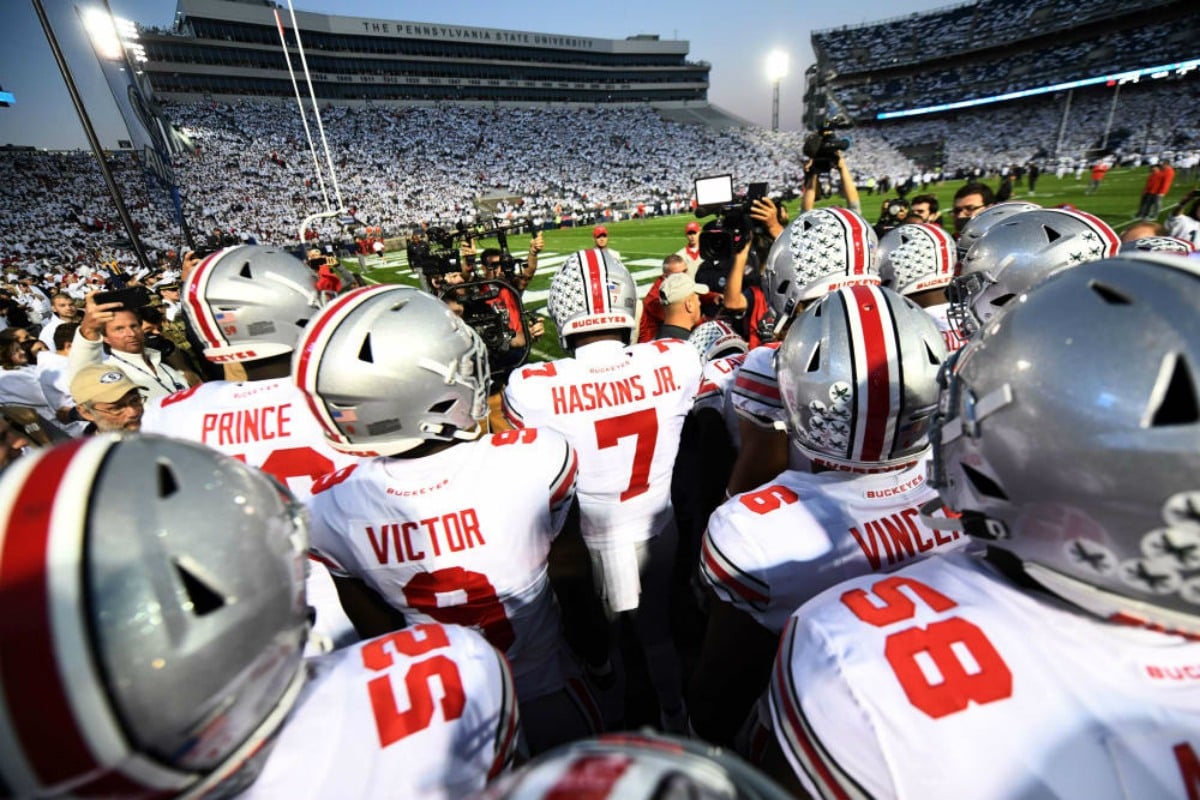 The 5-0 Buckeyes overcame a halftime deficit and figured out the Nittany Lions defense in the second half. The unbeaten Big Ten team now find themselves with the second shortest odds of winning the national championship.
The Westgate SuperBook has Ohio State at 9/2 to win it all, or implied odds of 18 percent. A $100 bet and a Buckeye title nets $450.
Amid a white out at Beaver Stadium and a record-setting crowd of more than 110,000, Ohio State coach Urban Meyer conceded, "There was a time you looked up and saw those white pom-poms and that whole deal and thought that was over."
But Ohio State was the better team in the second half, and a questionable fourth-and-five run call by Penn State coach James Franklin sealed the deal 27-26 in the Buckeyes' favor. It was the second consecutive year that the Nittany Lions suffered a one-point loss to Ohio State.
"We obviously didn't make the right call in that situation, and that's on me," Franklin said. "We didn't make the right call, and obviously, it didn't work. We have called something similar like that in other situations, and it broke for a big play. But that's on me."
Crimson Tide "Lose"
The Buckeyes' win over PSU solidifies them as the Big Ten's best, and positions them for a College Football Playoff run. But Alabama remains the team to beat.
The Crimson Tide played Louisiana on Saturday, which basically amounted to a scrimmage game for the nation's top-ranked program. Alabama was favored by a staggering 49 points.
SuperBook oddsmaker Ed Salmons said Alabama is so good that bettors are taking them in historic fashion. The wagers have forced sportsbooks to put the team a full five points higher than they'd otherwise be.
Alabama's point spread is inflated every week," he told ESPN. "It's not really a true number. If you just blindly bet against them, you'll probably win some money."
Those who did on Saturday indeed won. Though the game was anything but close, Alabama's 56-14 win didn't cover the spread, meaning all those Louisiana wagers paid.
Spreads Covered
Week five of the college football season was busy, as five games pitted Top 25 schools against one another.
West Virginia managed to top Texas Tech 42-34 after a fourth quarter pick-six and cover the 3.5-point spread. Washington easily took care of BYU 35-7 and also covered the 17-point Las Vegas spread.
Oregon topped California 42-24 in a game that was supposed to be close. Oddsmakers had the Ducks spotting the Bears just 1.5 points.
The final game was the biggest of them all aside from the Ohio State-Penn State clash. Notre Dame fended off rival Stanford 38-17 in South Bend. The spread was just 5.5 points.
Looking ahead, Alabama is the strong favorite to defend the national championship. The Crimson Tide are 1/2, or implied odds of 66 percent, to repeat. A $100 bet nets just $50 on Nick Saban's team ending the year as the country's best.