Sports Betting Bills Pushed by Ohio Lawmakers Similar, But Still Feature Fundamental Differences
Posted on: January 7, 2020, 12:39h.
Last updated on: January 7, 2020, 08:18h.
As Ohio State Legislature gets ready to reconvene in Columbus later this month, lawmakers are still considering two ways to legalize sports betting in the state.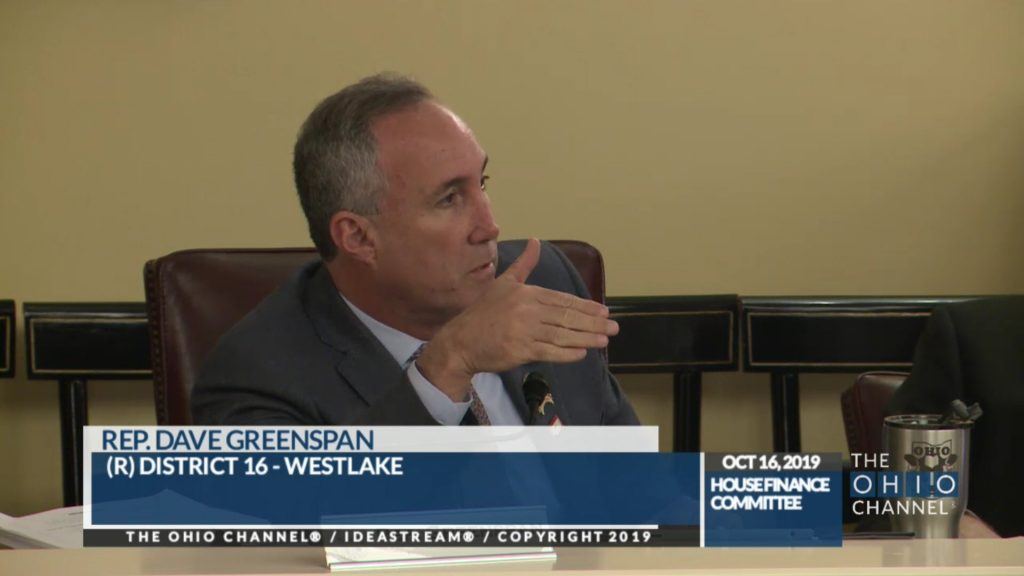 While both bills would allow retail sportsbooks at the state's casinos and racinos and mobile sports betting applications that could be used anywhere within the Buckeye State, there are substantial differences between the two.
Most notably, the House bill would grant administrative authority to the Ohio Lottery Commission (OLC). The Senate plan would allow the Ohio Casino Control Commission (OCCC) to oversee it. The OCCC oversees the state's four casinos, while the OLC also administers the state's seven racinos that feature video lottery terminals.
Under the House bill, the state tax revenue generated from sports betting by the lottery would go to support education. The Senate's bill directs the tax revenue to the state's general fund.
While the bills were filed last year, their sponsors do not need to refile the legislation this year because they were filed in the current General Assembly session. If a sports betting bill is not passed by the end of this year, new bills would need to be filed next year for lawmakers in the next session to consider them.
House Version May Pass Chamber by February
State Rep. Dave Greenspan (R-Westlake), who sponsored the House bill along with state Rep. Brigid Kelly (D-Cincinnati), told Casino.org on Monday he was encouraged that Speaker of the House Larry Householder has made advancing the sports betting bill a priority for 2020.
In addition, he said he and Kelly have talked with their colleagues in the House Finance Committee, and he said they do not expect any further amendments to their bill.
We believe that there is overwhelming support for the bill in its current form," he said. "We don't anticipate any amendments being offered in the House at this point. My hope and expectation is we're able to move the bill out of committee and over to the Senate sometime in February, and that we'll be able to have a robust discussion in the Senate."
Greenspan added that he thinks it's important that the funding from sports betting go to support public education, and at least one veteran Ohio education advocate believes that Householder may look to use sports betting revenue as part of his push to reform how the state's public school districts are funded.
"I think Speaker Householder really is determined to fix school funding and knows it's going to take more money," Bill Phillis, the executive director of the Ohio Coalition for Equity and Adequacy of School Funding and a former state assistant superintendent for education, told Casino.org. "Then of course, some sort of gaming, in my opinion, would probably fit into that scenario."
Senate Bill Progressing
State Sen. John Eklund (R-Munson Township), who along with state Sen. Sean O'Brien (D-Bazetta) serve as primary sponsors for the Senate bill, told Casino.org that bill received a couple of hearings in the fall. He claimed it was part of a process to educate their colleagues about sports betting and dispel some myths, especially about online gaming.
He also said the bills' sponsors haven't had a chance to meet recently to discuss their legislation, but that opportunity will likely come in the near future.
However, while the lawmakers do have all of 2020 to get a bill hammered out, it's also an election year. If past election years serve as precedent, Eklund said it will likely mean lawmakers will be back home in March campaigning in the primary and then spending the summer working on their general election.
It's not just a concern that Eklund has for this bill, but for a number of initiatives he's working on. That could mean if consensus on the sports betting bill isn't reached early in the session, then it may not be hashed out until after the November general election.
"I have great hope that this year it will get done and it will get done right. But to say it favors an early disposition or a later disposition, who knows," he told Casino.org.
Where Should Funding Go?
Both Greenspan and Eklund said their bills are about 90 percent similar, and both are optimistic they can reach a consensus. That said, they do have some fundamental differences, including how the funding should be spent.
While Greenspan likes that directing the funds to the lottery would bolster education funding, Eklund isn't sure that sports betting revenues, which he estimates to be about $30 million annually, would best help the state if that pool of money is divvied up among the more than 600 school districts.
There may be some worthwhile education initiatives considered for funding, he said. But it's money that could also go toward other projects, like drug treatment centers.
"I think it's really a question of let's find where you could get the most bang for that buck, and to me on that level, the options are endless and I think any are worth considering. I really do," Eklund told Casino.org.
Sports Betting: Lottery vs. Casino Control
Ohio isn't the first state to debate whether sports betting should fall under lottery or a gaming commission's jurisdiction. Of the 20 states plus the District of Columbia that have passed sports betting laws, eight have placed sports betting under the auspices of their lottery.
Lottery: Delaware, New Hampshire, Oregon, Rhode Island, West Virginia, District of Columbia*, Montana*, and Tennessee*.
Gaming Commission: Arkansas, Indiana, Iowa, Mississippi, Nevada, New Jersey, New York, Pennsylvania, Colorado*, Illinois*, and Michigan*.
Tribal: New Mexico, North Carolina*.
*-Sports betting legal but not yet active.