New York AG Eric Schneiderman Asks Judge to Thwart DraftKings and FanDuels Ops in Empire State
Posted on: November 17, 2015, 11:16h.
Last updated on: November 17, 2015, 11:51h.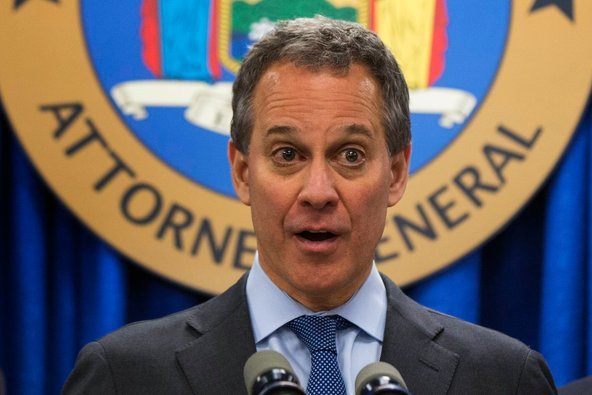 New York State Attorney General Eric Schneiderman moved the daily fantasy sports battle to a new level today, asking an Empire State judge to force industry leaders FanDuel and DraftKings to shut down in his state.
This, just a day after the two companies had filed a joint request that would keep the AG from doing exactly what he just did.
FanDuel and DraftKings had obviously failed in a joint legal bid to have a temporary restraining order (TRO) imposed on the New York Attorney General's office.
How We Got to This
Last week, Schneiderman wrote "cease-and-desist" letters to the two market-leading daily fantasy sports (DFS) sites, informing them that their operations constitute "illegal gambling" under New York State law, and noting that they must stop offering their games to residents of the state.
The motion filed by FanDuel and DraftKings was designed to prevent the AG's office from launching a legal injunction against the site's operations before the matter could be resolved at a judicial hearing. The sites' additional request for an emergency hearing was granted on Monday and is scheduled for next Wednesday.
How Schneiderman's latest actions will impact all this remains to be seen, but the AG minced no words in his filing with New York's Supreme Court today:
"The Attorney General seeks a preliminary injunction prohibiting DraftKings and FanDuel from continuing to operate an illegal sports gambling business in New York, in defiance of the state constitution, the penal law and other statutes," said the requested injunction, which was filed in a Manhattan courtroom today.
DraftKings had claimed in a statement on Monday that the AG's office stated in court that it would not launch action against the two companies before the date of the official hearing, although a spokesperson for the AG reportedly told CNBC that no such assurance had been offered.
"Chilling Effect"
The hearing next week is crucial for the DFS sites, as it will determine whether they will be able to get a preliminary injunction that will allow them to continue operations while the case is pending.
"A shutdown would have a chilling effect on DraftKings' ability to attract new investors and partners and would impede its ability to continue its relationships with its existing investors and partners," argued the company in court on Monday.
"All of this harm would not be confined to New York, but would cause a cascading effect throughout the country, including in the dozens of states where DraftKings continues to operate lawfully, adversely affecting its customer base and its business relations with vendors, customers, and regulators."
"Bullying" Tactics
Both companies have come out fighting following the AG's cease-and-desist letters. While FanDuel said on Friday that it would restrict new deposits from New York customers, DraftKings is continuing its operations as normal in the Empire State.
Both have launched separate legal action against New York State's prohibition of its operations. DraftKings' filing accuses Schneiderman of "misreading New York's gambling laws" and of attempting to "bully" the company into shutting down before it has "had a chance to defend itself."
Meanwhile, FanDuel has publicly accused the AG's Office of contacting its third-party payment processors and pressuring them into denying transactions for New York customers. The AG's office has strenuously denied this claim.
But in a courtroom in Boston on Monday, DraftKings was successful in convincing a judge to allow payment companies to process transactions from New York customers. The judge agreed with the DFS site, telling the processing outfits they cannot legally refuse to handle these payments.