Phil Mickelson Gambling Pal Gregory Silveira Withdraws Guilty Plea in Money Laundering Case
Posted on: March 31, 2016, 07:17h.
Last updated on: March 31, 2016, 07:31h.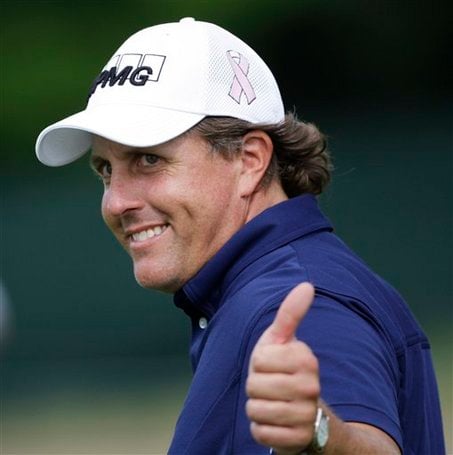 Gambler Gregory Silveira, known to have ties to golfer (and gambler) Phil Mickelson, has been facing charges of money laundering in a Los Angeles court. But now Silveriera, who had previously plead guilty to the charges, wants to change his plea to not.
The 56-year-old former sports handicapper from La Quinta, California last year admitted to three charges of laundering almost $3 million between an "unnamed gambling client," who was later identified by ESPN as Mickelson, and an illegal offshore sports book.
Mickelson, who is known to have a fondness for gambling, is not named in court documents or accused of any crime.
In March 2010, according to court documents, Silveira received a wire transfer of $2.75 million from the client into his own bank account. He then transferred $2.475 million, as well as the remaining $275,000, into two separate bank accounts, both in his name.
PM Me
According to ESPN's Outside the Lines (OTL), a show that focuses primarily on American sports issues "both on and off the field," an earlier version of Silveira's plea agreement contained a reference to "money laundering of funds from P.M." When OTL inquired about the initials, the prosecution had the document stricken from the records, filing an amended version the next day.
But now Silveira wants to withdraw his guilty plea, claiming that he was merely seeking to protect "an individual who did not wish his wagering activity to become public." The ex-handicapper claims he had been offered bad advice by his previous defense lawyer.
Court documents filed Tuesday by Silveira's new attorney, James Duff, stated: "Silveira's original counsel had told him that the money Silveira received from the gambler was 'tainted' and that Silveira's transfer of those funds constituted money laundering. This advice was incorrect."
Duff adds in the court filing that the money was not "tainted" and that Silveira was simply paying off a friend's "gambling debt with legally earned money."
No (Sensical) Comment
Mickelson, meanwhile, refused (via his counsel) to offer an official statement on the case, although when confronted about it directly by a journalist at last year's Scottish Open, he offered the following rather oblique comment on it all.
"People are going to say things good; they are going to say things bad; they are going to say things true; they are going to say things not true," he said. "The fact is, I'm comfortable enough with who I am as a person that I don't feel like I need to comment on every little report that comes out."
Mickelson is famously known for betting large on the Super Bowl, and in 2001 was reprimanded by the PGA for wagering on the outcome of a Tiger Woods shot at the NEC Invitational, in breach of the association's strict anti-gambling policy.
More recently, in January, he chastised 17-year-old Australian pro Ryan Ruffles for publicly disclosing the details of a bet the two had made while sparring on the course. According to Ruffles, Mickelson offered him 2:1 on a $2,500 bet that he would win the game, but Mickelson lost by one shot. A disgruntled Mickelson later said that the sum had been exaggerated.
Most Read