Ugandan Students Miss College Graduation When They Gamble Away Tuition
Posted on: September 3, 2013, 05:30h.
Last updated on: February 23, 2017, 07:57h.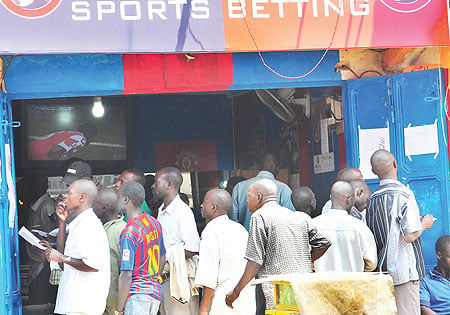 Many schools and universities have codes of conduct that look down on students participating in gambling activities. So while the students of Makerere Business Institute (MBI) in Kampala, Uganda were probably encouraged to invest their money, doing so by betting on sports wasn't likely to win them many friends in the administration.
Students Gambled Away Tuition
A total of 55 students with MBI were forced to miss out on graduation ceremonies after they reportedly spent funds – including some that were earmarked for their tuition – on gambling and sports betting. The announcement by school principal Nathan Twesigye influenced his comments at the school's recent graduation ceremony.
Twesigye was especially surprised to find that the gambling issue apparently affected a diverse range of students.
"As you can see, girls have also started gambling, which is quite strange," Twesigye said.
Gambling is quickly becoming big business in Uganda. That may surprise many observers outside Africa, but those more familiar with the nation can understand why. The population of Uganda is young, enjoys sports, and – at least in the capital city of Kampala – benefits from being better educated and wealthier than the generations before them.
Sports Betting Ops Targeting Students
That combination has made the city's populace a prime target for gambling operations in the region. According to Twesigye, gambling and sports betting venues have been popping up like wildfire in areas near the school in order to attract young bettors. Many young Ugandans are fans of foreign sports leagues, particularly when it comes to soccer, and some have taken to becoming sharp sports bettors as a result, working hard to find an edge against the bookmakers.
"I am in shock and at the same time angry that students are gambling away their parents' resources," said Professor Mondo Kagonyera, the university's chancellor. "I have seen signposts of betting houses but I did not know it was as serious as it is."
"If gambling houses are aiming at destroying the lives of our children, then Government should ban it really," he added.
A complete ban may not be in the works when it comes to gambling in Uganda, but there are definitely calls for more regulation in the sector. Gambling industry officials in the nation have petitioned the Ministry of Trade and Industry in hopes of increasing standards, particularly when it comes to Internet wagering.
According to the petition, there are concerns that popular computer programs used in Ugandan gambling are not up to international standards, leaving bettors vulnerable to manipulation and fraud.
Professor Kagonyera also spoke to the need for regulation at the graduation, where he was the guest of honor.
"I do not know at what age gambling should be restricted to, but government should carefully study gambling in the country because it is silently destroying the lives of the youth," he said.
Despite the absence of the students caught gambling, more than 1,000 students received certificates and diplomas from the school, which has now been in operation for 20 years. Students completed coursework in programs ranging from accounting and business management to journalism, marketing, and information and communications technology. The school is also home to several radio and television studios.