NFL Players Association Says League Fumbling Sports Integrity Issue
Posted on: October 6, 2018, 10:00h.
Last updated on: October 5, 2018, 08:25h.
NFL Players Association (NFLPA) President DeMaurice Smith says the league's testimony before a congressional committee discussing the liberalization of sports betting did little to ease his ongoing concerns on protecting the integrity of the game.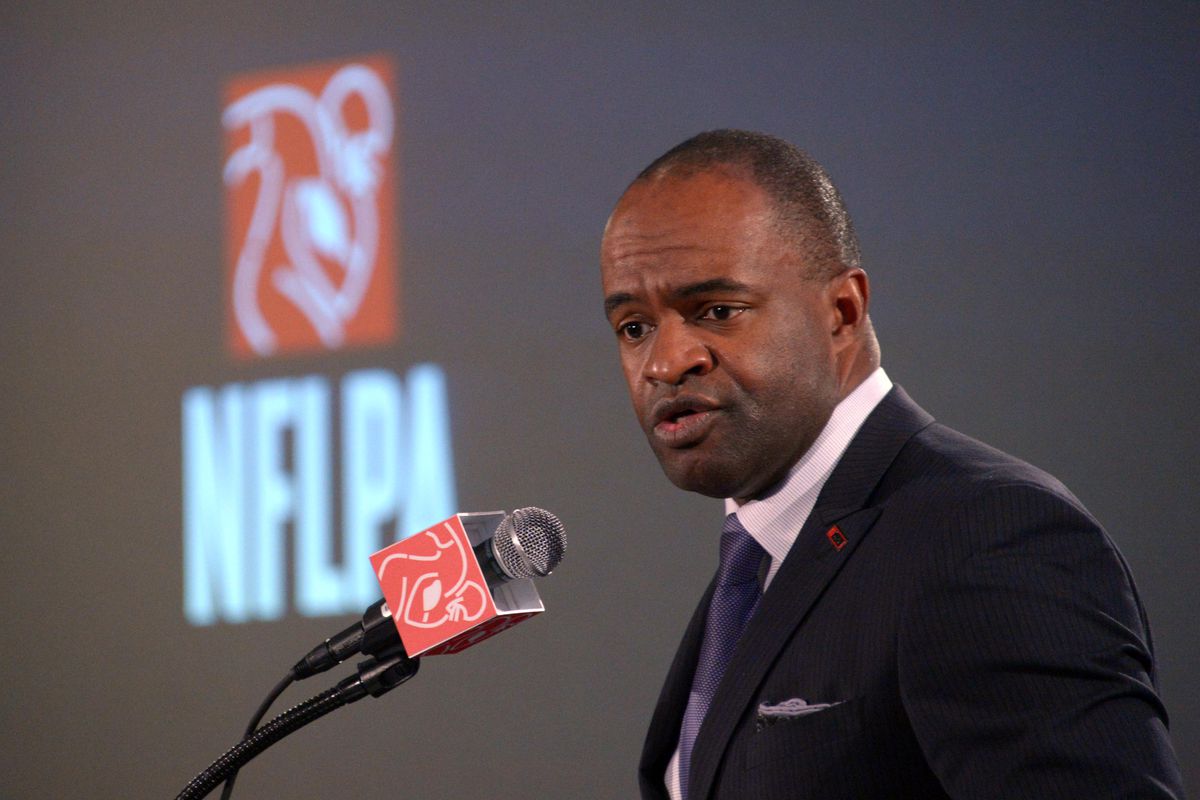 Five witnesses presented their expertise before the House of Representatives' Judiciary Subcommittee on Crime, Terrorism, Homeland Security, and Investigations last week. Among them was Jocelyn Moore, the executive vice president of communications and public affairs for the National Football League.
Moore revealed to the subcommittee that NFL owners and personnel are not completely banned from having interest in a sportsbook company. Talking with ESPN, Smith says that has him worried.
After the league's testimony, I actually have more concerns about their ability to ensure the integrity of the game than ever," Smith explained. "Once the 'integrity genie' is out of the bottle it's going to be impossible to get it back in."
Following the Supreme Court's May 6-3 decision to strike down the federal sports betting ban that made the gambling activity illegal in all but four states, several leagues said they should get a cut of the handle to cover increased monitoring costs. However, those so-called "integrity fee" discussions have predominantly disappeared after casinos fought back by explaining sports gaming is a low-margin business, and such add-on costs could prevent the books from turning a profit.
NFL Wants Federal Oversight
Moore stressed the league's position that protecting the integrity of pro football is its utmost concern. She urged Congress to intervene and formulate a set of standards states wishing to participate must abide.
"The absence of a clear and enforceable set of legal standards for sports betting threatens the integrity of our nation's professional and amateur sporting contests," Moore opined. "To protect consumers and the integrity of our games … we urge Congress to immediately act to create new statutory and regulatory standards for legalized sports betting."
But when Rep. Cedric Richmond (D-Louisiana) inquired about whether a team owner can also own part of a sportsbook, Moore responded, "We have a limitation, and that's on gambling, not specific to sports betting."
ESPN's David Purdum says current NFL policies allow owners and other team personnel "to own equity interest in an entity that generates less than a third of its revenue from gambling-related operations."
Audible Needed
Smith says allowing owners and team employees to have stakes in sports betting operators is an unneeded added risk that jeopardizes integrity. "It is still a league that allows owners to be stakeholders in gambling operations, yet continues to message sort of a myopic approach," Smith added.
Another concern of Smiths is that the NFL doesn't classify daily fantasy sports as gambling. And DFS leaders DraftKings and FanDuel have already moved into sports betting operations in the aftermath of the Supreme Court repeal.
DraftKings' sportsbook at Resorts in Atlantic City was the first to go live with mobile wagering in New Jersey in August. FanDuel operates the Meadowlands Racetrack sportsbook, and recently agreed to pay out on an erroneous $82,000 winning ticket that was printed on wrong odds.
Dallas Cowboys owner Jerry Jones and New England Patriots owner Robert Kraft both have stakes in DraftKings.
Similar Guides On This Topic