MLB Commish Wants to Consider Legal Sports Betting
Posted on: February 9, 2015, 02:30h.
Last updated on: February 9, 2015, 02:12h.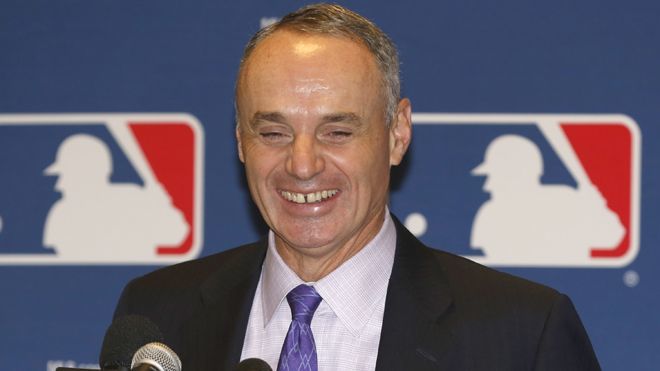 Legal sports betting in the United States has always been opposed by the major sports leagues, but that's been changing in the past few months.
NBA commissioner Adam Silver has publically come out in favor of making sports betting legal and regulated, saying that a federal framework would provide important safeguards that would bring betting "out of the underground and into the sunlight where it can be appropriately monitored and regulated."
He may not be alone, either, as new Major League Baseball Commissioner Rob Manfred has also said that his league should consider their stance on sports betting.
Granted, Manfred's comments weren't nearly as enthusiastic or broad as Silver's.
But even a willingness to talk about the issue was a huge change from the office of baseball's commissioner, an institution that may be held in more reverence than the leadership of any other sport.
"Gambling in terms of our society has changed its presence on legalization," Manfred said to ESPN's Outside the Lines last week. "I think it's important for there to be a conversation between me and the owners about what our institutional position will be."
Baseball's History Has Created Gambling Aversion
Like the other major sports leagues, Major League Baseball has shown some softening of their stances: if not on gambling itself, then on activities that are at least adjacent to real betting.
Last year, MLB.com announced that DraftKings would be the "official mini fantasy game" for their website, putting the league in line with others that have embraced daily fantasy sports.
But baseball's history may make it more difficult for Manfred to come full circle on gambling. While every league has opposed legalized sports betting, baseball has been outright hostile to the idea.
This is likely because the very position of the commissioner was created specifically in response to the Black Sox Scandal, in which eight members of the Chicago White Sox conspired with gamblers to throw the 1919 World Series.
The league still deals with gambling issues to this day, as one of its most famous stars of the past 50 years, Pete Rose,  has been banned from the sport for betting on baseball games while manager of the Cincinnati Reds.
Still, Manfred said that he has heard the points made by Silver and others, and that those were enough for him to at least look into changing his sport's stance on betting.
"I understand the arguments that Adam made," said Manfred. "I think the most appropriate thing for me…is to wait until I've had a chance to deal with the owners on this topic."
Sports Betting Banned in Most States Under PASPA Laws
At the moment, betting on sports is heavily restricted in the United States thanks to the Professional and Amateur Sports Protection Act of 1992.
That law banned states from regulating sports betting unless they were grandfathered in before the bill went into effect. As a result, only Nevada offers full sportsbooks, while Delaware, Montana and Oregon retained the right to more limited sports betting options.
But supporters of sports betting say it is about time for that law to be amended.
"Times have changed since PASPA was enacted," Silver wrote in a New York Times op-ed last November. "Gambling has increasingly become a popular and accepted form of entertainment in the United States. Most states offer lotteries. Over half of them have legal casinos. Three have approved some form of Internet gambling, with others poised to follow."