MGM Resorts CEO Bill Hornbuckle Says Cyberattack 'Totally Behind Us'
Posted on: October 11, 2023, 10:45h.
Last updated on: October 11, 2023, 11:44h.
MGM Resorts CEO Bill Hornbuckle says the devastating cyberattack on the casino company's IT systems is in the firm's rearview mirror.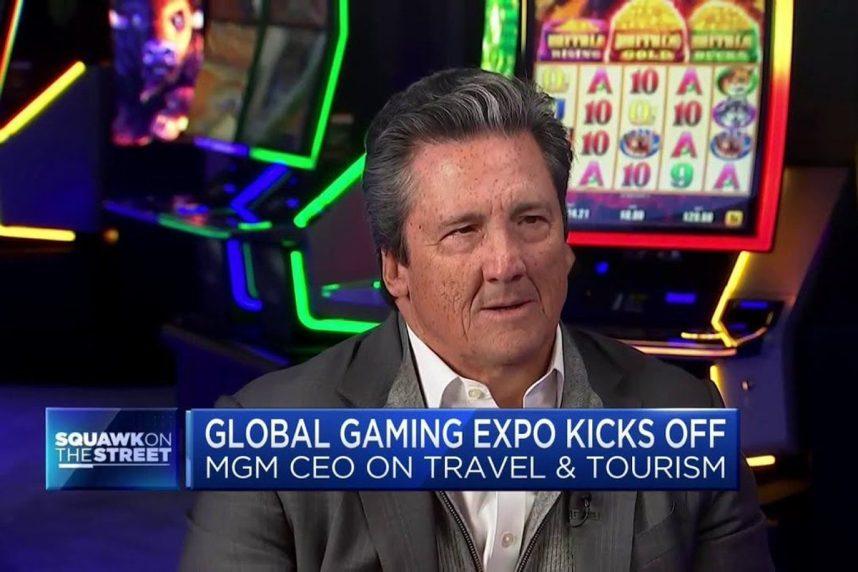 In a wide-ranging interview on Tuesday with CNBC's Contessa Brewer at the Global Gaming Expo in Las Vegas, the preeminent gaming industry trade show hosted at The Venetian, Hornbuckle said MGM managed to fend off the hackers. The MGM boss says the Bellagio operator and Nevada's largest employer is moving forward with normal day-to-day operations.
It is totally behind us. Look, it was a hell of a three-week period. But this is behind us," Hornbuckle assured CNBC viewers.
"Hopefully, it was a one-time incident," MGM's chief executive continued. "We're all moving forward. It had a significant impact in September and there will be some lingering impacts in October."
Hornbuckle says MGM casinos in Las Vegas and regional properties across the country have quickly bounced back. On the Las Vegas Strip, where MGM operates more casinos than any other company, Hornbuckle said its casinos were sold out last weekend. The company is anticipating October occupancy to be above 90%.
Matter Resolved, Claims CEO

Brewer caught up with Hornbuckle at the Global Gaming Expo, hosted by the American Gaming Association. Cybersecurity is a paramount theme this year, after the two largest Las Vegas gaming operators, MGM and Caesars Entertainment, were recently targets of cybercrime. The business journalist pressed Hornbuckle on what the company is doing to prevent a similar attack in the future.
"There is work to do moving forward in terms of restructuring, rebuilding. But we feel extremely safe and secure where we are today," Hornbuckle said.
A filing last week from MGM with the U.S. Securities and Exchange Commission (SEC) revealed that the company expects the cyberattack to result in approximately $100 million in lost revenue. That loss, however, will likely be covered by the casino giant's cyber insurance policy.
The MGM regulatory filing also noted that the company has incurred roughly $10 million in expenses related to the cyberattack. MGM chose not to pay the cybercriminals a ransom, as Caesars did — reportedly $15 million.
The MGM cyber assault greatly disrupted operations resortwide. Many slot machines were disabled, voucher printing went offline, online room reservations were on hold, and digital room keys were inaccessible.
MGM, Las Vegas Resiliency
Asked whether an ongoing financial drop might be forthcoming with possible would-be MGM guests choosing elsewhere to stay on privacy concerns, Hornbuckle said the MGM brand remains strong. He said Las Vegas and MGM have encountered many hardships over the past decade, including the Oct. 1, 2017 mass shooting and the COVID-19 pandemic.
MGM and Las Vegas have been nothing but resilient. Think about all the things we've been through. This is unfortunately one more incident, but it is behind us and we're looking forward," Hornbuckle stated.
As for the ongoing union negotiations, Hornbuckle explained, "We haven't had a citywide strike in 39 years. I'd like to think it's in everybody's best interest — our employees, our stakeholders, ourselves — to continue to go forward. But it's a critical time. I think, ultimately, commonsense will prevail."