MGM Resorts Online Room Reservations Return, Company Denies IT Job Posting
Posted on: September 23, 2023, 10:37h.
Last updated on: September 23, 2023, 09:45h.
MGM Resorts International has resumed online hotel room reservations for its casino resorts in North America nearly two weeks after a cyber gang attacked its IT systems.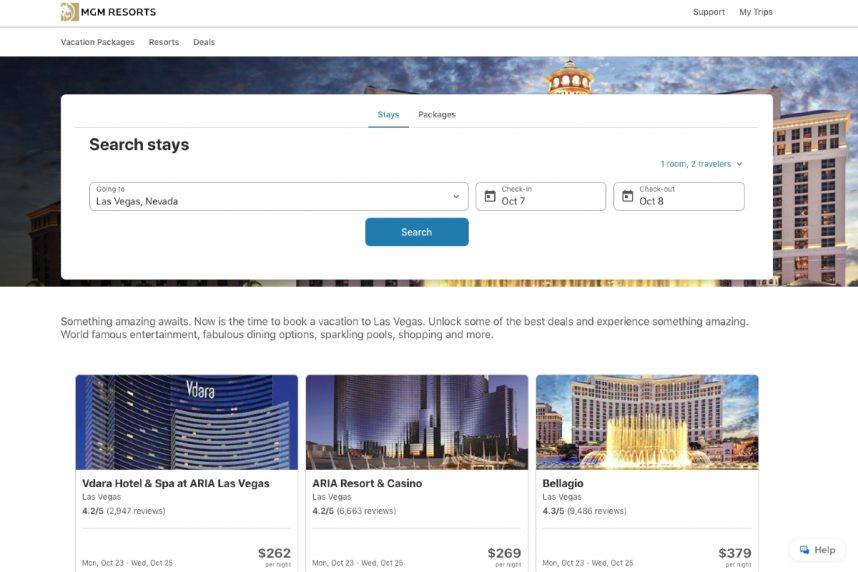 MGM on Friday said new room reservations can again be made online. However, the online reservation system differs from the company's previous booking platform.
MGM's casino websites redirect to "vacationsbymgmresorts.poweredbygps.com" when a user attempts to book a hotel room. The room reservation platform isn't property-specific but requires a customer to select a specific property from the MGM portfolio.
Casino.org did some digging and discovered that the "poweredbygps.com" domain is owned by Travelscape, LLC. Travelscape is owned by the parent company Expedia Group.
MGM is likely partnering with the third-party booking giant to free up its phone lines, which have been clogged up with guests seeking to book, amend, or cancel their reservations during the cyberattack that was initiated sometime on Sept. 10.
Temporary Solutions
MGM's phone lines have been congested with frustrated customers waiting as long as an hour to reach a representative. Along with restoring online room reservations from its casinos' homepages, MGM recently initiated an online "Guest Support" form where reservation holders can seek a refund for a canceled stay between Sept. 13-24.
We will process your request as soon as we are able," the company tells patrons. MGM Rewards participants seeking to use their loyalty points and comps must continue to call the company at 877-535-1987.
Though phone wait times might be reduced, MGM overnight guests continue to face lengthy check-in times, as self-check-in via the MGM app and kiosks remain unavailable. Overnight visitors must obtain a physical room key since digital entries remain disabled.
MGM has expedited the checkout process. Guests are told to drop their room keys into an "Express Check-Out" box near the front desk. A digital copy of each guest's folio will be sent to the person's email on file once the MGM systems are back up and running.
Job Post a Spoof
An online job advertisement supposedly from MGM Resorts seeking a Red Hat Certified System Administrator caused quite a stir this week on the social media platform X. Such a job is for an IT professional who, according to Red Hat. This American software company specializes in enterprise operating systems "is able to perform the core system administration skills required in Red Hat Enterprise Linux environments."
Among the skills possessed by such an IT professional is the ability to "create and configure file systems and file system attributes, such as permissions, encryption, access control lists, and network file systems."
The alleged MGM job listing, which was found on ZipRecruiter, advertised that the person would "be helping the MGM Grand Casino build its net new IT environment after the recent ransomware attack."
The position was advertised at an hourly rate of $100, with the contract gig running for about two weeks. The IT tech would be expected to work 10 hours a day, seven days a week, the posting listed.
An MGM spokesperson, however, denied the legitimacy of the job posting.