MGM Resorts Announces $2B Stock Repurchase, Hints Potential Wynn Acquisition is No More
Posted on: May 11, 2018, 07:30h.
Last updated on: May 11, 2018, 06:04h.
MGM Resorts says it plans to repurchase $2 billion worth of its own shares over an unspecified period of time, a motion that shows company executives are bullish on its future.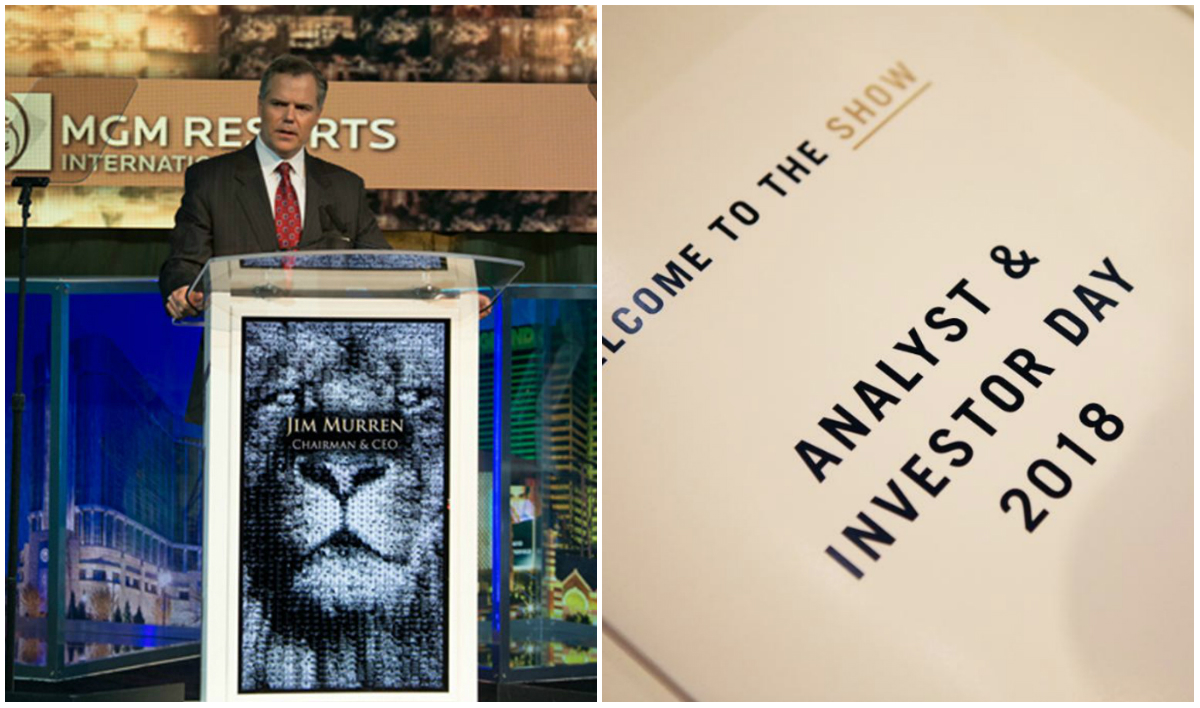 The $2 billion repurchase follows a $1 billion stock buy announced last September. In a release, MGM says that buyback has been successfully completed, with roughly 30 million shares now once again owned by the company.
"The latest share repurchase authorization reflects the company's financial strength and continued commitment to returning capital to our shareholders," MGM Resorts CEO Jim Murren stated. "We are pleased with the company's strong balance sheet, which has allowed us to … to invest in our properties and explore prudent growth opportunities."
Stock repurchases are typically carried out when company executives are optimistic, and believe the company's stock price is trading at an undervalued level.
The $2 billion purchase plan is around 10 percent of MGM Resorts' total market value.
Wynn Talks Over?
Though MGM nor Wynn Resorts ever confirmed that the two companies were negotiating a potential takeover of the latter, plenty of speculation has lingered since Steve Wynn resigned from the casino company he founded amid numerous sexual misconduct allegations.
An unnamed source talking with the New York Post last month opined new Wynn CEO Matt Maddox was indeed interested in dissolving the company at the right price. The "insider" said, "If the Wynn CEO gets his deal, he'll sell in the next several months."
That might still be true, but the odds appear longer that the buyer will be MGM Resorts following this week's stock repurchase news.
$2 billion is no small number even for a company as large as MGM. A company seriously considering acquiring Wynn and its assets will presumably need all the free cash on hand it can muster.
Murren said in February that "it would be difficult to believe anyone is going to have the financial wherewithal to make a serious bid" for Wynn. "It's a very large organization."
MGM vs. Wynn
Wynn Resorts is trading this week at its highest level since 2014. The stock closed at $201.51 on Thursday, or about 23 percent higher from when its founder and former CEO resigned in early February.
At $201 a share, Wynn Resorts' market cap is valued at $21.88 billion.
MGM Resorts stock, on the other hand, has remained relatively flat during the same February-May period. Shares closed at $33.37 on Thursday, giving MGM a market cap valuation of $18.58 billion.
MGM's executives and board members are apparently more bullish on their own company than trying to acquire Wynn's empire. Though MGM owns and operates many more casinos, the majority of them are in the US.
MGM has recently focused on domestic operations, expanding its portfolio by taking full control of Atlantic City's Borgata, building a $1.4 billion integrated casino resort outside DC, and soon opening its $960 million MGM Springfield in Massachusetts.
Wynn, meanwhile, makes the vast majority of its money in China. Wynn has casinos in downtown Macau, as well as Wynn Palace on the Cotai Strip, which has become the playground for the enclave's high rollers.
MGM has been in Macau proper for over a decade, but was late to the game in Cotai. Its $3.4 billion property finally opened there this year.