MGM's Bill Hornbuckle Sees Four UAE Casinos Being Permitted
Posted on: October 13, 2023, 02:36h.
Last updated on: October 16, 2023, 01:43h.
The United Arab Emirates (UAE) could go from long forbidding casino gaming to eventually being home to as many as four casino resorts.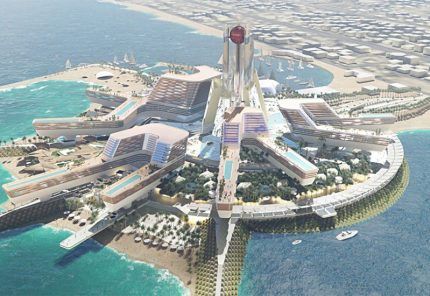 MGM Resorts International (NYSE: MGM) CEO Bill Hornbuckle expressed that view earlier this week at the Global Gaming Expo (G2E) in Las Vegas. The Bellagio operator is developing a hotel in Dubai in partnership with Wasl Asset Management Group that Hornbuckle described as a "podium and pedestal" that "could house a casino."
We were there early. We have a project, now underway," Hornbuckle told G2E attendees. "This island has an MGM, a Bellagio, and an Aria on it. We're now building a podium and pedestal that could house a casino. We think there will be three or four [casinos] in the Emirates."
The MGM chief executive officer recently noted that the company set aside 150,000 square feet of space at the Dubai property that could be used for a casino in the event UAE leadership signs-off on gaming.
UAE Casino Opportunity Taking Shape
In late 2021, Wynn Resorts (NASDAQ: WYNN) announced plans for Wynn Al Marjan Island with the expectation, but little clarity, that the venue would be allowed to have a casino. Construction on the property commenced earlier this year, and it's slated to open in early 2027.
Since Wynn unveiled that effort, indications have emerged that the UAE is warming to casino gaming, and could eventually be the integrated resort hub of the Arab world. The UAE announced the formation last month of its first gaming regulatory agency, the General Commercial Gaming Regulatory Authority (GCGRA).
The chairman of the GCGRA is former MGM CEO Jim Murren. Whether or not those ties are advantageous for MGM in the UAE remains to be seen. But the operator is ready to act if the various emirates approve casino gaming.
"I'd love to be in Dubai with an operating product with a casino in it. But one step and one day at a time. We're very progressive and excited by what could happen there," Hornbuckle said at G2E.
UAE Casino Options
Home to some of the world's largest oil reserves, the UAE controls a substantial sovereign wealth fund. But that doesn't mean the government wants to have direct ownership of a casino. At G2E, Hornbuckle noted MGM is prepared for various scenarios, including taking equity in a gaming venue or leasing it outright.
He said there's chatter that a gaming decree has been formalized by UAE leaders, but it hasn't been released as of yet.
In terms of potential locations for casino hotels in UAE, a survey conducted earlier this year by Knight Frank indicates 59% of respondents believe Abu Dhabi will eventually have at least one gaming venue, and 58% feel the same way about Dubai. Some 48% see UAE integrated resorts being located in the other five emirates.
Wynn Al Marjan Island is located on a manmade island in the emirate of Ras Al Khaimah.