MGM CEO Bill Hornbuckle Bullish on Las Vegas, Japan, Eyes UAE
Posted on: September 8, 2023, 01:53h.
Last updated on: September 8, 2023, 03:24h.
MGM Resorts International (NYSE: MGM) CEO Bill Hornbuckle is bullish on the company's positioning in Las Vegas, noting the operator stands to benefit from a slew of upcoming marquee events at local arenas and stadiums.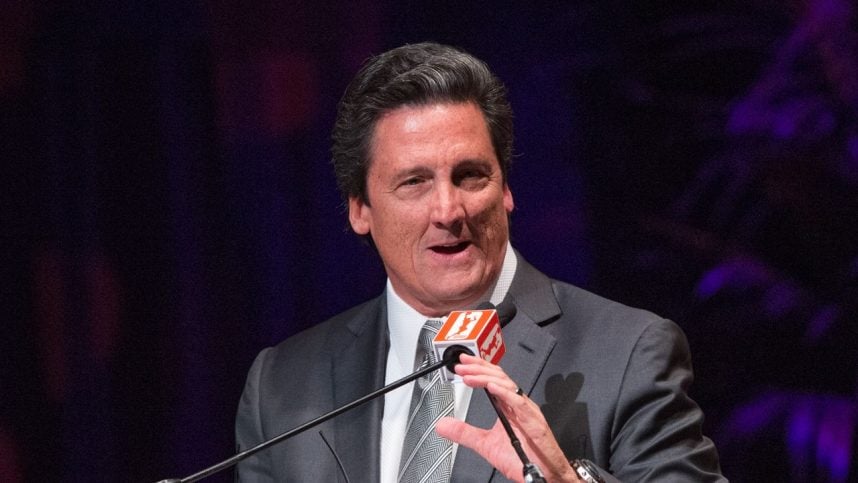 In comments made Thursday at the Bank of America Gaming & Lodging Conference, Hornbuckle told analyst Shaun Kelley that MGM's grip on the South Strip enables the operator to capitalize on events such as the Las Vegas Grand Prix in November and the Super Bowl next February, among others.
Two weeks ago, we had the highest average daily-rate booking week in our history. You're leaning into the fourth quarter and Formula One," said Hornbuckle. "People are starting to get excited about the Super Bowl. We were able to capture the NBA tournament that's going to take place during the first week of December (at T-Mobile). The signs we see are encouraging."
Specific to the F1 race — the first in Las Vegas in more than four decades — that event, scheduled for Nov. 18, is expected to be a boon for Strip casino resorts. That theme is already playing, as Hornbuckle noted room rates for race weekend at MGM venues are quadruple the norm, and the operator has extended record-breaking amounts of credit to VIP bettors coming to town that weekend.
In other words, the F1 race is expected to lure many high-end visitors to Las Vegas, underscoring MGM's focus on affluent clients. Hornbuckle noted at the Bank of America conference that 70% of the operator's revenue is generated from 30% of its customers. That highlights the benefits of enhancing Bellagio and the 2022 purchase of the Cosmopolitan — moves that position MGM to better cater to well-heeled customers.
Hornbuckle Discusses Japan, New York
While MGM is the largest operator on the Strip, efforts to win a New York City-area casino permit and a planned integrated resort project in Osaka, Japan, are viewed by analysts as potential longer-ranging catalysts for MGM shares.
Last week, the New York State Gaming Commission (NYSGC) and the Gaming Facility Location Board (GFLB) provided answers to an initial batch of questions submitted by gaming companies vying for three downstate permits. Hornbuckle noted that MGM, which runs the Empire City Casino in Yonkers, aims to submit the required documentation by the end of this year. He's hopeful that a year from now, the operator will have been granted one of the three licenses.
As for Osaka, that project — in which MGM has a 40% stake — is facing some minor delays and cost overruns. But geography and a likely long run of monopoly status make it attractive to MGM.
"If you think about the marketplace, we will probably be the only casino for a very long time in Japan," Hornbuckle told Kelley. "You have 100 million people in Japan and 19 million in Osaka alone. It's closer to Shanghai, Beijing, and cities in northern China than Macau."
MGM Keeping Watchful Eye on UAE
Beyond Japan, MGM's international expansion plans could include a variety of markets. However, the United Arab Emirates (UAE) is widely viewed as arguably the most attractive upcoming gaming frontier.
That situation is heightened by the recent formation of the UAE's first gaming regulatory agency — the General Commercial Gaming Regulatory Authority (GCGRA). Adding to the intrigue is former MGM CEO Jim Murren being named chairman of the board of the GCGRA.
The first gaming license in the UAE will likely be awarded to MGM rival Wynn Resorts (NASDAQ: WYNN). But Hornbuckle noted MGM is setting aside 150,000 square feet of space at its non-gaming UAE hotel in the event broader casino gaming regulations are passed there.