McLaren Establishes 'Brand Beacon' at Wynn Las Vegas
Posted on: October 20, 2023, 05:23h.
Last updated on: October 20, 2023, 05:23h.
Recent visitors to Wynn Las Vegas have likely noticed an elite automotive addition to the glitzy Strip venue. The McLaren Experience Center at Wynn Las Vegas debuted six weeks ago, but celebrated its official grand opening on Thursday, Oct. 19.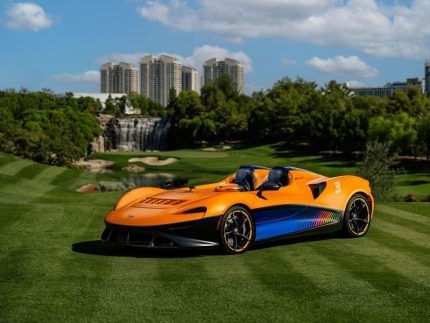 The McLaren shop is located near the sportsbook, Wynn Plaza Shops and the Encore Theatre. It's sponsored by O'Gara of Beverly Hills. O'Gara's McLaren dealership in that famed Los Angeles suburb also sells new and pre-owned Bugatti and Rolls Royce vehicles.
Las Vegas is one of the most exciting places on the planet and we can't imagine a better location for this McLaren experience than Wynn Las Vegas," said O'Gara founder Tom O'Gara in a statement. "Pent up demand for these iconic high-performance vehicles is abundant, and O'Gara is thrilled to partner with McLaren to bring a uniquely premium experience to the 'entertainment capital of the world."
In just six weeks since opening, more than 17,000 guests have visited the McLaren Experience Center at Wynn Las Vegas.
McLaren Further Highlights Wynn F1 Ties
The McLaren Experience Center at Wynn Las Vegas debuted in advance of the Formula One's Las Vegas Grand Prix. The series' first visit to Las Vegas in more than four decades is scheduled for Nov. 18.
Currently, there's a life-size model of a McLaren F1 car in the lobby at the Wynn. It's roped off and attended to by a security guard, but guests can take pictures of the vehicle. Wynn's ties to the upcoming race extend well beyond that as it's one of the Las Vegas Strip casino operators offering expensive race packages catering to VIPs.
The Formula 1 Heineken Silver Las Vegas Grand Prix Million Dollar All-Access Experience — yes, it really costs $1 million — provides six guests with tickets to the race and related events, a four-night stay in a two-story, three-bedroom duplex at Encore, dinner for six at Delilah, spa treatments for all six guests, golf at Wynn Golf Club for each person and much, much more.
"The addition of the McLaren Experience to our retail program provides our guests with a unique way to interact with some of the world's most remarkable supercars," added Wynn Las Vegas President Steve Weitman. "The McLaren Experience Center, Powered by O'Gara, is the optimum way to experience the 'Ultimate Race Week,' only at Wynn."
McLaren Experience Has Something for Everyone
This isn't Wynn's first on-site relationship with a luxury sports car brand. The Strip casino resort was previously home to a Ferrari dealership, but that venue was shuttered in 2015.
The McLaren Experience Center will be open until spring 2024, so it's not a permanent commitment on the part of the manufacturer, O'Gara or Wynn. Guests can buy new McLaren vehicles in the 2,500-square-foot shop.
The average price of a 2023 McLaren 720S is $310,500, according to Car and Driver. At that price point, the car isn't for the masses, but the McLaren Experience Center at Wynn has offerings for everyone, including an immersive technology experience and McLaren merchandise.
Most Read