Detroit Casinos Yield on Health Insurance Premiums, Unions Want More
Posted on: November 7, 2023, 08:54h.
Last updated on: November 7, 2023, 10:35h.
Detroit's casino companies recently gave a little at the bargaining table on health care premiums. But it's insufficient for the unions' negotiating committee, which represents striking workers.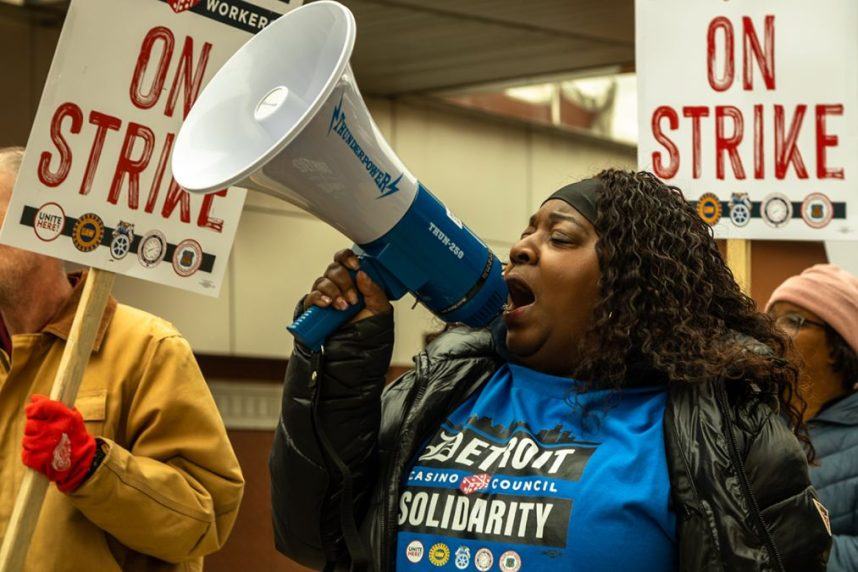 As the strike enters its fourth week on Tuesday, word comes that management's latest proposal was to have workers pay $40 for health care premiums. The prior offer was $60.
The union wants workers to continue not paying any premium, according to a video posted by the United Auto Workers on X, formerly known as Twitter.
Late last week, the union also revealed that management offered workers a $1.95 per hour increase during the contract's first year. The union wants the hourly increase to be $3.25.
The two sides continue to meet.
"We are winning, but it is inch by inch," one worker said in the video.
On October 17, 3,700 workers went out on strike at three Detroit gaming properties: Hollywood Casino at Greektown, MGM Grand Detroit, and MotorCity Casino Hotel. Workers are urging people not to enter the three casinos.
The Detroit Casino Council (DCC), which represents the workers, recently put out donation bins for their members at the three properties. Union members continue to make their case to the public and note the profits made by the casinos.
3,700 Detroit Casino Council workers are on strike fighting for respect, economic justice, security on the job, workload reductions, and a fair contract," Nia Winston, president of Unite Here Local 24, said in another recent video.
Management has said their offers to the unions are generous.
The casinos remain open during the strike, but some offerings and services are curtailed.
Threats from Automation
Threats to jobs from greater use of technology at the gaming properties is another issue raised by the workers.
There are four smart bars already, which take away bartender jobs, according to Susan Gallagher, who works as a bartender at Hollywood Casino at Greektown.
Union members work in food and beverage, housekeeping, retail, slots and table games, and engineering sectors.
Las Vegas Prepares for Strike
Meanwhile, across the country, tens of thousands of Culinary Union and Bartenders Union members are ready to stop working on Friday at Las Vegas properties if they don't have a contract in place. The unions are assembling picket signs in anticipation of the possible work stoppage.
Culinary Union Secretary-Treasurer Ted Pappageorge said there's been movement in negotiations, according to Las Vegas TV station KTNV.
We have made movement in the last week since the announcement of the strike deadline. We are cautiously optimistic," he added.
The 18 properties at risk for a strike are run by MGM Resorts International, Caesars Entertainment, and Wynn Resorts.
Some 35K Las Vegas hospitality workers have been working without a contract since September. Last month, 95% of the workers authorized a strike.
The Friday deadline is just a few days before the highly anticipated Formula 1 Las Vegas Grand Prix. The race is scheduled to take place between November 16 and 19.